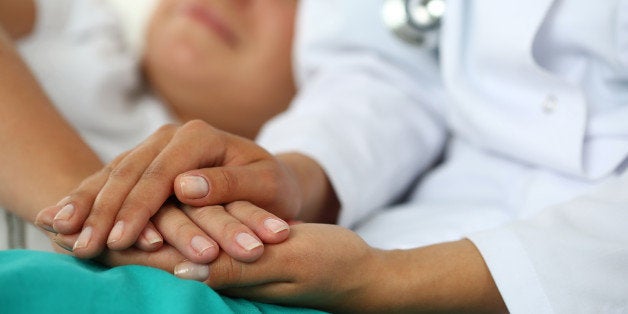 With the president's $1 billion launch of the new National Cancer Moonshot, the promise we most desperately need to keep isn't found in the complexities of a trip to a distant planet: It's in the simplicity of the words spoken there.
One giant leap for mankind.
Barring real change, the CDC predicts that 2025 will see 19.3 million new cases of cancer a year -- with lung cancer again leading the way by a wide margin. That's not the number of people who will have cancer nine years from now: That's the number of new cases alone. Nineteen million is more than the entire population of most countries in the world today.
As Vice President Joe Biden put it so succinctly when he dedicated himself to this cause following the death of his son, Beau, last year: "The science is ready." What we have to nail down now is how to share it, because unlike putting a man on the moon, this isn't an international competition, or a thrilling quest.
While the moonshot metaphor may be a misfire, the man leading this mission is right on point: His son's fight against terminal brain cancer drew Biden into the sad but hopeful heart of a community called "cancer world." The vice president takes command of this challenge knowing full well the size and scope of the cancer universe, and why the real game-changers are slipping through our fingers. Those of us who have been diagnosed with or love someone stricken by cancer know the terrain intimately, and the vantage point from the ground level is as crucial as that from the ivory tower. Money and brainpower are obviously vital to success, but the truth is, the component of this plan that will advance us the most also costs the least: Collaboration.
The first known description of cancer dates back to around 3000 BC. In all the centuries since, scientists have never learned as much about it as they have in the past 20 years alone. But that knowledge was gleaned despite too many duplicated, secretive efforts to reach the same goal. Fierce competition among drug companies for lucrative patents, rivalry among researchers vying for precious grant money, bureaucratic red tape keeping too many patients out of clinical trials, profit-driven coverage for adequate screening - all have created an atmosphere where progress is slowed to tiny steps for man instead of great leaps for mankind.
Open source research is a must. Exploration must be collaborative and data eagerly shared, housed in one area to be used by all investigators instead of selfishly guarded and hidden away in silos.
Clinical trials need to be streamlined. At the Addario Lung Cancer Medical Institute (ALCMI), we use social media to swiftly and efficiently locate patients best-suited for clinical trials, searching every corner of the world by type of cancer, genomic markers, gender, lifestyle, etc. In 2014, ALCMI launched a first-of-its-kind, multi-institutional Genomics of Young Lung Cancer study to understand why lung cancer can occur in healthy, physically fit young adults who do not smoke. Patients from the United States, Europe and Australia applied and received initial approval that they qualify for the protocol without ever leaving the comfort of their own homes.
If that sounds like a no-brainer, it is. The study results to date are startling: Of the seventy-four people tested, nearly 80 percent have some form of genetic alteration. This reinforces the importance of getting tested for a large range of targetable genomic alterations to avoid being misdiagnosed.
There's no excuse anymore for 50% of all clinical trials in this country happening in just 10 states. Too often, patients travel great distances and spend precious resources to get to too many appointments only to find out they didn't make the cut.
Science isn't going to be advanced by scientists alone: Communication and information must also be open and easily accessible to the vast cancer community they serve. Patients and their families need a single portal -- not a Byzantine maze -- to learn about clinical trials, data, research, drugs and other therapies.
Yes, the science is ready.
What we have to reach for now isn't the moon. It's each other.