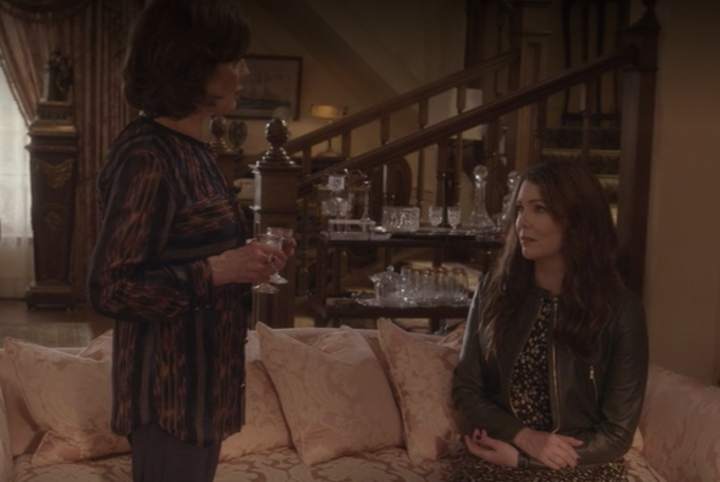 WARNING: Major spoilers ahead for "Gilmore Girls: A Year in the Life"! Stop reading here if you haven't finished the whole season.
Now that "Gilmore Girls" has (seemingly) come to an end, we're left wondering what to make of the hotly anticipated final four words between Rory and Lorelai Gilmore.
"Mom?" "Yeah?" "I'm pregnant." Cut to black.
As written previously here, those four words actually make sense in the larger context of the series. Throughout the show we've seen Rory confront her personal trials as her mother overcomes her own tribulations, a moon orbiting around planet Lorelai. Rory has lived a vastly different life than Lorelai, a former runaway teen mom, but their inherent similarities keep them in sync. 
Now 32, Rory is the same age as her mother when the series began, and pregnant with a child she'll likely also be raising as a single mother. While she's had romantic encounters with three men in the course of the season ― a boyfriend, a Wookiee and a soon-to-be-married man ― one stands out as the likely match: the already engaged Logan Huntzberger. Not only does the timing fit, but so does the poetic justification.
Here's a clue from Episode 4 that might support a Logan-Rory progeny.
In "Fall," Lorelai asks her mother Emily for a loan so she can make an offer on a former retirement home to expand her Dragonfly Inn; she doesn't think a bank will be able to move quickly enough and Katy Perry is closing in with her bundles of cash. Emily agrees ― on the condition that Lorelai and Luke spend two weeks in the summer and one week at Christmas with her in Nantucket.
"If you agree to this, you'll have the money by morning," says Emily. 
"To the circle of life," Lorelai replies, raising her sherry glass to seal the deal.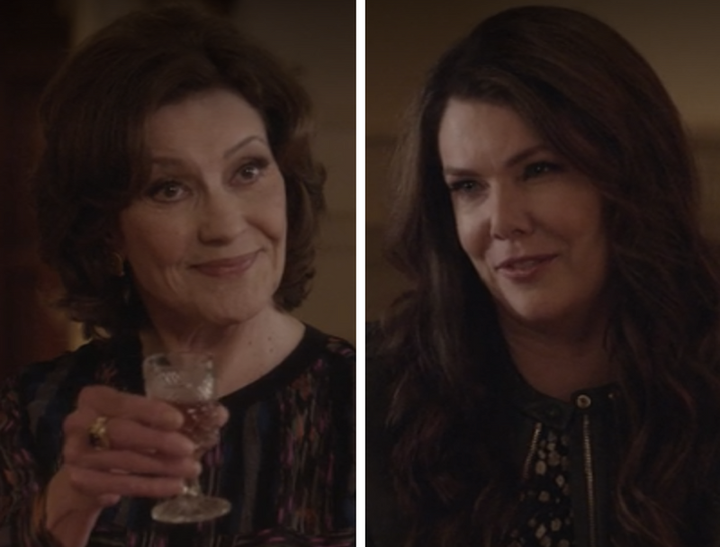 It's clear that we're seeing certain plot details repeat themselves. The first time Lorelai asked her parents for a loan, it came with similar strings attached: weekly dinners at the Gilmore house. Circle of life. 
If we're meant to read into this line, it means we can assume a couple more repetitions will take place.
When Lorelai moved to Stars Hollow, her independent spirit had compelled her to split with Rory's father, Christopher, in order to raise baby Rory by herself. A "Year in the Life" scene impresses the similarities between Christopher and Logan when Rory goes to visit her father and sees him content but not fulfilled, working in his family's business as he was always meant to do. Across the Atlantic, Logan dutifully fulfills his own role at his father's company, planning to marry a woman his father approved. Both men were born into wealth with their life's plan set out for them, and both will have occasionally strained relationships with their children and children's mothers. Circle of life.
A dramatic Episode 4 moment showing Jess leaving the Gilmore house, expression pained as his eyes linger on Rory, encourages another idea. If Logan is Rory's Christopher, Jess is destined to be her Luke ― and those are two men who also share a background and a romantic relationship with a Gilmore. Circle of life.
Post-blackout, we might assume that Rory goes on to raise her child as an independent Gilmore woman with minimal help from the paternal side, ultimately finding a soulmate in the hometown flame with whom she already shares so much, Jess Mariano. Honestly, we wouldn't have it any other way.
Calling all HuffPost superfans!
Sign up for membership to become a founding member and help shape HuffPost's next chapter
BEFORE YOU GO
PHOTO GALLERY
The 18 Most Important "Gilmore Girls" Episodes