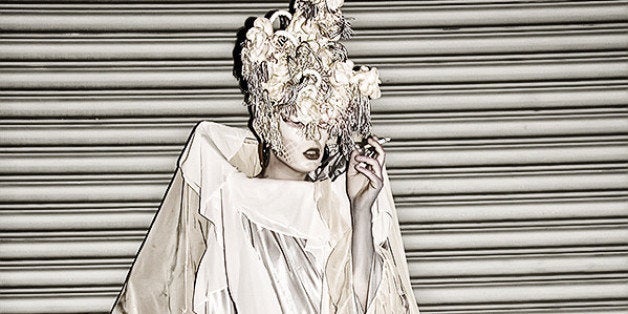 This is the fourteenth installment in HuffPost Gay Voices Associate Editor JamesMichael Nichols' 30-part series "After Dark: NYC Nightlife Today And Days Past" that examines the state of New York nightlife in the modern day, as well as the development and production of nightlife over the past several decades. Each featured individual in this series currently serves as a prominent person in the New York nightlife community or has made important contributions in the past that have sustained long-lasting impacts.
e
HuffPost Gay Voices believes that it is important and valuable to elevate the work, both today and in the past, of those engaged in the New York nightlife community, especially in an age where queer history seems to be increasingly forgotten. Nightlife not only creates spaces for queers and other marginalized groups to be artistically and authentically celebrated, but the work of those involved in nightlife creates and shapes the future of our culture as a whole. Visit Gay Voices regularly to learn not only about individuals currently making an impact in nightlife, but those whose legacy has previously contributed to the ways we understand queerness, art, identity and human experience today.
The Huffington Post: What did you journey to becoming a fixture as an artist and personality in the New York nightlife scene entail?
one-half NelSon: I started going out at the age of 16 -- raves, drag shows, etc. I was always drawn to the freedom of expression that happens when the sun goes down. It's a jungle gym for free spirits. After moving to Brooklyn I started throwing renegade loft parties with an "anything goes" attitude. It was all very underground and debaucherous -- those were the Electroclash days when Williamsburg was the wild west of New York... and we played the part.
My first real gig in the city was hosting a party called "Feelings" on Thursday nights at Mr. Black, a club that used to be on Broadway and Bleeker. It was at that club that I became part of the "Tubway" family. "Tubway" became a movement, a real moment in the novel of NYC nightlife. I produced a lot of installations and decor for those parties, especially once it moved to Rebel on 30th Street. It all sort of snowballed from there.
You produce a diverse array of work. How would you describe your aesthetic and your work as an artist?
First and foremost, my body is my canvas. Most of the work I do is self portrait; I am my art. Everything begins there and is expressed through all of my chosen mediums: performance, collage, painting, clothing, millinery, photography and music. It's all an exploration of the creative process and my personal energy or "Aura." For me, inspiration often comes from perceived disconnected sources. When I hear music it inspires a painting. When I taste food it sparks a performance. The creative process is a work of art in of itself. Visually, my work is often a forging of controlled geometry and abstract expressionism. As an artist I always strive to push and expand my work stylistically.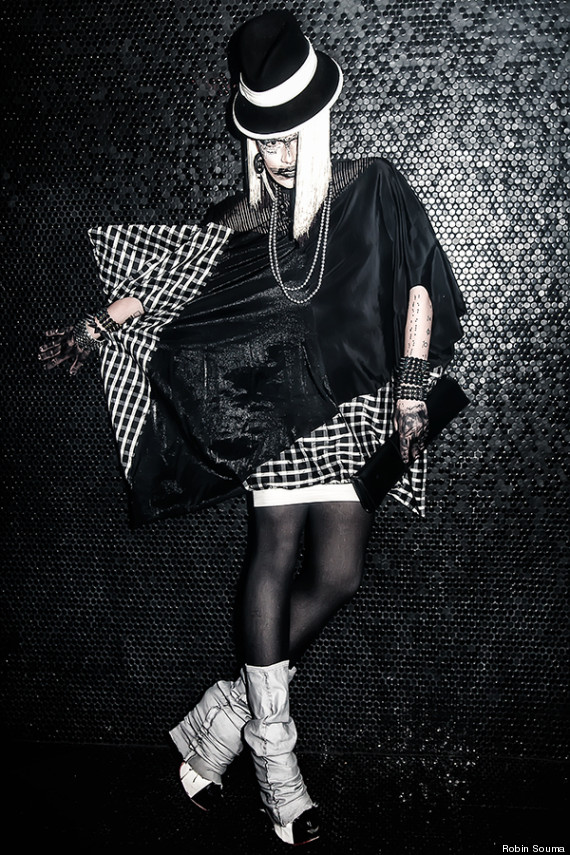 How would you say nightlife influences or informs your art -- or vice versa -- as well as your identities as an artist and nightlife personality?
It definitely flows both ways. Nightlife is like an ephemeral playground -- a kind of testing space for me, creatively. When I work parties I'm able to explore ideas or concepts through the looks I wear and performances I do. It's meant as a place of escape for many patrons -- a place to let loose and enjoy the moment.
Trust me, creating that for people is an art upon itself! It can also be a somewhat spiritual experience. When the beats are right and the entire crowd is on the same astral plane, magic is created. Some of my greatest memories and creative breakthroughs have happened on the dance floor at 8 a.m. -- it's pure love!
You're involved in a number of collaborative groups and projects. How integral are these groups to you as an artist and how do they intersect with nightlife?
Collaboration has always been an important part of of my work. I believe that working with other artists keeps the creative muscles toned. There are things that come out of you as an artist when you have your peers challenging you, and it keeps the work diverse and dynamic. From 2002-2007 I had a project called "showroom_XS" based out of Williamsburg that I did with Lainie Love Dalby. We had a clothing label, created experimental soundscapes, constructed installations and performances, as well as threw parties.
Currently I have a new DJ collaboration I do with William Francis, Object Permanence or O.P. for short. Music plays an important role in all aspects of my work. I'm also a founding member of enENSUBTITLES, a performance art project I've been working on with Erickatoure Aviance and Clifton Brown for five years. We are a performance troupe that takes the tradition of drag and turns it on its head. Our performances forge bizarre juxtapositions of unrelated visual inspirations that engage the viewer through humor and spectacle.
enSUBTITLES approaches drag as total transformation and not the traditional view of drag being female impersonation. It's about developing characters as visual stimuli. Often the performances start with a song. We dissect the lyrics and references and, through a stream of conscious process, we piece together the details of the show. A perfect example of this was the performance we did to the song "Cars" by Gary Newman. We were hood ornaments from German cars as Vegas show girls doing the goose step. There is always a touch of the absurd!
Domonique Echeverria said in her feature: "I think the truly innovative people that I'm seeing [in the scene] are playing around with gender and sexuality. I think that's what our generation has to offer -- the idea of acceptance and blurred lines of gender. It's causing discussion, debate, new laws to be made and it's causing more art. THAT is the movement that's happening." -- How do you see this manifested in nightlife? Do you feel like nightlife will play a larger role in changing cultural perceptions surrounding gender and sexuality?
I've always identified as androgynous -- since birth, really. Physical gender has never been a real concern for me. It's always in flux. It seems that there are more and more creatures around now that share this existence and worldview -- and they're getting much louder about it. It's this kind of "fuck you" attitude that I love to see. Being strong in ourselves is forcing people to deal with their prejudice and bring it to light as a real issue in society, but you also have to be able to take the backlash. A boy in a dress is a protest if it's done with sincere and powerful intentions. This attitude has been present after sunset for ages and it's now seeing the light of day.
Nightlife has historically been a place for queers and other marginalized groups to subversively create art and build community. As queer identity becomes increasingly mainstreamed, what role do you see nightlife playing in the future of the "LGBT community"?
I pride myself on being fringe and having no desire to assimilate to hetronormative ideals of what "we" should be. It's out of the fringe that change and real creation comes. Being queer is more than who we go to bed with. It's a way of life and it's ours to invent as we see fit. With nightlife being ruled by the "queer" it a place for us to build a community, band together and stand our ground as true individuals creating a whole. I say freaks unite!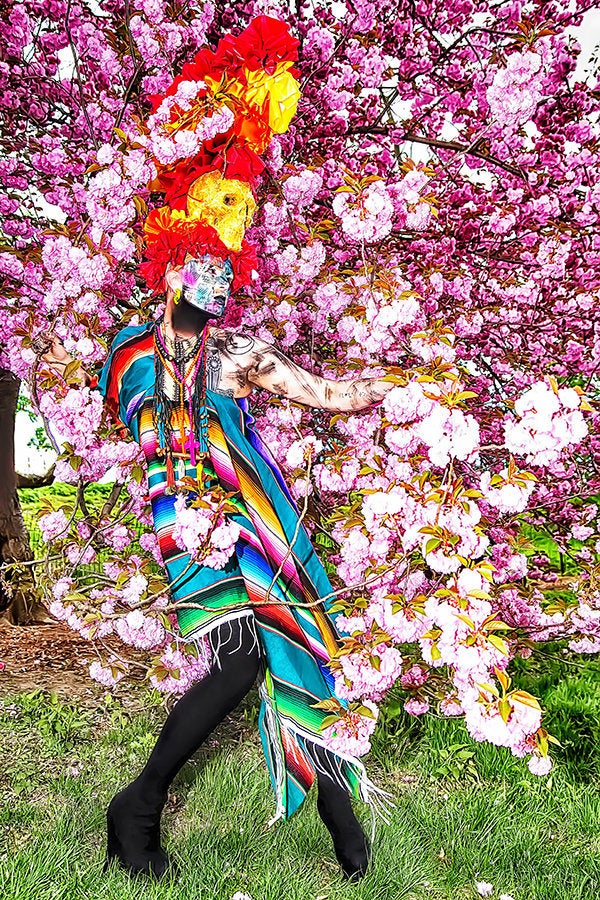 one-half NelSon
We already know how nightlife acts as a major force of cultural production. Now Susanne Bartsch is pushing an initiative to take art "from the clubs to the galleries" -- a movement you're involved with -- in order to showcase and celebrate this work in a different context. How do you see this influencing the future of nightlife?
There's a movement amongst nightlife "personalities" to identify as artists. We approach our nightlife personalities as living art, and often have conversations on how to expand what we do in the club to a gallery setting. For many of us there are aspects of our work that just aren't for the club -- that's why there's the push to blur the lines between art and nightlife. To take the emphasis off the booze and sex and put the artists and personalities at the forefront -- to create happenings.
Moving the work into a gallery setting allows me to present work that does not always fit into a club setting. There are aspects of my work, such as the live collage/painting performances, that require a more focused environment to experience the work in it's entirety. A gallery gives us, as artists, more control over the details and participation with the audience. It the next step in the development of the work as a whole.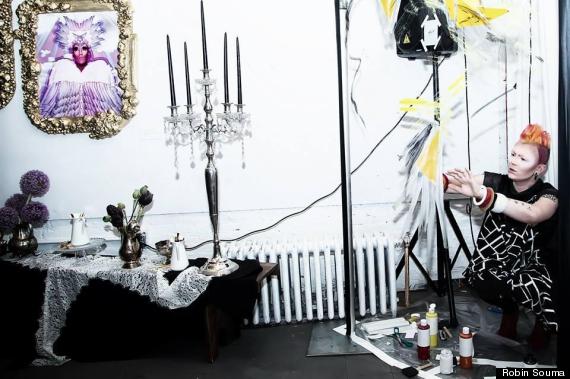 What is the most important thing you see coming out of nightlife today? What do you see as the future of nightlife?
Nightlife holds a special place in my heart. It's where I did a lot of my early development as an artist; where I made connections and further developed my visual voice. I find a beauty in the collaboration between DJs, performers and nightlife personalities to create an experience for the masses. It's my chosen family.
I think the important thing I'm seeing is the return to community coming back. It seems people are really trying to build a family again in nightlife. And the younger generation of queers are really creating something all their own. It makes me proud to be a QUEEN! It's OVAH!!!
For more from one-half NelSon head here to visit the artist's website. Missed the previous installments in this series? Check out the slideshow below.
Popular in the Community