In the world of diplomacy, Geneva is a powerhouse. It's where international standards are set, humanitarian response is coordinated, trade disputes are settled, peace negotiations are brokered and global pandemics are addressed. Here, perhaps more than anywhere else, people understand how difficult but also how essential it is to bridge differences in cultures, interests and priorities. So when the Geneva Gender Champions network welcomed its 100th member earlier this week, people took notice.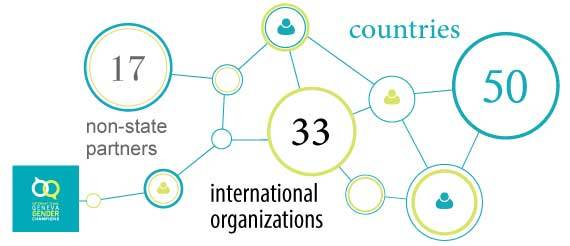 What they saw was a formidable, albeit diverse, group of organizations and countries coming together, in record time, in the name of gender equality. What we Champions saw was possibility, and hope for a future where gender equality is the norm. And in our case, it all started with three simple but powerful ideas:
Panel Parity Pledge. The first thing we did was to take a stand, in the form of a pledge common to all Gender Champions, showing the world that we stand united against all-male panels in Geneva. Through the Panel Parity Pledge, we're challenging stereotypes, broadening awareness, and spurring conversations about the importance of hearing female perspectives. Today, less than one year after Michael Møller, Director-General of the United Nations Office at Geneva, announced that he would no longer accept invitations to serve on panels without women participants, other male leaders have followed in his footsteps. Through these collective actions, we are making equality visible, one panel at a time.

Personal Commitments. Despite progress, equality remains elusive. Consider that by some estimates, gender equality in the workplace will not be achieved until 2095. Grass-roots movements are indispensable, but they are not sufficient. The Geneva Gender Champions network is built around a top-down approach, where leaders make personal commitments on behalf of their organizations to promote gender equality. Our 100 Gender Champions have already made 250 concrete, measurable commitments. These leaders recognize that not only is gender equality the right thing to do, it is the smart thing to do, better positioning our organizations and our communities for long-term success.

Take the time to look at these commitments. They reflect the latest thinking of some of the world's major international organizations on effective tools for achieving gender equality. While the Panel Parity Pledge is universal, each Champion customizes his or her additional GGC commitments. Though tailored to each organization's needs and priorities, common themes have emerged. Many commitments seek to improve how we recruit, select and promote hard-working, talented women. Some work to shape a new culture in the workplace, one that is more respectful of everyone's needs and aspirations. Others emphasize training and mentoring, or the collection and reporting of gender-disaggregated data, which is critical to showing that gender is central to many of the challenges we're facing today. Together, these commitments send a powerful message - that here in International Geneva, we will no longer accept business as usual.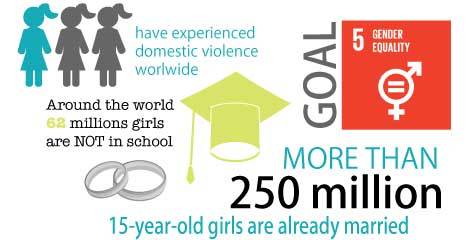 Synergies. We cannot continue to think of gender equality as a zero-sum game, whereby every opportunity given to a woman is an opportunity taken away from a man. When, on average, women spend more than twice as much time as men on unpaid work every single day, it has a direct impact on their labor force participation and a negative effect on the entire economy. When parents continue to rate the math abilities of their daughters lower than that of boys with identical math performance in school, we ultimately deprive ourselves of the talent necessary to solve some of our toughest global challenges. And when countries came together at the United Nations last September to dedicate one of the 17 new Sustainable Development Goals to gender equality, they signaled to the world that peace and security and economic growth will only be accomplished by putting women and girls front and center.

Because gender issues are global, complex and interconnected, any force for change must cut across disciplines, organizations, and other traditional boundaries. One of our Champions said that "Galvanizing change is not always about starting a revolution, but rather, changing mindsets and breaking down silos." Creating synergies among the various sectors and actors of Geneva's international community is the third and last idea on which our network was built. This wouldn't be possible but for the diversity of our Champions and the flexibility of our network's structure.
Throughout the year, there will be more commitments to come. More leaders will join the Geneva Gender Champions network. Perhaps other communities will adopt its core ideas and reproduce the concept elsewhere. But whatever happens, one thing is certain: We are Champions for change, and we won't stop until gender equality is the norm.
REAL LIFE. REAL NEWS. REAL VOICES.
Help us tell more of the stories that matter from voices that too often remain unheard.