"One Hundred Dollars" features the works of 100 artists, all using a dollar bill as their canvas. Each of the original artworks will be on sale for $100.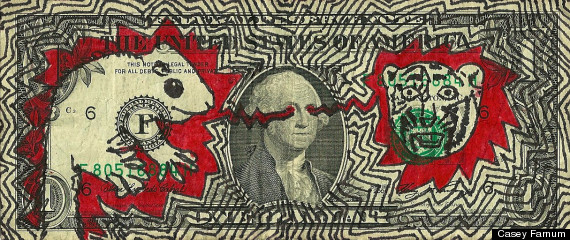 The playful pieces explore the unique and textured relationship between art and the dollar. Some dollars are dismantled from their loyalty to George Washington and turn their allegiance toward John Baldessari, Lady Gaga or, in one case, pizza! While many of the works incorporate the iconography of the bill into their designs, some keep the dollar bill hidden beneath the work. Daniel Maidman's "Anatomical Hand on a Dollar" covers the entire bill with paint, leaving the surrounding works to determine the relevance of the dollar lurking beneath the surface. Our favorite may be Casey Farnum's "Washington Summons Chipmunk and Tiger," in which Washington shoots red lazer beams from his eyeballs, summoning the beasts in a sea of zig-zag. If all dollar bills looked like that we would live in a beautiful world indeed.
The exhibition explores how two concepts, art and money, can be both so intimately intertwined and so diametrically opposed. While many artists choose to live outside mainstream corporate society, art is inevitably wound up with money. Both are bound up with value, with symbols and with power. Both are simple objects which garner great importance.
The 100 artists featured are Reuben Negron, Kristen Schiele, Paul Gagner, Taylor McKimens, Joel Dugan, Tricia Keightley, Jordin Isip, Julie E. Brady, Daniel Maidman, Michael Kagan, Eric White, Joe Heaps Nelson, Maria Kozak, Rachel Schmidhofer, Kyle McCoy, Joe Sorren, Mauricio Salmon, Lola Serrano, Ian Brauner, Hazel Lee Santino, Rob Leecock, Felicia Forte, Aliene De Souza Howell, Gregory Benton, Matt Morris, Hyunjin Alex Park, Benjamin Martins, Sarah Stenseng, Jean Pierre Roy, Jason Gandy, Rachel Pontious, Matt Leines, Jason Porter, Scott Penkava, Richard Saja, Thomas Martin, Carmen Von K, Chris Leib, Reiner Hansen, Brian Novatny, Jonny Ruzzo, Victor Kerlow, Steve Ellis, Jsun Laliberte, Jennifer Grimyser, Cheryl Arent, Nelson Loskamp, Vic Selbach, Christian Johnson, Nghia Nguyen, Stefi Sakata, Marcia Shapiro, Don D'Aries, Sahar Ghaheri, Gabe Albin, Brian Rattiner, Rawan Rihani, Nathan Stapley, Jeff Faerber, Natalia Zubko, Matt Rota, Maureen Drennan, Sara McBeen, Alex Sherker, Emily Noelle Lambert, Rebecca Litt, Ryan Scully, Lauren Hickman, Justin Baldwin, Brandon Sines, Eric Trosko, Paul D'Agostino, Mark Sengbusch, Paul Brainard, Alexandra Evans, Daniel Davidson, Lee Misenheimer, Casey Farnum, Nina Ljeti, Ms. Dingo, Taylor Bowen, Fedele Spadafora, Hannah Lee, Rachel Levit, Eric Pearson, Eric Araujo, Jeff Sims, Christopher Casamassima, Tim Jaeger, Jessica Libor, Billy Norrby, Ariana Barat, Megan Berk, Patrick Meehan, Reid Bingham, Maya Brym, Paul Del Bosque, Jess Rees, Sergio Verdeza, Kenneth Pietrobono, John Felix Arnold III, Patrick Shoemaker, Josh Steinbauer, Jessica Lynn, Melinda Beck, Chaz Faxton, Tina Marie Alleva, Alessandro Echevarria, Kiki Valdes, Sergio Barrale, Andrew Smenos.
The exhibition opens tomorrow, July 14 at Littlefield in Brooklyn. You can see a preview of the cash money below.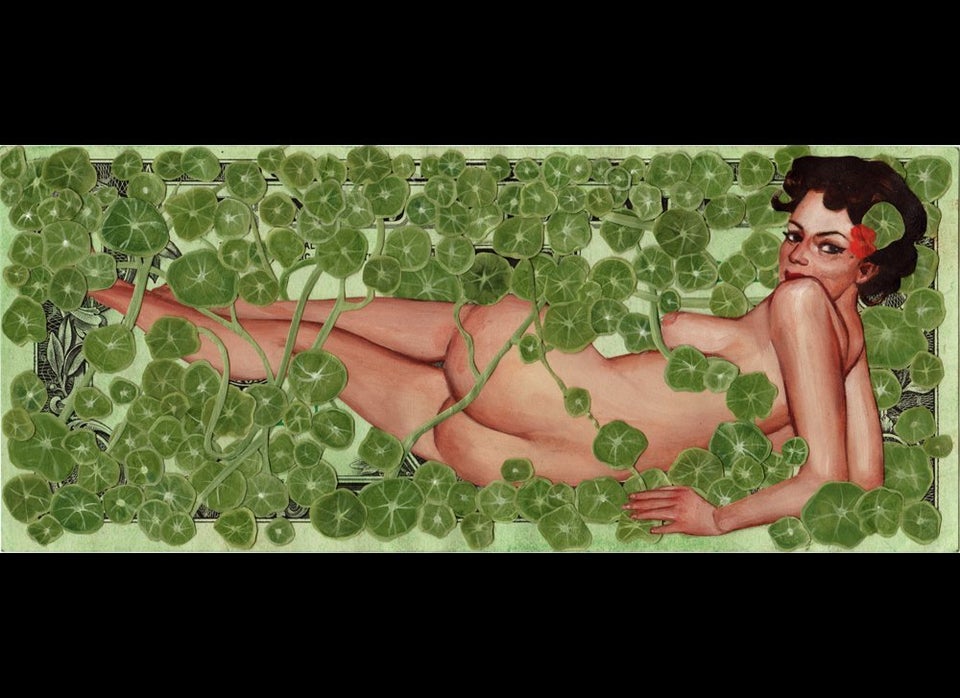 One Hundred Dollar
Related
Popular in the Community