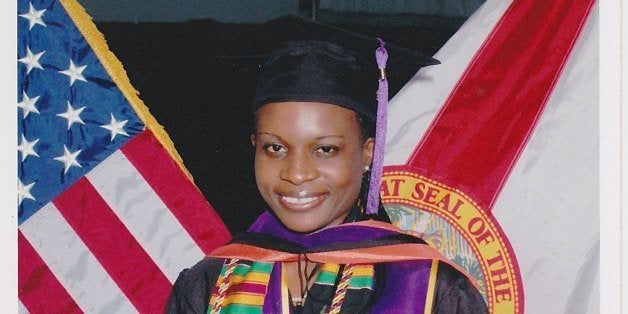 As the 11 year old girl gazed at the coconut tree in her backyard on her island home of Antigua, she dreams of one day becoming a lawyer in America. Once the dream took root in her head, she went around telling everyone who would listen.
Of course, not everyone shared her dream and some even laughed saying, "Why do you want to be a lawyer in America? They have enough lawyers." However, she refused to be discouraged or change her dream or focus. When people started asking her what type of lawyer she wanted to be, she was not quite certain; all she knew was that she wanted to be one.
Her mother was a constant cheerleader. Telling her she could be anything, do anything and if she wanted to be a lawyer, that's what she would be. At 16, she graduated from secondary school (high school) but her mom was not ready to let her go. So, she attended and graduated from Antigua State College.
At 18, her mom was ready to let her daughter go out into the world and be all she could be. She gave her a Bible and $1000 and with one suitcase she left for America and her dream of becoming a lawyer.
She arrived in NJ to live with her dad who had an apartment. She never lived in an apartment before and she initially felt as though she was trapped. But, she learned to adjust.
New to the American education system, she had to figure out how to find a college and how to apply. Left with little options, she picked up the yellow pages and started calling colleges -- requesting information and setting up tours.
She visited a few campuses. However, when she arrived on the campus of New Jersey City University, she knew she was "home." She applied and got accepted. Having spent two years in college in Antigua, she decided she had no time to waste and embarked on a journey to graduate in two years. This was no small feat; she needed 128 credits to graduate and only 12 of her credits transferred.
She was determined. After deciding to major in Political Science and minor in pre-law she went to visit graduation clearance at the end of her first semester. She wanted to make sure she was going to be able to graduate in two years. The office explained that what she was proposing to do was near impossible. Not to be deterred, she told them she will be back in couple of years.
From September 1999 to May 2002, she threw herself into her studies taking 18 credits most semesters and going to summer school. One semester she even took 21 credits. Along with studying, she had a part-time job, was the president of the Caribbean Student Association, the Senior Class president and on the University Senate.
When she went to get cleared for graduation, all they could say is that "you said you would do it." She graduated magna cum laude and went to law school.
On the day of her graduation from law school, her mother shed a tear thanking God for how far her baby had come.
On day she past her first bar exam at 25, her life came full circle. From dreaming as an 11 year old on her native island of Antigua to a full fledged lawyer in America! Proving anything is possible when you have faith and believe.
And that immigrant was me.