PLEASE MAKE THE FIRST IMAGE THE FEATURED IMAGE AND PLEASE DELETE THIS BOLD REQUEST
Some actresses settle for playing the gorgeous girl whose character is created to move the man's romantic arc forward. And although Maggie Siff is undeniably ravishing with her sultry stare, sparkling eyes and raspy voice, and already had the chance to cozy up next to two of the most sought after men in Hollywood like Jon Hamm and Charlie Hunnam with stints on Mad Men and Sons of Anarchy, Siff proves time and time again that she is far more than a man's on-screen arm candy.
Now in her most compelling role yet, Siff gives an Emmy-worthy performance on Billions. As Wendy Rhoades, Siff is stronger than ever as she navigates the power hungry alpha dog world of finance that she finds herself in. A liaison between all the greed and corruption, she is the glue that holds the show together- a psychiatrist and motivational coach for the powerful big boys at Axe Capital by day, and a wife to yet another powerful man, a U.S. Attorney General by night. Only more often than not, she holds all the power. At work, her patients would be lost without her, and at home her husband's inferiority complex to his wife's salary has led them to BDSM role-play. And as usual, the actress brings her A-game and more to the role, perfectly possessing the strength and careful assertion she needs to both feed those egos one minute, and then make her authority known the next. It's quickly easy to see why everyone around her is so entranced.
As mesmerizing off-screen as she is on, Siff is an absolute delight to speak with as she sits down to tell us about her complex role, playing strong women characters, who she would love to work with in the future and more!
Wendy Rhoades might just have the best job in the whole world. Talk a little bit about that job and how good she is at it.
When I first read the part I thought to myself that this woman was so much smarter than me or anybody I know, So how do I make that believable? [Laughs] But, what I love about the role and her job is that she really marries a kind of empathy with this sensual satisfaction of dealing with people with huge egos and huge intellect. So, I think she really loves the challenge of dealing with people of oversized personalities and oversized jobs and stepping into these big decisions with people dealing with huge amounts of money and high pressure. So, I really like the way that she's a person with a heart, but she likes to swim with the sharks. It's very fun to play.
Would you consider that everything Wendy does work-wise ethical, or is she also serving her own agenda?
I don't think that's true- and that could be because I'm speaking as her defense attorney which is often how actors have to do for their roles. [Laughs] I think she is very good at pursuing her own agenda, but I think when she is in the room doing her work she isn't serving herself, I think she is doing her job. And there is certainly some moral ambiguity with the story, but she has a moral compass and struggles with it pretty profoundly. I've talked to the creators a lot about this- if she is so good at what she does, why does she want to work with the super wealthy? What does that mean? I think ultimately the success she has is making these guys better people on other parts of their outside lives as well. But, of course, everyone in this series does walk into some complicated grey moral territory and she's certainly not an exception.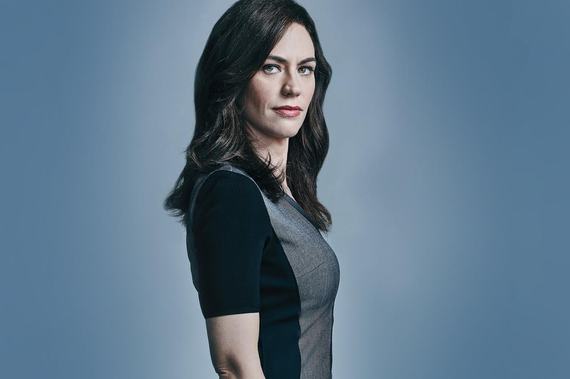 You really have a knack for finding characters that are caught in heavy power dynamics as this show features that mentality, as well as Sons of Anarchy and Mad Men. Talk about how this is a really appealing role to play and how it particularly applies to Wendy.
It's so hard to know if I found the roles or if they found me! I have noted that I have found myself in roles where the world around me is pretty male dominated, and I don't really know why that is. I like to play women who are smart and strong, so when I come across those roles they tend to jump out at me- I like playing the characters that can swim with the sharks, male, female or anybody. I don't want to just play a role that is subjugated to a small corner of a romantic nook of a world, so I'm definitely drawn to these types of strong, daring women who aren't scared to step into things and that aren't conventionally feminine.
Talk about playing those BDSM scenes. Are they uncomfortable to shoot?
All sex scenes and romantic scenes are fundamentally uncomfortable! These were no exception. I was intrigued by them though because it was new to see in the context of a marriage and I thought it added a really interesting dimension to that relationship. When I first read the pilot, I definitely had a lot of questions about what would be expected of me and how it would be played out. I really wanted it to be character driven. And it has been- it's been done really strategically to expose character and relationship dynamic. I'm lucky because I'm working with a tremendous actor in Paul Giamatti, who also has a great sense of humor and a lot grace and we laugh our way through it. And he tends to be the one in the more compromising positions! [Laughs] He's so great and it's so infectious, and he always goes there, so I make sure to meet him at that point.
Talk a little bit about working with this amazing cast on Billions and how well you guys all play off each other with this almost modern Shakespearean style.
It is an incredible cast! Everybody is such a terrific actor, but also such a terrific person! Smart, prepared, happy to be at work- it's great. Our show runners are so great because there's always an ongoing dialogue about the work and I never feel bad about approaching them with a question or concern, so it feels like we are all collaborating all the time and that's a pretty rare experience. It's nice to be able to have so much trust and it's flowing in all directions- it makes going to work really fun and satisfying.
You've really been fortunate to work with so many great casts so far in your career. Is there anyone in particular you would really love to work with, actor, director or otherwise?
There's lots! Tilda Swinton immediately springs to mind. Working with Robin Wright would be so exciting. For some reason, women are the first names that are coming to my head- I want to work with more great women- especially writers and directors! Like Jenji Kohan- she is amazing and I would love to work with her!
What's in store for Wendy next season?
Well, I don't really know that much! We haven't started shooting yet! I think you can expect to not see her at Axe Capital. At the end of the first season she ended both her marriage and job, so she's really venturing out on her own, so I think this season will really reflect what that path looks like and where it leads her.
What do you have coming up next? What would you love to play?
As of right now I can't focus on anything but Billions because we are going to start shooting and it's going to take up the next six months of my life! But, I love all the mediums- film, television and theater and I'm just looking for interesting, complicated, unusual roles. I don't try and look for any one thing in particular. When I find something that really gets me or mystifies me, then I go with that!
The world feels the same way, and they are clearly just as mystified by Siff and her dynamic Billions character!
Billions comes back for Season 2 on Showtime early 2017.
Calling all HuffPost superfans!
Sign up for membership to become a founding member and help shape HuffPost's next chapter