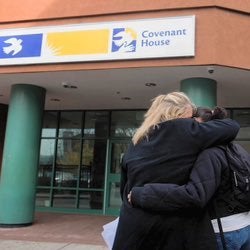 This morning researchers at two universities released the most comprehensive findings to date on the prevalence of human trafficking among homeless youth in the United States and Canada, reporting that 19.4 percent of homeless youth have been the victims of human trafficking – 15 percent trafficked for sex, 7.4 percent trafficked for labor, and 3 percent trafficked for both. The studies from The Field Center for Children's Policy, Practice & Research at the University of Pennsylvania, and the Loyola University (New Orleans) Modern Slavery Research Project, involved interviews of 911 homeless youth across 13 cities, including at Covenant House shelters in Anchorage, Atlanta, Detroit, Ft. Lauderdale, Los Angeles, New Orleans, Oakland, Philadelphia, St. Louis, Toronto, Vancouver, and Washington, D.C. Young people were also interviewed at three programs for homeless youth in Phoenix, AZ.
Researchers also reported that nearly 34 percent of lesbian, gay, bisexual, transgender and questioning (LGBTQ) homeless youth had survived human trafficking, although they accounted for only 19 percent of the interview pool. Twenty-seven percent of LGBTQ youth – more than one in four – had been trafficked for sex.
The U.S. federal definition of human trafficking, which the research teams applied to their interviews, involves either the exploitation of minors for commercial sex, or compelling labor or commercial sex through the use of force, fraud, or coercion.
The reports also find that more than half of LGBTQ homeless youth have been engaged in the sex trade at some point in their lives.
The research bears out for the first time on a large scale the prevalence of trafficking among homeless youth. According to today's studies, more than two-thirds of the young people who engaged in commercial sex did so when they did not have a safe place to stay, underscoring the role that homelessness plays in exacerbating teenagers' vulnerability to human trafficking.
The most expedient way to reduce human trafficking among young people is to provide them with a safe place to stay, protected from the pimps and gangs who target them on the streets.
In February, President Donald Trump described human trafficking as an "epidemic." At the same time, the President's 2018 Budget Request for the U.S. Department of Housing and Urban Development proposes a $6.2 billion, 13.2 percent decrease, which would further erode the safety net for homeless youth in the United States.
That dissonance is a powerful reminder that many decision makers continue to think of trafficked youth and homeless youth as distinct. In too many instances, they are not, and our efforts to eliminate trafficking must examine the circumstances that make victims susceptible to exploitation.
We do not have to live in a world where desperate kids are bought and sold. To reduce the number of youth who are trafficked, we have to end youth homelessness. We can, we must, and we should.
Ending youth homelessness is achievable. When the United States exerts the political will and social muscle to solve homelessness, we succeed. For example, when the U.S. Congress invested in effective, targeted homeless assistance over the last seven years, local communities made enormous strides. The nation witnessed an eye-popping 47 percent reduction in homelessness among veterans from 2010 to 2016, including a remarkable 17 percent reduction in 2015 alone. Chronic homelessness decreased 27 percent during that same period, and family homelessness dropped by 23 percent, with a 65 percent drop in families living on the street.
But in the past three years, the number of unaccompanied homeless youth in the United States rose. The National Network for Youth estimates at least 1 million youth experience one night of homelessness each year, and more than 550,000 youth are homeless for a week or longer. Yes, more than half a million American youth without rooves over their heads for at least seven days in a row. How do they sleep at night?
The rising number of homeless youth in America, coupled with today's findings that one in five homeless youth are subject to human trafficking, frame an urgent call for President Trump and the U.S. Congress to stem the tide of child and youth exploitation. A comprehensive campaign to end youth homelessness must tackle child abuse, which one of today's studies tied to victims' susceptibility to sex trafficking. The Field Center's interviews with young people in Philadelphia PA, Phoenix AZ and Washington DC showed that abuse and neglect in childhood correlated with victimization in human trafficking. In those cities, 95 percent of the young people who had been sex trafficked reported being maltreated as children, with 49 percent reporting childhood sexual abuse, essentially forming a child welfare to human trafficking pipeline.
Our strategies have to reach beyond foster care. This month, we are joining with thousands of advocates from across the nation and the National Network for Youth to ask the President and leaders of the House and Senate Appropriations Committees to end youth homelessness in the United States. A good place to start is expanding HUD's Youth Homelessness Demonstration Project grants, which launched recently and support comprehensive strategies to end youth homelessness in ten pilot communities across the country from Anchorage to Austin and California to Connecticut.
And we are joining with A Way Home America to ask House and Senate leaders to reject the administration's recommended $6.2 billion, 13.2 percent cuts to HUD, maintain the levels from fiscal year 2017 for Homeless Assistance Grants, and continue them into fiscal year 2018.
We can end youth homelessness in the United States. If we do, we will position a new generation of youth for safety and opportunity. If we do not, those opportunities will belong to the pimps and gangs who target homeless, desperate teenagers on the streets of America. The choice is ours; today's research findings make clear our choice has consequences.
Related
Popular in the Community