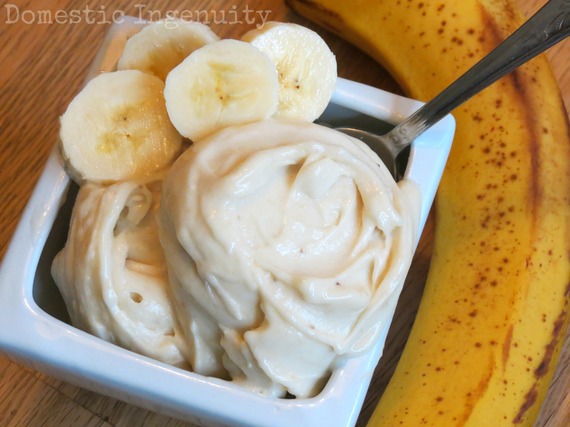 Craving a sweet treat that won't ruin all your hard work at the gym? Looking for a healthy dessert option for your kids? Or just have some extra banana's lying around? This one ingredient ice cream has been a game changer around our house! I tend to have an overabundance of bananas at my home at all times. Between protein shakes, morning smoothies, banana muffins and baking I always stock up. But sometimes (I'm just too lazy to bake) I cant consume them all in time. Not to mention that as a little reward for staying dry all day, my toddler gets an ice cream treat for dessert. However, I'm not a fan of feeding him sugary ice cream with fourteen ingredients I cannot pronounce, let alone right before bed.
This is where one ingredient banana ice cream has made its debut. It requires practically zero work to make, it tastes amazing and you have to try it for yourself to believe that the texture is EXACTLY like soft serve ice cream. Do you need any more convincing? Just slice up your extra bananas into slices, freeze them on a cookie sheet overnight, and then toss them in the food processor for a few minutes. That's all. You are only one sleep away from having the best ice cream treat.
It's delicious enough as it is, but for a twist on things you can add a few simple ingredients for an even more decadent dessert. Try adding peanut butter, shredded coconut or cocoa. Or all three for a chocolaty peanut butter banana extravaganza. Enjoy!!