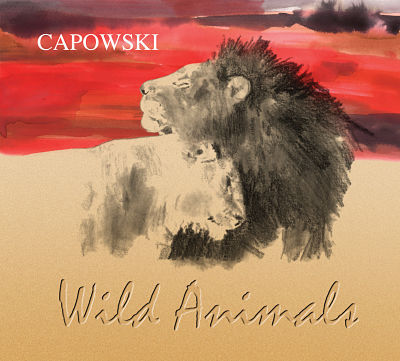 "You can play a Psychedelic Furs song on an acoustic guitar and it will sound fantastic ...they're great songs. But there's something about John Ashton's 'sound' - those recordings where you think all hell is going to break loose, and that everything is about to fall apart. Rock 'n' roll is supposed to be exciting --- and that's what I loved about his records. There was an element of tension and excitement and that's what John brought to my 'pop' songs." Robert Capowski
"I'd grown up listening to a fair amount of folk and acoustic based rock from the 1970s ...early T-Rex, Neil Young, Bob Dylan...and once Bob (Capowski) and I met we discovered we had a lot of other musical styles in common. We both share a love of all things Fleetwood Mac, especially the early stuff as well as the rare Buckingham-Nicks record that Bob actually owns on vinyl! We also share a lot of the same type of dry humor." John Ashton

If you'd had told singer, songwriter, recording artist Robert Capowski that a rock guitar legend would produce and play on his sophomore indie album, he'd shake his head in disbelief. And what if that legend corralled an equally distinguished support cast, including musicians who helped define the canon of Gang of Four, B52s, Black Crowes, The Band, Satellite Paradiso, Miles Davis, and Gil Evans to name-drop a few?
They're all name-checked on Mr. Capowski's dazzling new release entitled Wild Animals. To my ears, Robert Capowski and his producer John Aston could have easily subtitled this collection "new directions in folk music" in the manner of the aforementioned jazz trumpeter. The deep grooves, the harmonic movement, the clever undercurrent of rhythm and space - all of which fortify Robert Capowski's libretto - breathe new life into a genre which tends to replicate past glories with little or no invention.
Borne of New York City's hallowed 1980s "anti-folk" movement, Robert Capowski began his musical journey during his youth and the time he spent with the Nicaragua Brigades, a holistic empowerment group. "I met a woman...a beautiful artist," he recalls. "She lived in the East Village and I tuned into the music scene there. I started writing songs about my experiences in Nicaragua, about the abject poverty down there, how young everyone was, the revolution..."
Mr. Capowski feverishly worked open mics, assorted gigs, and hell raising hootenannies in venues which have since passed into history - Folk City, Chameleon, Pyramid, Sophie's, and Knitting Factory, to cite a distinguished few. He encountered such artists as Michelle Shocked and Beck among others who further inspired the fresh folkie's artistic yearnings. "They were great times, I was around like minded people who wrote their own songs. But in the beginning I was terrible! I didn't know what I was doing, I simply wrote songs and I sang them - they were unfiltered songs. I look back on those times with fondness...it was a tremendous experience"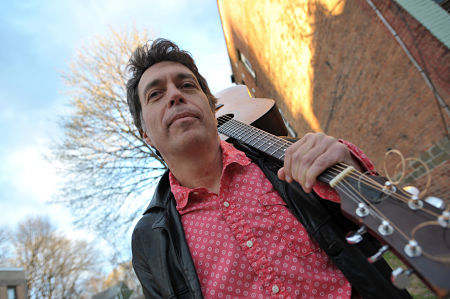 Yet the not-so-glamourous life of a Village troubadour took its toll on Robert, who retreated from the music scene for more than twenty years.
"Music has always been dear to me, it's something I turn to when it seems like there's nothing else to turn to ---my guitar is always there and the music is always there." Eventually Robert felt the need to make music again and to make a record. When a friend who sang harmonies with Robert asked who he'd like to work with in his "dream" band, among the names Robert casually tossed out was Sara Lee, noted for her tenure with Gang of Four and Robert Fripp among many others.
His colleague's response was prophetic. Robert recalls it nearly verbatim. She said "...that's funny, my band plays with a 'Sara Lee' and she's British, and she's a bass player." Robert was stunned. "She's my idol! My friend had no idea that she was 'the' Sara Lee. You can't make this stuff up!" Robert made the call and connected with Lee and thus began a fruitful working relationship.
Inspired and invigorated with the presence of Lee, Robert re-emerged in 2013 with Drinking the Sea, a riveting modern folk endeavor which draws comparison to Nick Drake, Richie Havens, and Tim Buckley. Described as a collection of reflective, raw, personal songs - Robert's debut disc featured Lee on bass, Cynthia Phillips on harmony vocals, drummer Kevin Teare, and keyboardist Lorraine Nelson Wolf.
However for his follow-up the artist knew he needed a bona fide producer - a catalyst and someone to assume responsibility in the studio to make the best record possible. As such, Lee immediately suggested her friend and Woodstock, New York neighbor John Ashton - known to the world for his groundbreaking work as a Psychedelic Fur, and more recently, Satellite Paradiso. Once again, Robert was floored. As he did with Sara, he made the call to the iconic guitarist. After hearing Robert's demos, Ashton agreed to commandeer the project.
"I played John a song and he'd set a drum track to it, we'd talk about it, and we listened to the songs we mutually liked. A lot of what this record sounds like was driven by John's choice of musicians." Ashton's all-star cast included bassist Lee, Jimmy Eppard, drummer Joe Magistro, keyboardist Pete Levin, vocalists Simi Stone and Summer Corrie, and Ashton on guitar.
Ashton emphasizes "when I started working with Bob I immediately felt that this record should have a classy mature sound - but with an edge. Aside from an odd 'experiment' here and there I wanted to have some musical weight behind each recording so my choices of musicians were dictated by the songs themselves. It all started with Bob and I discussing the songs and their meaning to him on a personal level. Starting out with Sara Lee as the anchor, there was really only one way to go and those choices became more evident as the record became fully realized."
Robert's producer opted to record in a loft that Mr. Capowski had used as a rehearsal space. "As soon I walked through the door I knew that this was where we should record the album," reveals Ashton. "It was a chalet type open plan living space with a room that just sounded wonderful and there was a small bedroom just by the entry way that became the control room. So I dismantled my studio and set it up in that room." Mr. Capowski's album was recorded in just three days. "It's all live" boasts Rob. "Sara had the flu and you can hear her coughing at the end of one of the songs, which John decided to leave in ...of course."
The 'loose concept" of Wild Animals is the trajectory of a love affair, to which Robert laughs: "over time I started to realize that there were similar themes in these songs and that there was some 'thing' that drew them together - and it was my preoccupation with having a relationship fall apart - how it happened, why we choose who we choose, all those elements. For this record I was not trying to be 'artful' as I was in my early days in the East Village -I wanted to keep things fairly simple and direct. John mentioned that my 'heart was on my sleeve.' Who knows? Perhaps the next record will be very guarded! I knew that I wanted to call the album Wild Animals and the cover was my only stab at irony because the rest of the record is pretty straight forward. When you have a huge crush on somebody and you don't act on it - you're anything but a wild animal...
Capowski's Wild Animals is out now via CD and digital download.
Popular in the Community