To say that Carrie Welch and Jannie Huang are a busy couple would be the understatement of the year. Welch, along with Mike Thelin, founded and run Feast Portland, of which Huang is an integral part. Welch and Huang also have a PR Firm together called Little Green Pickle. And that's just their professional lives. They also have a two-year-old son and are now going through the IVF process, which is proving to be long and tough for them.
The pair enjoy an enviable connection that is proving to be more important than ever as they try to get pregnant once again. I caught up with the two to find out more about how they juggle it all and somehow manage to enjoy it all too!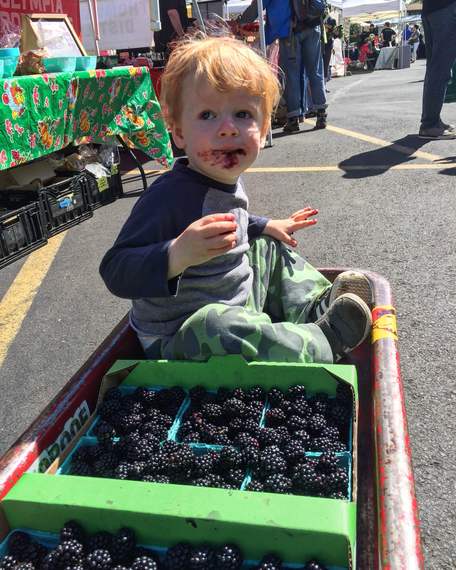 Block: Last year, you were wrangling a brand new, tiny little human. How different has this year been in the parenting universe as compared to last?
Jannie: The tiny little human being can walk and talk now! It gets better every day as he starts to communicate more and more. He makes us laugh in ways I didn't expect. All of a sudden, you are learning a new language and trying to translate. It's been a blast and I just can't wait to see what he'll do next.
Carrie: It's so different! In so many great ways. He's in another universe and we're trying to keep up. It's a lot of fun as he learns so many new things every day. So many more opinions, so much he wants to do by himself now. It's all going by incredibly fast - it's true, everything they say - so we're just trying to enjoy every minute.
Last year I felt so completely out of my element - I was learning a new parenting language, figuring out how to balance being a mom while working, trying to juggle it all. I think Jannie and I have both slowed down a bit, which for us, is a good thing. Our son wants to walk to the park, pick dandelions and go on the swings. It makes you reconsider your priorities and figure out new ways of working, and of living, really.
Block: What would you say has been the biggest surprise moving from the baby stage to the toddler stage?
Jannie: How fast they pick things up! How to climb up monkey bars. How to manipulate me into giving him what he wants.
Carrie: How fast he moves! Right now he says, "I am running!" as he books it down the hallway. But it's not just speed, I'm constantly surprised how much this little human wants to be independent. He wants to learn and do and think and try. He started climbing the monkey bars at the playground one day, seemingly out of nowhere. You blink and they are showing you that they can do a new task. And he's so proud! Just going down the slide alone, or coloring a circle, he claps and says "Yay!" for himself.
I am also surprised how much we've grown as moms. It's not all easy, toddlers give you a run for your money. We continue to learn that patience works. We talk to him and try to explain why things are happening - why he has to wait in line at the science museum, why he can't go outside during breakfast. You have an entirely new appreciation for your own parents - thanks Mom and Dad! - and you realize why they've been so patient with you your entire life!
Block: What has been the biggest challenge and the biggest reward on that front?
Jannie: Being able to let him go up the monkey bars by himself (yikes) and watching him succeed! (yay!)
Carrie: Honestly our biggest challenge, in my mind, and this is going to sound super corny, is just wanting to be with him all the time. We are lucky enough to own our own businesses, so we have a lot of flexibility in spending a day here or there with him. We each work from home one day a week. He's with our nanny, who he adores two or three days a week, and even goes to a school she teaches at one day a week. It's a great mix, but man is it hard to leave after spending a weekend with him, just us. I thought that part would get easier - it has, sort of - but I still cry a little in my car on the way to work sometimes.
I'm sure it's something all parents can relate to, but along the same lines, I am challenged by trying not to helicopter parent the heck out of him, while also trying to keep him safe, while also trying to raise an independent, confident boy. Holy moly. It's a lot, but it's so important to me, to us. One giggle from him lights up my entire day.
Block: Do you feel like balancing work and parenting is getting easier as you have more experience and your son gets older? Or is it harder in some ways because he can get around under his own power?
Carrie: Both, really. Though every time you feel like you get good at parenting, and you're like "I've got this!" and you high five yourself, it changes. He's on to the next stage, he's running instead of toddling, he's demanding instead of chattering, he's looking at you and you know you're going to see that same face when he's about 16. The only thing we can count on is change. It's wonderful and it's totally terrifying.
There are parts that are easier - just being able to communicate with him is amazing and still new. Your heart soars when you ask him to go get his sandals and he does it! It soars even more when you teach him how to close the Velcro strap on the sandal and he does it! The sheer amount of teaching - how to brush teeth, how to use a spoon, how to cross the street - it's so much, but it's beyond gratifying. You did that, you showed him the next step in becoming himself. That part is so freakin' cool!
Block: I understand you'd like to have another baby. How has the pursuit been compared to the first time around?
Carrie: We've been trying for number two most of the summer. It's been hard. Jannie has been trying to get pregnant and it's not working. I am not sure why the most loving, generous, caring person can't get pregnant. It feels unfair but I think we're both accepting it. She inspires me every day with her strength and willingness to get on with it, when most people would be crying in the corner.
The most difficult part is seeing your wife in pain. Going through something like this together, it shows you what your relationship is made of, what you can handle, what you can't. I wake up grateful that I have a true partner in everything and I know there is nothing we can't handle.
Jannie: Almost like the first time around, but even harder. When we were trying to have Taylor, I was to go first. You know. Cause I'm a whole year older than Carrie. After 8 or 9 IUIs (artificial insemination)., I can't remember how many, we decided to just try with Carrie instead of doing IVF. Of course after two tries, she was pregnant with Taylor.
So almost a year ago, I started trying again. After 2 IUIs our doctor, Dr. Diana Wu of OHSU, decided with my history, we should do IVF. Knowing it may take more than one try. We bought the two for one package.
IVF #1: You read all the blogs and online articles, even when you know you shouldn't. Some women have 20 eggs and end up with 10 embryos. You never think it is possible to not have any embryos be produced. It was devastating. You spend weeks taking shots, vitamins and pills with the maximum amount of stimulation to only have your eggs either be too fragile or they literally reject the sperm. I joke I am a true lesbian, but it is tough to find out.
IVF try #2: We try the opposite way and do a mild stimulation. I produce two eggs and we decide to do IUI as it isn't worth it unless this was my last chance to try. It doesn't happen.
IVF try #3: After much deliberation and taking a month off, we decide this is it. The last chance. Our last hope of having a child with my genetics. Our doctor tried one more combination of stimulation that has my body produce up to 5 eggs. This was the most I have had so far! We were very excited, but tried not to get our hopes up. It's time. The procedure of egg retrieval takes 45 minutes. My amazing wife to takes care of me and our son the rest of the day. I lay in bed watching TV by myself thinking what will happen. Will the eggs make it to the embryo phase? Just one. All we need is one! 24 hours go by. I get a call from the doctor earlier than expected. I already knew. None took the sperm and I know I will not bear any children.
I know there are more women out there who have had the same experience. My heart goes out to all of you. Straight, gay, transgender. It doesn't matter. It's the worst.
I am truly lucky. I have a woman who has a perfect uterus who can have babies. Taylor is our son and the future baby will be OUR baby.
Block: Do you feel like balancing work and parenting is getting easier as you have more experience and your son gets older? Or is it harder in some ways because he can get around under his own power?
Jannie: In some ways it is easier and some ways it is not. He is learning new things and saying new things. We come home from work and he has a new skill! We weren't there when he did it first. Probably the hardest part.
Sometimes I think about how my dad would come home and coach my soccer team for years and my mom would pick me up from practice and then work all night as a nurse. I inspire to get to that point.
Block: Have you experienced any particular challenges as lesbian parents?
Carrie: You know, not really. It's part of why we moved here. Most parents don't think twice about it in Portland. There are so many gay parents here, it's reassuring to us as we come across each other at the playground, school, and play café. Even a brief conversation while the kids are playing together is nice to have.
I do think about what it's going to be like when Taylor starts asking about daddies. It's coming. It's something we'll have to explain and discuss as a family. We have lesbian mom friends down the street who have a boy a couple of years older than Taylor and they told us their son was pretty accepting of it. I try to cross each bridge as we come to it, because you really can't control much before then.
Sometimes parents have a negative reaction or a non-reaction when I use the word wife. I think my former New York self would've gotten more upset about it. My Portland self is getting really good at letting things roll off my back - the man who turns his chair at the restaurant so he doesn't' have to look at us while he and his wife are eating. The mom who was talking to me at the playground, but realizes I'm gay and abruptly stops. It's fine. We have to stay strong and rise above all that. I want to set a positive example for our son, so we keep moving forward.
Carrie and Jannie's other baby, of course, is Feast Portland, slated for September 15 - 18. This is Feast's 5th Birthday and the pair says guests are in for some great new events and surprises, including Fun-Size events. "It's like the Goldilocks of events. Not too big and not too small. Just right. We even have a cocktail crawl with Bon Appétit's editors." This year's Night Market will be Latin themed, the Sandwich Invitational is moving to Moda Center, and the Sandwich Invitational is moving to the East Side at the RoseQuarter Commons. Carrie says it's all thanks to their incredible team Mike Thelin, Emily Crowley, Elizabeth Roberts, Haehee Phillips, and Maureen Hidalgo. "They make our world go round!"
From parenting to getting pregnant to planning and running Feast, Jannie says one of the biggest challenges they face is hormones. "It's a bitch for both sides. Don't worry. It lasts only an hour or so and you'll make up afterwards." The fix? "Just be kind to each other. Life is hard enough already."
REAL LIFE. REAL NEWS. REAL VOICES.
Help us tell more of the stories that matter from voices that too often remain unheard.