The familiar smell of dust, the gasoline, the honking rickshaws, the sway of the Indian women's dress, the nod sideways to say yes, the walk along the broken stones of the highway, fearing falling into the passing motorcycles, the cars going both ways at once... and the colors of all the scarves!
I was back in India.

I had not seen Camille, the Dutch NGO director of Amaidi Organization, in five years. My rickshaw driver left me in an alley, a woman in a swaying skirt led me up to some stairs, where a plastic elephant light glimmered and a dog jumped out.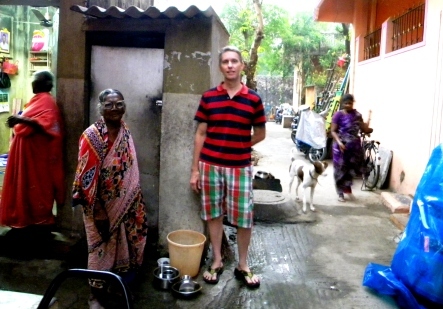 "I live here now," Camille said, welcoming me into his home of two simple rooms, while his two children sprang out grinning. I spotted a couch and two chairs. But no beds.

"We sleep on the floor," he said. "You know, it's easier that way. You don't really need a bed, just a sheet."

His wife brought me milk coffee, and Camille explained what happened.

His NGO had blossomed from one outfit in Pondicherry hooking up volunteers with local schools to an umbrella organization that networks together NGOs in 20 countries in Asia, Africa, and the Americas:
I create teams in each country; they are then responsible for finding NGOs that we then recommend to volunteers from Europe and America. The volunteers pay 300 euros for the service. Out of this, each team member is paid 100 euros for setting up the volunteer. I make 45 euros, and another 100 euros goes to expenses. The rest of the volunteer fee goes to our Green Fund because we feel guilty because all these volunteers use up enormous fuel by flying around the planet.
Uganda, Nepal, India, Guatemala, Nicaragua, Italy, El Salvador, South Africa, Thailand, Myanmar are in his network. Camille had 4,000 links on Facebook, was in dialogue with 10 founders of charities on Linked In, and had a website page where volunteers can find links to volunteer opportunities. Each volunteer is set up, met at the airport, found lodging and connected to institutions in the volunteer country.
But they can also not pay 300 euros, just like I had not paid 300 euros when I volunteered for Camille years ago.
If a volunteer is resourceful, they can simply find all the email info on my website and arrange it all themselves. Some fellow charities think I'm crazy. They think that I should make people pay for this information that I work day and night to acquire, through my teams... but why compete? The point is to make the planet a more harmonious place. Just get the volunteers out there.
He laughs -- in his enthusiastic way -- and explains that he wakes up at six each morning, home-schools his two children (who grinned behind him), then in the afternoon works as a copyeditor for a Dutch children's press. From 7 p.m. to midnight, he works on the Amaidi Foundation.
Why did Camille Van Neer, originally an elementary teacher from Holland, start this NGO in India?
"As a young man, I was attracted to the Auroville project: the utopian community started by 'the Mother.' I was inspired by seeing these people planting trees in nature, these French people who believed in a deam of a woman I had never heard of, who wanted to live together in harmony. But it was not as ideal as all that, when I lived there a year."
He left Auroville and worked five years for a free trade company -- and then in 2006, he got the idea of an NGO in India.
"I wanted harmony in a warm climate -- and self-sustainability. Behind my NGO is the concept of trust and compassion: to help fellow country people who are vulnerable: children, women, the elderly. My sense is that connecting with my organization will help achieve this."
Does Camille still believe in ideals?
"No, I believe in results. There is a biblical proverb: you recognize the tree by its fruit."
In step two visitors who will spend the night on Camille's floor: a couple he does not know whom he met on Facebook. The woman, an American, comes laughing, carrying two computers, to donate, filled with iTunes. The man, a Scot, beams and tells me the two have just flown in from Bologna, where they live, in order to celebrate their one year anniversary of meeting on a beach in Sri Lanka. "We are in love!" he says.
The woman laughs and he grins. Camille and his Indian wife lead me to the street to wave down a rickshaw...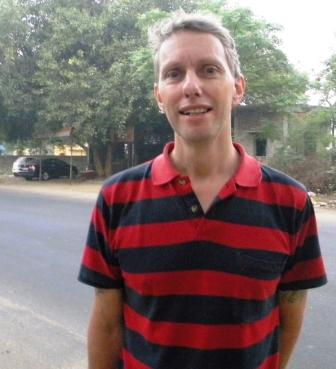 I find one of Camille's local teams, Kerin and her husband Sendhil, in their travel agency "Bon Voyage," off a dusty road in Pondicherry. Kerin greeted me warmly in Spanish, and we discussed her native country Panama, while a volunteer from Korea came down the stairs and chatted with the man running the office.
"We take care of the volunteers from A to Z," exclaimed Kerin. "Some of them are so young, you know, and we make sure they feel safe and protected."
A few of the volunteers, like the young woman from Hong Kong, lived upstairs, above the agency, in private apartments.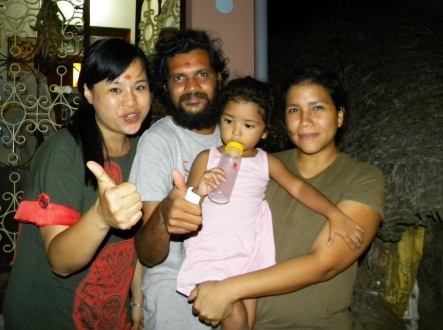 "We connect the volunteers with many institutions here in Pondicherry: orphanages, homes for the mentally ill, schools." One institute for "orphans" was for children abandoned by their parents because they had learning disabilities such as autism.
"Are these orphans sad?" I asked the bubbly Kerin.
"Oh no," Kerin grinned, hugging her own little girl. "They are so carini. They are such adorable children!"
She laughed and waved as I went off in the rickshaw.
Calling all HuffPost superfans!
Sign up for membership to become a founding member and help shape HuffPost's next chapter