Just east of the center of San Francisco, two streams once ran parallel to one another. In their beds now rest the commercial drags of the Castro and Noe Valley neighborhoods. Six blocks separate them, but few walk from one to the other since a steep hill does too. Near the top of that rise, on a street named after one of the most brilliant stones produced by nature, resides a jeweler—and now, thanks to him, more than 20 exotic animals.
To find Huib Petersen, look for the tall, smiling gentleman with the white goatee dyed hues of fuchsia and turquoise. If he's riding a bike and sporting funky glasses, you'll know for sure you have your man. The yellow home where Petersen and his husband live appears from the street to be a cozy cottage with a sun-warmed room or two, but the place actually unfolds down the back of the lot like a Jacob's ladder. Leave it to a modern-day fairy tale to feature a dwelling that epitomizes its inhabitant, like the brick house built by the conscientious third little pig.
It's not just the layout of Petersen's home that makes it feel like Mary Poppins' carpet bag, impossibly delivering more and more; the place also brims with the fruits of the man's artistic labor. While the crocheted boar head stays put inside, the front room that's packed from floor to ceiling with beads, yarn, and creative promise spills out into the neighborhood, as if the house, no matter how deceptively large, simply can't contain Petersen's imagination. Sweeping mandalas rendered in sidewalk chalk often span ten feet in either direction. A tea cup and saucer have long hung from the tree in the front yard of 554 Diamond Street, next to a large crocheted frog, of course. In the sidewalk garden that runs roadside, a stuffed orange cat sits licking her lips in the frog's general direction (552 Diamond St.).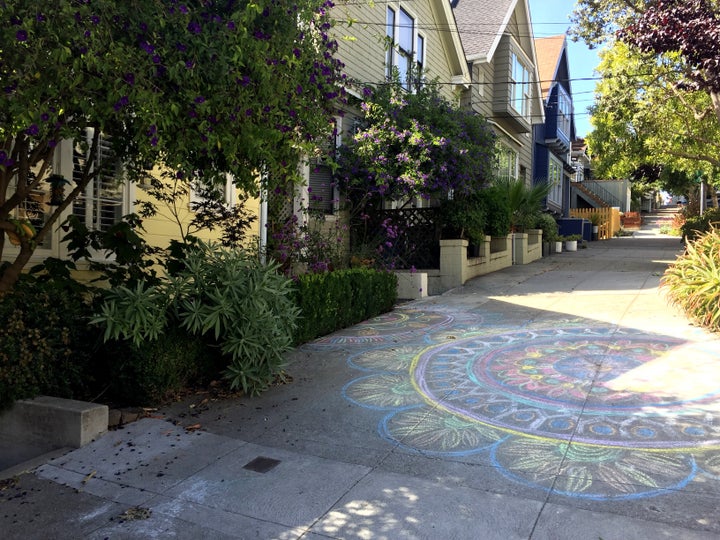 Petersen made the creatures from designs produced by the German phenomenon Mala Designs, and those first two he did for himself. But soon local children fell under the enchantment. My own three little ones stopped so frequently to admire the frog that Petersen began popping out to say hello. One day he presented my daughter with a stuffed gnome. "We couldn't possibly," I demurred.
"Oh, really you must," Petersen replied in flawless English decorated with the rolling "r" and transmuted vowels of a native Dutch-speaker: "It makes me happy to make these things and then to give them away." He said the same thing a month later when gifting a dragon crocheted from pink and purple yarn to a family recently relocated from London. "He made my little girl's day and made her feel like one of the local kids," said Alex Cameron, 34: "Gizmo has been by her side ever since."
Another neighbor, Margaret McGrath, 6, reported, "He is really kind, making us stuff so we don't have to pay for it." Her mother, Robyn McGrath, said, "We have to be careful not to knock on his door too often, for he almost always comes out with something for us."
Once a clear picture of the generous craftsman emerges, what happened next seems inevitable. His immediate neighbors who praised the frog and cat awoke one day to find three little birds nestled in their tree (548 Diamond St.). Across the street, he soon installed spiders (555 Diamond St.).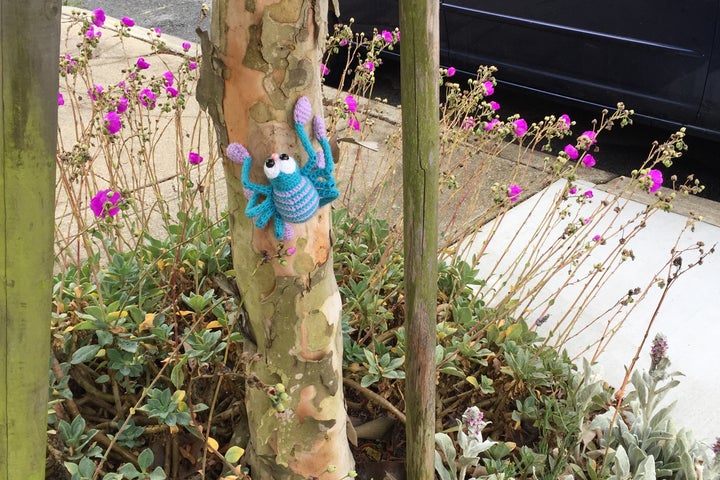 Up and over the crest, the urban Santa Claus—an image helped along by Petersen's jolly laugh and pants supported by suspenders—was spotted using nails and twine to secure a giant blue fly to another tree (360 Diamond St.). Then four monkeys, three of whom hang upside down by their tails, appeared (542 Diamond St.) and were promptly joined by crickets (4001 22nd St.), pandas (531 Diamond St.), opossums (508 Diamond St.), and koalas (4200 23rd St.).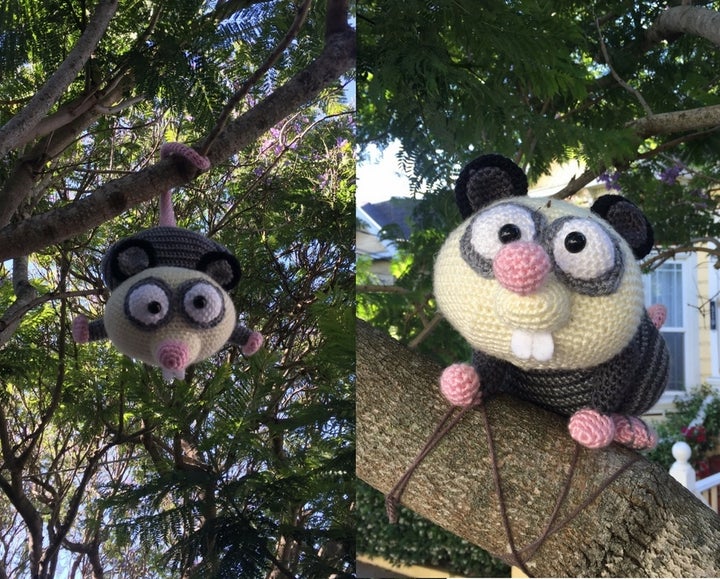 Passersby began stopping to take pictures, striking up conversation with anyone nearby. As word traveled by mouth and social media, foot traffic increased. One father now parks four blocks away from his daughter's school just so they can stroll by the menagerie. For once, needles on the city's streets are finding a warm welcome.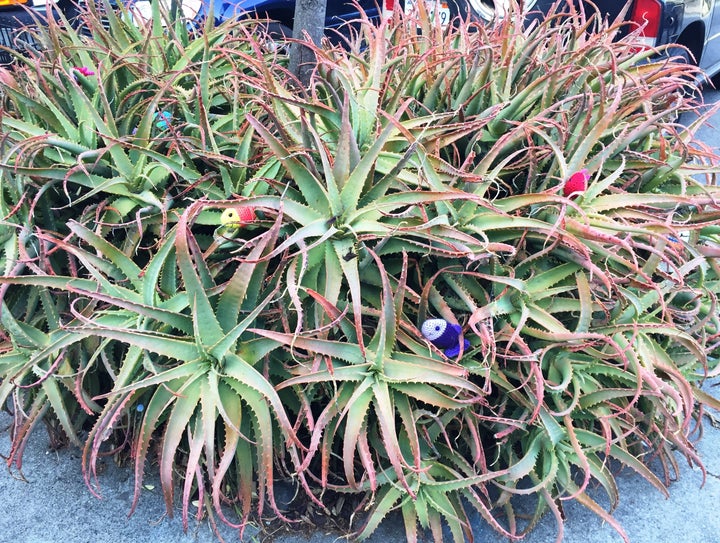 "Yarn-bombing" or "graffiti knitting" (a.k.a. "kniffiti") sounds too violent for what Petersen brings to a divided San Francisco. Both those disillusioned by gentrification and others sick of the accusation that working in tech plus living in the city adds up to cultural criminality can benefit from whimsy and magic—a service offered not for clicks or dollars but in the name of old-fashioned joy and community. If the "fish bowl" that recently appeared and the mischievous meerkat sitting on the floor of his studio are any indication, Petersen's just getting started.
Popular in the Community