I met Phann Keara, rector of PUC Siem Reap Campus and a real estate entrepreneur, and was moved by his story. In his own words, Phann is part of generation defined by loss. Now 34 years old, his survival is a miracle -- the Khmer Rouge killed one out of every five Cambodians during their three year terror. This genocide did more than rob the innocent lives of those lost -- it made a deep mark on the collective psyche of the Cambodian people. I want to share his story to the world as one of triumph and inspiration.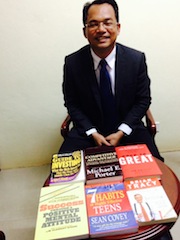 Phann with all of his favorite books (Photo credit: Deidre Lee)
Phann was born in 1979. His family was poor. His father was a schoolteacher, despite having only passed the 9th grade before leaving school.
In high school, Phann got discouraged, but read the book Think and Grow Rich by Napoleon Hill, and it changed his life. He began to believe that his subconscious mind could get him through anything -- including the horrible dangers going on in the countryside around him.
At the young age of 13, Phann's father suffered from a brain injury due to a car wreck, and Phann went into business for himself -- looking after the cows on farms in his area. Phann had to help his mother take care of his four younger brothers and, even with his earnings; there was very little money for the family without his father's salary.
He won a scholarship to go to college, and then kept reading business and self-help literature. Brian Tracy's book, Maximum Achievement, Kiyosaki's book, Rich Dad, Poor Dad, and a wide variety of other personal growth books became his specialty. And be began to see that the suffering that the Cambodian people had been through could be overcome and turned to a positive through the power of positive thinking.
Later, he earned his MBA and began to teach at Pannasastra University of Cambodia in Siem Reap. The city is the tourist center of Cambodia, being near Angkor Wat, one of the great wonders of the world. In Siem Reap, Phann restarted his entrepreneurial career, this time purchasing an apartment complex with his colleague, an English professor. After renting the apartments to college students, they made a good profit selling the building and Phann reinvested his profits into the hotel Villa Kiara. It has 17 rooms and it is beautiful -- I had lunch there. It has a bridal suite, a swimming pool, a very nice bar, and outdoor lounge, and some very beautiful old trees that come right up out next to the hotel. It is a boutique hotel where I am planning to return for my vacation.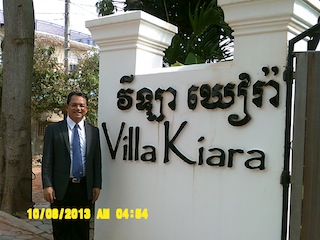 Phann and his hotel (Photo credit: Deidre Lee).
He is using the profits from this hotel to build another hotel down the street with 15 rooms. These are boutique hotels that are priced at $80 a night during full-season, which is from October to March; and from April to September, are priced at $70. An incredible deal.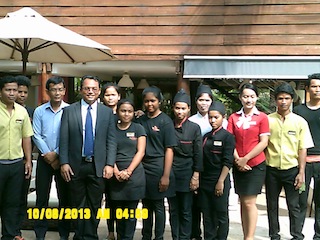 Phann and his staff (Photo credit: Deidre Lee).
He is a professor of business, and he tries to use the lessons he has learned to teach his kids -- including marketing finance planning and legal issues. He uses a 'Co. Ltd.' legal structure and has created 25 full-time jobs. He paid $165,000 to buy the hotel, but he doesn't own the land, so he has to pay $4,000 a month for 16 years for rent.
To break even, he has to have a 70 percent occupancy, which means he needs to have approximately 10 rooms filled per day. He is very involved in social entrepreneurship -- giving money to local charities. He also hires local youth and puts a lot of time into training them.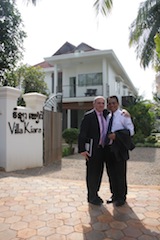 In Phann's opinion, the number one issue in Cambodia is how to rebuild the psyche of the Cambodian population to make it more entrepreneurial. His three words of advice to younger people are:
1. Always have a unique product.
2. Work on finding the right location as location is key.
3. Always recruit the best talent and treat them well.
His goals are to build a chain of boutique hotels and become a successful real estate developer. He also wants to maximize his personal growth for himself, his wife, his children, and his associates.
Another goal is to bring private equity to Cambodia where there is no local industry in those fields. And, he's thinking about taking a trip to Long Beach, California, where there is a very large Cambodian community. His father recently became a monk, and his brothers have worked in a wide variety of fields -- from auditor to medical health worker.
I spoke at his class and there were over 100 students, many of whom thought Professor Keara was one of the best teachers they ever had. He is trying to develop an entrepreneurial mind frame for kids, so they will consider starting successful for-profit businesses that are the key to the continued growth of Cambodia.
Keara is a wonderful educator and a world class entrepreneur. I am very glad I met him.