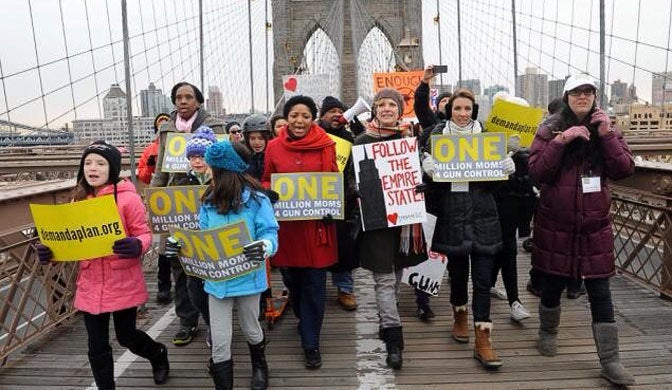 It began because Shannon Watts didn't know what to tell her 12-year-old son about Newtown. The boy had been undone by what he still calls "The Batman Shooting" and left a movie theater sobbing a few days after Aurora, certain the man next to him had a gun. After months of therapy and medication he was just getting his balance back. What would she tell him now, Watts wondered, with 20 children dead in their first-grade classroom?
It began because Amy R. heard the news from Newtown over morning coffee in her North Carolina kitchen, and fought the urge to pull her 8-year-old out of school immediately. The more she read, the more she realized "how ignorant I was that so many guns were out there," she says. Finally, she wiped her tears and brought her son home from school 30 minutes early. "It's one of those moments when you just need to hold your child."
It began because Kim Russell went ahead with her son's fourth birthday party as planned, two days after Newtown -- then had flashbacks about the days after Columbine, when she had gone to dinner with a teacher who said "that could have been at his school," Russell says. Her dinner date was shot and killed by a 17-year-old mugger with a stolen Glock that night.
They know they are facing fierce odds: foes with more organization and money, the tendency of Americans to forget about guns between tragedies and a history of other groups that have tried and failed. But they want to become a movement and they think their time is now.
In any tragedy there are two circles of victims. The smaller, more wounded cluster is filled with those who were hurt personally, who lost something they could name, or count, or touch. The second circle, much larger, contains the rest of us. Change begins with the first group but cannot succeed without the second.
The morning after Newtown, Watts woke up angry. "If I don't do something, I am culpable," she remembers thinking. She'd worked in corporate communications for 15 years before becoming a stay-at-home mom, and while not a pro with computers, she knew enough to create a Facebook page. She called it "One Million Moms For Gun Control," and shared the link with her 175 Facebook friends.
Halfway across the country, in Brooklyn, Marcie Bohan, a mother of three who is training to be a social worker, was also on Facebook and had just spontaneously written a note to a friend: "We need to organize a million mamas for gun control." Not long afterward, she received a reply from an acquaintance in Virginia who was also connected to Watts. "I have a friend who just posted the same idea," he said. "You two should talk."
Bohan shared a link to Watts's page, writing: "Come on Brooklyn. Let's do this." Russell, who knew Bohan from a long ago playgroup added a comment to the post. "I'm a victim of gun violence and I have wanted to do something for 13 years," she wrote.
By the next day, the two were among the five founders of the Brooklyn chapter of One Million Moms For Gun Control -- or 1MM4GC -- who gathered in Bohan's kitchen, with Watts attending the meeting via Skype. They created a mission statement: "To reinstitute the assault weapons ban and establish other laws that will limit gun availability and misuse in the United States." They also sorted through the emails that kept pouring in from around the country offering to form other chapters -- in Las Vegas and Boston, Denver and Florida, Northern Virginia and Southern Maine. Now there are more than 70 branches (including a chapter for Aurora, Colo., as well as one each for Grandmothers, Teachers and Dads), and the original page has accumulated more than 40,000 "likes" in its first 40 days.
As the 1MM4GC Facebook presence grew, so did the negative comments. One person wrote, "If you are so anti-gun then don't bother crying out for help when you are raped or murdered." Among the readers who noticed an uptick in profanity and vitriol was Amy R. She was itching to become more involved, she says, but she has a medical disability that means she can't march. Instead, she volunteered to remove profane comments from the Facebook page, thousands by the day. (She asked that her full name not be used in this article because of the nature of her involvement with the group.)
More than once the right person serendipitously appeared in Watts's inbox. Just as she was thinking, "I don't know how to use social media," a popular blogger (and new mother) pinged her and took on that job for 1MM4GC. When it was clear the group would need its own website, a professional web designer happened to call and offer to build one. The moms also needed a lawyer and found one in a new member from San Francisco. When a heartening percentage of respondents to their call to action turned out to be men, a father who lives down the block from Bohan took on leadership of the Dads' chapter.
"Five and a half weeks ago I was making salt clay ornaments and Christmas cookies," Russell says. "Now I am a round-the-clock activist."
A little after Watts created her Facebook page, a Manhattan woman named Donna Dees Thomases started receiving emails that recalled another decade.
In 1999, Thomases founded the "Million Mom March For Sensible Gun Laws", in reaction to a shooting at a preschool in Granada Hills, Calif. Then reeling from televised scenes of the aftermath, she'd wanted to join one of the few organizations leading the fight for gun control, she says, but none was receptive to her offer. "They were very top-down, very male-oriented, with the philosophy that they had to do everything themselves or hire a lobbyist," she says. "What was missing was mothers."
If you want to start a movement, you recruit moms with young children, according to Thomases. "They are at playgroups, they are at the pediatrician with their kids, they are naturally involved in other families' lives," she says. "We're lonely, too. A lot of us have stepped out of the workplace and we naturally gravitate toward each other."
Thomases points out that the Brady Bill, which requires a waiting period for handgun sales, passed after PTA parents got involved, and MADD resonated because its founders' children were killed or injured in drunk-driving incidents.
She believes the need for moms' power also explains the defeat of a bill, eight weeks after Columbine, that would have closed the gunshow loophole. "The moms of high school students weren't focused on that," Thomases says. "My younger daughter is a high school junior now. I am thinking of college applications, not gun control."
Back in 1999, however, her children were 4 and 5, and with her target demographic in her sights, she gathered 750,000 marchers on the National Mall in Washington, D.C., on Mother's Day of 2000. Subsequent rallies drew smaller crowds, and several years ago the Million Mom March became a part of the Brady Campaign to Prevent Gun Violence. Some stalwart volunteers have been working continuously under that banner since, but support has been muted.
Until Newtown. When she learned what Watts was doing, Thomases called and offered her blessing. "It's a relay race," she says. "And this is the passing of the baton."
She believes the horrific reality of 20 young children dead, combined with the new possibilities offered by the age of social media, means the latest wave of outraged and organized mothers just might accomplish what she could not in the last decade. "We will look back on them and say, 'That was when we finally seized the moment.'"
As crowds began to gather on the Washington Mall for Inauguration Day this week, a smaller group of around 4-500 met at Cadman Plaza Park in Brooklyn for the first rally of One Million Moms For Gun Control.
"No, we were not trying to get a million moms to march," Watts says. "The name is aspirational." And not exclusionary. She estimates that 40 percent of Monday's marchers were men.
"Of course we need fathers," Bohan adds. "We use 'Moms' because it's alliterative, and because it echoes back to earlier fights."
At the rally, Watts got to meet in person Bohan, Russell and many others whom she had worked with virtually over the past weeks. Thomases was there, too. "I felt a weight lifting off of me," she says.
She will be watching closely, as will Debbie Weir, CEO of MADD, who says she is "complimented" that this fledgling group is using hers as an example. Weir's advice is to adopt the rule MADD uses: "You can't make decisions based on emotion," she says. "Our positions are based on science and peer-reviewed research. We don't want to waste our time and resources on strategies that don't actually reduce drunk driving."
Going forward, the 1MM4GC founders vow to do the same, and aim to hold events similar to the New York march frequently and throughout the country.
On Saturday, they plan to hold a silent march from the Capitol reflecting pool to the Washington Monument starting at 10 a.m. Other chapters will march at the State Capitol West Steps in Denver, by the Mini Steam Locomotive outside the Houston Zoo, on the steps of the War Memorial in Indianapolis's Monument Circle, and on the Crissy Field walking and bike path in San Francisco.
A rally at Lincoln Park in Jersey City is scheduled for 11 a.m. at West Side and Belmont Aves. One at the State House in Boston is set to start at 11:30; another at the Rhode Island State House in Providence (facing the mall) at noon; and at the corner of Clark and Washington in Chicago at 4:45 p.m. (A complete list of planned events is available here.)
Protesters are asked to join in the group's newest social media effort, called "How Do You Wear Your Heart?" Create your own heart, put your child's name on it, decorate it together and attach it to your sleeve. It's a pronouncement, and a reminder, "of what we are all fighting for," Watts says.
She has finally told her son about the Newtown shootings, and says he took it so well that it made her sad. "His feeling was, 'Oh, another mass shooting,'" she says. "That's how we have all become, and it's not OK."
Russell has not yet told her children -- about Newtown, or about their mother's own experience with death from gun violence. "It's getting tricky, because I'm on the news a lot," she says. She brought her 7-year-old daughter to the Brooklyn rally and "she knows we were there to take scary guns away from scary people," Watts says. "But even if she doesn't know everything now, she will one day. And if we've succeeded, she'll know she's the reason."
See photos of the Moms' Monday rally in Brooklyn below: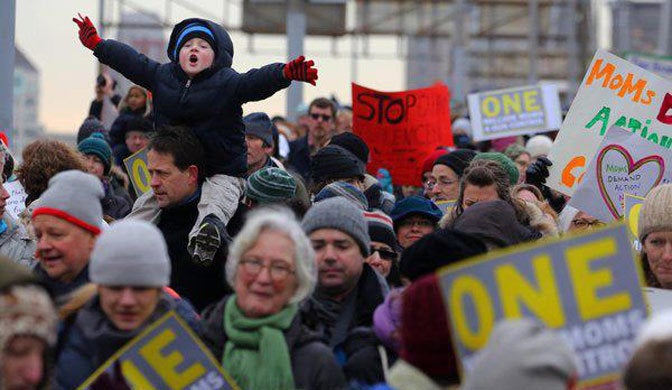 One Million Moms For Gun Control
Related