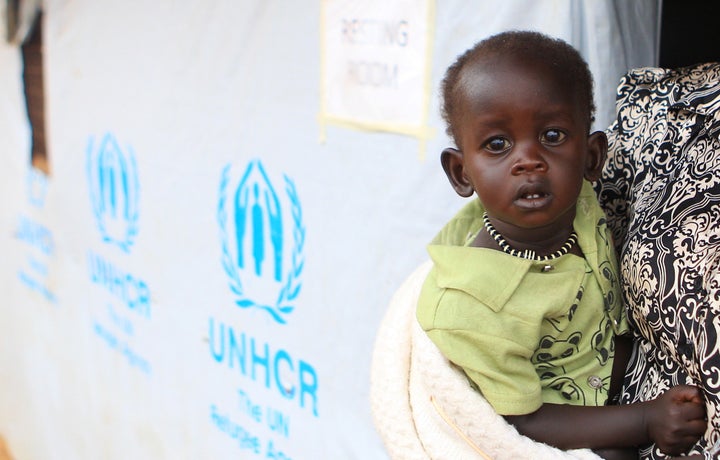 LONDON (Thomson Reuters Foundation) - The number of South Sudanese who have fled their conflict-ridden homeland for a neighboring country passed one million this week following renewed violence, the U.N. refugee agency (UNHCR) said on Friday.
Most refugees are women and children, UNHCR spokesman Leo Dobbs told a press briefing in Geneva.
"They include survivors of violent attacks, sexual assault, children that have been separated from their parents or traveled alone," he said in a summary of the briefing online.
Fighting erupted in South Sudan at the end of 2013 between soldiers loyal to President Salva Kiir and those backing his former deputy Riek Machar.
A peace deal signed in 2015 proved shaky and fresh clashes flared again in the capital, Juba, in July, raising fears that the five-year-old nation could slide back into civil war.
More than 185,000 people have since sought shelter across the border in Uganda, Ethiopia, Kenya, the Democratic Republic of Congo and Central African Republic, Dobbs said.
Uganda, which hosts more than 370,000 South Sudanese, recorded more than 20,000 new arrivals over the past week alone, bringing the total number of refugees past the one million mark.
"With this milestone, South Sudan joins Syria, Afghanistan and Somalia as countries which have produced more than a million refugees," said Dobbs.
"New arrivals report increased fighting across the Greater Equatoria region and attacks by armed groups that kill civilians, loot villages, sexually assault women and girls, and recruit young boys."
The conflict has also fueled hunger and disease in the country of 11 million people, already one of the world's poorest.
Last month, Kiir publicly agreed to accept 4,000 U.N. peacekeepers adding to the 12,000-strong mission already on the ground but on Wednesday U.N. peacekeeping chief Herve Ladsous said the government had yet to take any action on its pledge.
(Reporting by Umberto Bacchi @UmbertoBacchi, Editing by Ros Russell)
Related
Popular in the Community