At 19 years old, I fulfilled my lifelong dream of becoming a yoga teacher. I graduated from the one-month intensive yoga teacher training program at the Sivananda Ashram in Neyyar Dam, Kerala, India excited, in a more elevated state than I'd ever known in my short 19 years of life. At the same time, my mind was much quieter. It was magical what four hours of yoga and one full hour of meditation a day had done. As I walked through the gates of the ashram and down the hill, my backpack strapped to my back, I made a commitment to myself. To maintain this amazing energy outside the walls of the ashram, I would practice yoga for an hour and meditate for 30 minutes. Every day.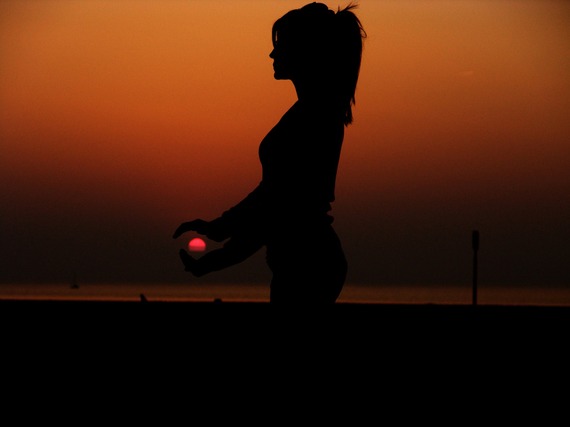 I kept my vow for two days--yes, days, not months--after I left the ashram. By day three my grand plan for my life had completely collapsed. After that, I rarely met my commitment. As a college student, my commitment to my practice shifted to a commitment to staying up until 2 a.m., drinking masala chai, and listening to Jimi Hendrix or Led Zeppelin--all because my friends and I wanted to be cool and hip.
As the years went on, business school demanded all my focus, and later at McKinsey & Company, and then Google, business meetings, travel, and long hours ate up my days. The only time I could find the structure, the rhythm of life, that supported me was when I went back to one of the Sivananda Ashrams in Neyyar Dam, Grass Valley, or the Bahamas, or when I visited my spiritual teacher Rama Devi's spiritual community in Mangalore. While on retreat, I'd spend two hours twice a day in yoga class. I'd meditate for 30 minutes in the morning and 30 minutes in the evening. I'd come back to myself, feeling centered, feeling grounded, and, most important, feeling I had an integrity toward my practice and a sense of control through somehow reining in my mind.
But only while I was on retreat. Other than that, the commitment felt impossible. For years I struggled, and for years I felt a massive sense of failure. One day, about four years ago, I was at work at Google. I had not meditated or practiced yoga for days. I was telling my friend Meng, who has a lot more wisdom than I have, about my struggle.
"Gopi," he said, "why don't you start with one breath? Because an hour of meditation is about six hundred breaths strung together, and you have to get past the first breath and the second before you get to the six hundredth."
Since I am a compulsive, neurotic overachiever, I told him that I was going to do better than that. I was going to commit to a full minute of meditation and a full minute of yoga every day. Now most people think this is the most ridiculous, useless idea they've ever heard, because what is the point in doing one minute of yoga? You don't get anything out of that.
But as soon as the words were out of my mouth, as soon as I committed to one minute, something shifted inside me. I felt hopeful. No matter how busy I am, I told myself, I can carve out sixty seconds for meditation and sixty seconds for yoga every day. That's the time it takes to brush my teeth, and I never go about my day without brushing my teeth. And so I began.
Excerpt from Gopi's recent book, The Internet to the Inner-net, available in bookstores and online at Amazon, Barnes & Noble.
Support HuffPost
A No-B.S. Guide To Life
Related
Popular in the Community