"Dear President Zuma, please stop the killing of rhinos." So begins one of the hundreds of letters collected so far by One More Generation, the Georgia-based nonprofit that seeks to help endangered species around the world.
One More Generation, also known as OMG, was founded in 2009 by brother and sister Carter and Olivia Ries. Now 11 and 10 years old, the energetic young activists have spent the last few years campaigning against plastic pollution, helping to end cruel rattlesnake roundups, and raising money to help endangered cheetahs, among many other outreaches. Now they have turned their focus to rhinos, which are being poached at unprecedented rates in South Africa, where 99 percent of the world's rhinos live. By the end of this year, at least 600 rhinos will have been illegally killed for their horns, which are used in traditional Asian medicine, even though they are made out of the same protein as human fingernails and have no medicinal value. (By comparison, just 13 rhinos were poached in 2007.)
"We were shocked when we learned about how severe rhino poaching has become," says Carter. "We were even stunned when we learned how painful it is for rhinos since poachers were basically cutting off their noses and faces just for the horns and leaving the poor animals to die, which sometimes takes days. My sister and I figured that we needed to tell kids everywhere about what is happening so we can get everyone to help us save these animals before they become extinct."
Carter and Olivia frequently collaborate with the organization Strategic Protection of Threatened Species (SPOTS) in South Africa, so they asked the group what could be done to help rhinos. SPOTS suggested writing letters to South African President Jacob Zuma, imploring him to create additional legal protections for rhinos. "They asked if we could get our friends to write letters to the South African government," says Olivia. "I said, 'why don't we get everyone to write letters to President Zuma to see if he would help us stop poaching?' "
Carter and Olivia set a goal of collecting 1,000 letters, which they plan to personally deliver to Zuma's office when they visit South Africa in 2013. So far they have collected more than 330 letters from around the globe, with promises of plenty more. One middle school in South Africa just told OMG that a package of nearly 600 letters will be on its way to them this week. Those letters came in response to this video that Carter and Olivia sent to the school a month ago:
The young environmentalists are hopeful that the letters will make a difference. "I have seen pictures of President Zuma and he looks like a nice man," Olivia says. "I am sure he will listen to us and that he will help before it is too late."
Carter says there are a number of steps the South African government could take to reduce poaching. "I would like President Zuma to enforce longer jail times for the people paying the poachers to kill rhinos. Then we want him to force all poachers to conduct our Community Rhino Presentation to at least 10 local schools so they can teach the next generation not to kill animals, no matter how much money someone offers you."
OMG's webpage on their letter-writing campaign contains scans of all of the letters they have received so far — many of them quite heartbreaking — along with two letter templates for people who want to use them and instructions on how to send your own letters. The page also contains rhino-themed coloring pages for kids and a lot more information on the rhino poaching crisis.
Although the team is already nearing the goal of 1,000 letters, every additional letter helps. "Maybe you too will send us a letter," Olivia says. Letters can be sent by One More Generation at P.O. Box 143627,
Fayetteville, GA 30214 or by email to info@onemoregeneration.org.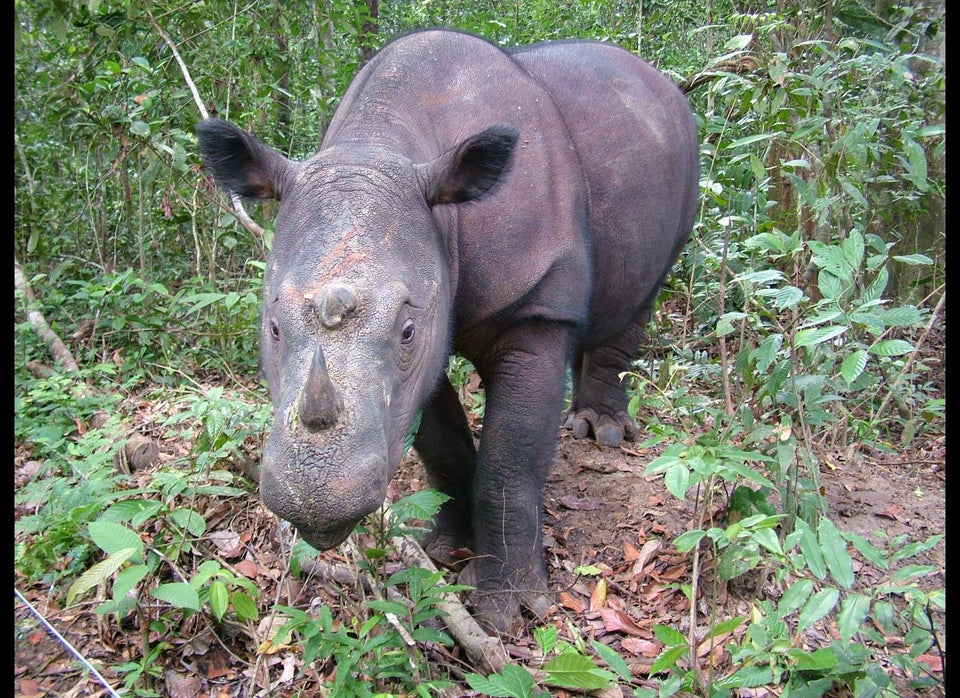 The World's Most Threatened Species
Popular in the Community