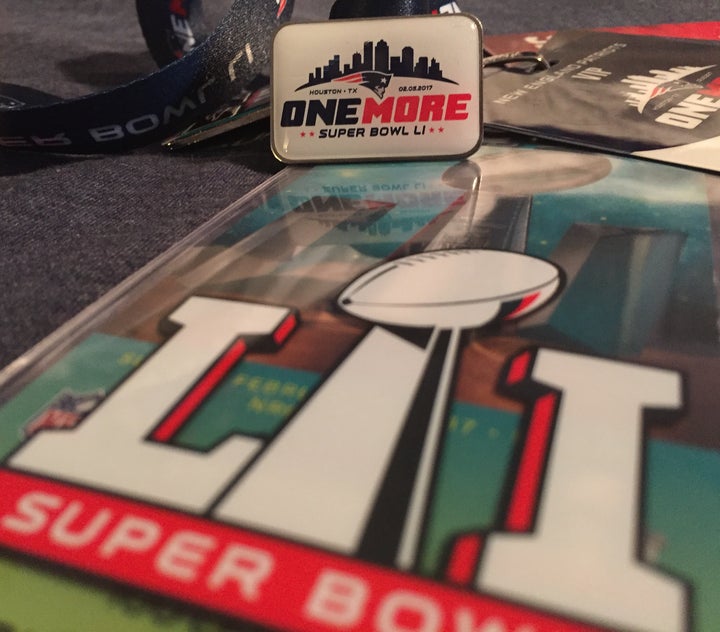 Love or hate the team, no one can dispute that the New England Patriots play a winning brand of football – their work as a team, win as a team ethic has powered them through five Super Bowl victories.
I recently traveled with the Patriots to Super Bowl LI in Houston, Texas, on their quest to win "One More." Just as I experienced on previous trips to the big game, four nights inside the Patriots' team hotel with coaches, players and team leadership reminded me how they became a dynasty.
Winning a single Super Bowl, let alone five, may seem like an overwhelming goal for a football team, but the New England Patriots breakdown their Super Bowl goal into a series of minute objectives. They eat the proverbial elephant one bite at a time.
In football terms, that means flawless execution one practice at a time, one game at a time, and one play at a time. Former Patriot left tackle Matt Light jokes about Belichick's extreme preparation for strategy meetings and play practices, "Coach has a walk through for the walk through's walk through."
The Patriots didn't set out to become a dynasty. They try to win one game at a time, one play at a time, and move on to the next one. The Patriots even kept their march toward a historic fifth Super Bowl title simple and manageable: They set out to win "One More."
Here's how a "ONE More" philosophy can evolve your brand culture into a winning brand dynasty:
O: obsess over details large and small.
Such obsession to detail can be traced to the roots of both Belichick's coaching and family tree. He climbed the ranks as an assistant for several legendary coaches and retains an encyclopedic knowledge of the game. Coaching is also part of the Belichick family tree.
Bill is the son of a football coach who grew up analyzing game film to study formations and plays. He now has two sons on his coaching staff and his daughter is head coach of women's lacrosse at Holy Cross. It's no wonder Belichick leads a family and staff obsessed with coaching preparation.
When it comes to situational football, Belichick plays chess while most coaches play checkers. In Super Bowl XLIX, then rookie cornerback Malcolm Butler won the game with a seemingly miraculous interception, yet it was planned and practiced for. An obscure game situation and remote possibility that only an obsessive team like the Patriots would have anticipated and been prepared to tackle.
Just two seasons later, led by quarterback Tom Brady and running back James White, the Patriots engineered the greatest comeback in Super Bowl history. The team overcame a 28-3 deficit with a fourth quarter rally to clinch the win during the first-ever Super Bowl victory in overtime. Yet again, the Patriots did not let the intense pressure overwhelm them as their team brand culture willed them to victory.
Facing what many fans and pundits considered an insurmountable lead, the players simply lived their "Do Your Job" mantra. There was no individual dwelling on mistakes, no finger pointing on the sidelines, and no panic in the locker room. Just intense focus on the next play, and the one after that, chipping away at the lead by taking what the Atlanta Falcons gave them.
Suddenly everyone did their jobs when it mattered most, playing mistake-free football in all three phases of the game – offense, defense and special teams. Everyone was on the same page, working and winning together.
E: evolve your brand experience.
Businesses must get quality performance from the three phases of branding – organizational culture, marketing communications and customer care – to win consistently.
In an age of empowered digital consumerism, occasional brand experience excellence is no longer good enough. Sporadic is terminal and seldom is brand suicide.
Achieve brand experience excellence daily and your brand will get on a winning streak. Maintain it month after month and you will have a Super Bowl caliber season. Sustain brand experience excellence year after year in an ever-changing world and you will find yourself leading a brand dynasty.
MORE: more focus on brand culture.
Demand more from your brand culture and communications the way the Patriots demand team culture and game planning. Inform, inspire, recruit and retain your key employees through brand communications, culture building and training.
When hiring, don't just collect talent like most NFL teams do. Build a winning team culture the way the Patriots do. If building a culture that delivers consistent, quality brand experiences seems too overwhelming, break it down.
Instill a purpose-driven belief system at every level of your company – division by division, department by department, team by team and position by position. Set realistic expectations with an authentic brand game plan that makes it easy for your employees to do their jobs.
Help employees live the values of an authentic brand so they will make customers love your brand. That is a victory worthy of a Super Bowl or brand dynasty. Now go win ONE More.
Related
Popular in the Community