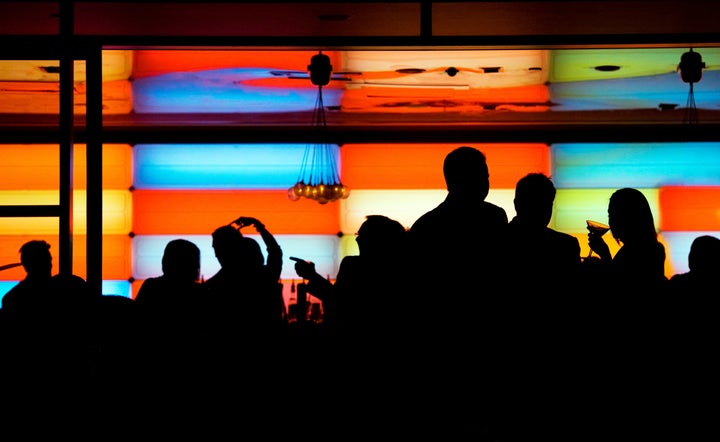 One Tuesday night, after a(n) (amazingly heart-piercing) show by the (amazingly heart-piercing) Amy Kuney at the Bootleg, my dear friend, ironysradiocheck and I are feeling a little prowly. We decide to hit up Tenants of the Trees to see if any of nature's fine-looking (comma tall comma witty comma kind-hearted comma well-read comma well-dressed comma dark/broody) specimens are planted by the bar – or, anywhere within its walls. We're not picky.
Door Guy: I like your stomach.
Why thank you very much, sir. (I was wearing a very cropped crop top.) (I am sharing this part of the story not only because I am super proud of my baby abs in training, but also because sometimes wearing half a shirt makes you a quick target for casually sexist, racist, disabled-ist a$$holes.)
Enter Attractive But Maybe Slightly Too Macho Dude.
I spot ABMSTMD on ironysradiocheck's and my quick, catlike stroll around the patio. Eyes lock, gazes linger, etc etc. (The etc etc is the part where I then proceed to stare down everyone around him, just to let him know I'm, like, totally chill and I definitely wasn't checking him out at all.
ironysradiocheck doesn't see anyone of immediate interest/ABMSTMD doesn't seem to be making any moves from where he's standing, so we stroll back to the bar area/debate calling it a night.
Me: Yeah, if no one intriguing appears by the end of this drink, I say we call it.
Just as we're about to leave, I see ABMSTMD has maneuvered his way a few feet down the bar.
Me: That guy might be kind of cute.
I look at him. He looks back. I look away. (Just as chill/casual/nonchalant as before.)
ironysradiocheck: Oh yeah, dude. I think he's coming over here. Score.
Well, this is starting off well. (ironysradiocheck has found something super interesting/enthralling a few feet away to occupy herself with.)
ABMSTMD: ABMSTMD.
Me: Stacie.
Please say this single syllable thing continues for the rest of our convo.
ABMSTMD: Did you see me checking you out earlier?
Welp. That hope was fleeting.
Me: Ha. I did.
ABMSTMD: Why didn't you say anything?
Me: Why did it take you so long to say anything?
ABMSTMD: Look, it's 2016. I think that women should be equally responsible for initiating the conversation.
I love when guys are adamant about the need for gender equality – but, you know, starting with the ways in which it would make their life easier as a man.
Me: Ha. Let's maybe start with the wage gap and work our way down from there.
ABMSTMD: You ladies really just want it all don't you.
I respond with an eyebrow arch.
ABMSTMD: Oh, calm down. I'm just kidding. So where are you from, Stacie?
Me: I'm originally from Nebraska.
ABMSTMD: Midwestern stock. Nice. Here, what are you drinking?
The conversation continues as he orders my Tito's soda with mint.
ABMSTMD: So how old are you, Stacie?
Me: 32.
ABMSTMD: Oh wow.
Me: Oh wow?
ABMSTMD: I mean, I just thought you were younger than that. Don't worry about it – I never would have guessed you were that old.
That old. Don't worry about it.
Me: Ha. I'm not too concerned about it.
I stare his non-baby face straight in the eyes.
Me: How old are you?
ABMSTMD: 38.
Me (smirking): 38. Wow.
He gets the 'you're really old and single' inference. Now that we've set the combative tone for the night! 
ironysradiocheck pops over to say she's peacing out. Hugs. Love. Promises of texts.
ABMSTMD: I love how girls always do that.
I love how guys "always" make statements about all girls always doing dumb girl things.
Me: What do you mean?
ABMSTMD: Just leave their friends with a total stranger. I mean, you've been talking to me, so you know I'm pretty normal, but she has no idea.
Me: I mean, I guess sometimes we forget that we're just walking prey.
Are we flirting or do we hate each other? I decide it's probably both. He starts planning our wedding.
ABMSTMD: You don't have any crazy in your family or anything, do you? I don't want to end up with some weird Asperger's kid or something.
Me: You're going to feel really bad about saying that when I tell you my brother's autistic.
ABMSTMD: Oh no, so you've got f*cked up genes?
Is he f*cking serious? Hate. It's definitely hate.
Fortunately (or unfortunately, as the case may be), his friends arrive at this moment, halting the diatribe of death that had just begun its expletive-ridden exit from my mouth. They happen to be wonderful. We bond. We hug. We dance. I realize the two drinks I've had are going straight to my head.
Me: Is anyone hungry? I didn't have time for dinner and I am starving.
Amazing Friend #1: Omg yes. I could totally go for some food.
AF #2: Yeah, same. Let's do it.
ABMSTMD: We could go to the diner by my place.
We pile into an Uber. But wait!, they say. First let's just make a quick stop-off at a house party – there's supposed to be a cool band playing! Sure, I say, pretending I'm not about to pass out from drunken starvation.
An hour later, it becomes clear this is no quick stop-off. I announce my planned departure via Uber.
ABMSTMD: Hey, I'll go with you. Let's go get you the food I promised. Sorry about these guys.
Somehow, the promise of food and the surprise of an (unnecessary) apology makes me forget my general abhorrence of him as a human. (Vodka, powers.)
ABMSTMD: Sorry, you can't come over after – my dad's staying with me for the week.
Oh good Lord. Abhorrence suddenly v v remembered.
Me: I think I'll find a way to get over it.
He follows this with some other horrendous thing regarding our possible sexual future that I have blacked out due to an inherent distaste for vomiting.  I order my omelette.
I eat well over half of the very large diner omelette. ABMSTMD is shocked/dismayed.
ABMSTMD: Wow, you're really going at that thing, aren't you.
Straight face. Single blink.
Later, when the waitress comes to clear our plates/ask if I'm all done with mine, ABMSTMD goes ahead and throws his answer in on top of my affirmative.
ABMSTMD: I think we can all agree she did a pretty good number on that one. 
At what point do I have legal grounds to stab him.
The contempt-laden conversation stubbornly continues its journey back to the good ol' days, eventually landing on the topic of interracial marriage.
ABMSTMD: I just don't think it's fair to the kids.
HI, 1952. So nice of you to drop by/add your antiquated views to the ever-growing pile of backwards bullsh*t. 
Me: You mean, fair to the rest of us because they're so beautiful? My nephew's half black and is seriously the most perfect child you've ever seen in your life.
ABMSTMD: So your sister f*cked a black guy, huh?
Me: My sister dated, married, and started a family with an amazing guy/father who, yes, is a black man.
Where oh where is that knife when you need it. He pays the check before I'm able to summon the waitress.
Outside, waiting for Ubers:
ABMSTMD: Text me when you get home, okay?
I stare at him, taken aback by the sound of this gentlemanly statement coming from his very ungentlemanly face. He misinterprets the stare.
ABMSTMD: What? You didn't expect me to drive you home when I live right around the corner, did you?
Thank God this battle is almost over. I am exhausted. 
Me (V. slow. V. measured.): I don't expect anything from you at all.
Two weeks later…Sunday night, 1:28a text message:
Ok, that I did kind of expect. Sorry to leave you in suspense, ABMSTMD, but I'm gonna go ahead and tap out of this one. 
Calling all HuffPost superfans!
Sign up for membership to become a founding member and help shape HuffPost's next chapter