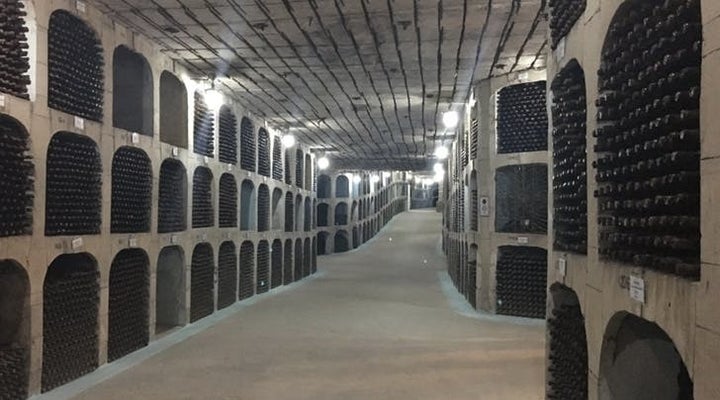 So how big is this place? Mileștii Mici Winery isn't just big. It's basically an underground city with 124 miles of passages that store an estimated 2 million bottles of wine (70 percent is red, 20 percent is white and 10 percent is dessert wine, FYI).
Why so much wine? Even for oenophiles, that's a lot of wine to wrap your head around. But — get ready for your history lesson — Moldova is the birthplace of wine culture; it's where wine was first made approximately 4,000 to 5,000 years ago. Following some tough years (World War II was harsh on the region's vineyards), Mileștii Mici Winery was built in 1969 to store, preserve and mature high-quality wines. Today, it remains an ever-changing monument to the one thing that runs through the country's economy and culture: You guessed it, wine.
Gimme wine! Can I visit? Definitely. Whether you go on your own accord (make a reservation) or you travel with a planned group, there is an assortment of ways to explore the underground world of wine. Oh, and do a tasting. Moldova shares similar latitudes to other famous winemaking regions (like Burgundy and Bordeaux), so it's no wonder the wine coming out of the region today is top-notch. Also, maybe bring your walking sneaks.