While covering a dinner earlier this month at the State Department in honor of the 2009 Kennedy Center Honorees, I had the rare experience of coming face-to-face with the progeny of one of my personal style icons.
Channeling her mother's pared down elegance and innate sense of propriety, Caroline Kennedy, the daughter of first lady of fashion Jacqueline Kennedy Onassis, was dressed in a simple black cocktail dress, a sleeveless design showcasing her toned arms belying her fifty plus years.
Flanked by her husband, Ed Schlossberg, Ms. Kennedy stood alone, removed from the bustle of the crowd, ever her mother's daughter, I mused.
Sensing this was the perfect chance to grab my piece of history, I approached her and asked a rather mundane question for the personalities column I write for The Washington Times.
She humored me, of course, and then my eyes caught a glimpse of Jackie lore that only true Jackie admirers would recognize.
On the bust-line of her little black number, Ms. Kennedy donned the "sunburst pin," an antique piece her mother was said to have purchased from a dealer in London for a reported $100,000 many decades ago.
While First Lady, the-then Mrs. Kennedy wore the diamond brooch on gowns and as a hair pin at some of Camelot's most illustrious state dinners.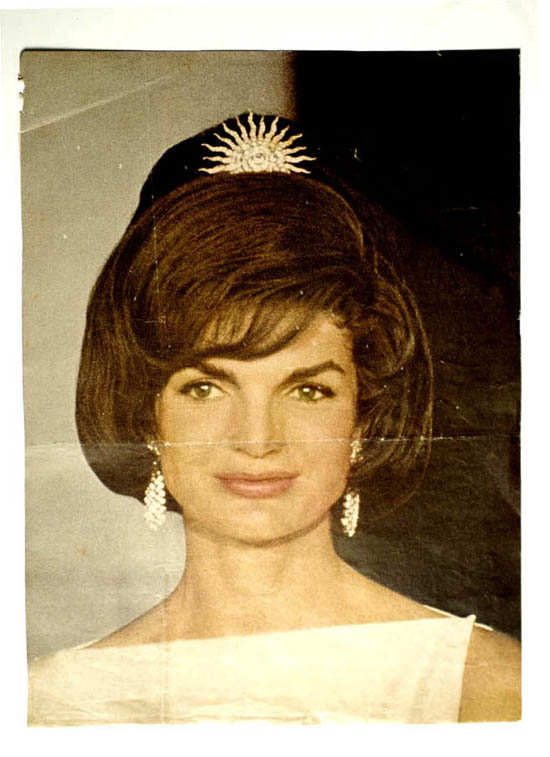 Photo from www.american-presidents.org.
The piece was in many ways similar to its owner: gloriously radiant and regal, but maintaining a mystery and elusiveness.
It's been copied by QVC's Jacqueline Kennedy Collection of fashion jewelry so a new generation of Jackie wanna bees (like moi) can try to pull off wearing a knock off with Jackie's queenly elan.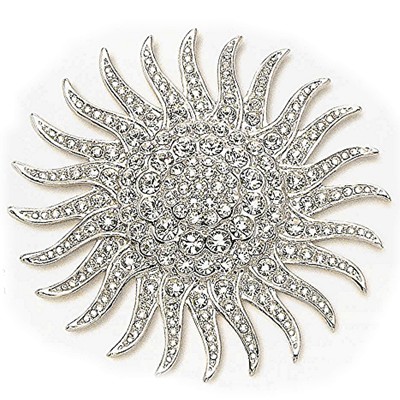 A reproduction of the pin.
In the mid-1990s, not long after Mrs. Onassis passed on, Caroline and her brother, the late John, Jr., put many Kennedy family favorites up for auction, including their mother's ubiquitous three stranded-pearl necklace and their father's golf clubs, but for reasons only known to mother and daughter, the "sunburst" piece survived the cut.
The ever press-shy Ms. Kennedy, when asked about the brooch, responded cautiously, "my mother gave it to me," thus, bringing my "interview" and rendezvous with Jackie's "crown jewel" to a close.
Mrs. O would be proud to know that her daughter wears it well.