Most Americans think they know Haiti, that squalid, refugee-camp-ridden place somewhere south of Florida. Some Americans think they know Haitian-Americans, too: the maid in Miami, the health attendant in Manhattan, the taxi driver in Brooklyn. What many miss are the approximately 3 million professionals of the Haitian diaspora in North America and Europe.
I am sitting in the suburban living room of Danielle Duret, M.D., M.P.H. on a Saturday afternoon in Rockland County, across the George Washington Bridge and then north. She is busy in the kitchen preparing a holiday meal for her friends while handling her cell, as she is on call. I am sitting by her fireplace, Quebecqué Merlot in hand, Brie, Gouda, and Swiss cheese displayed before me, listening to Kompa, the national music of Haiti that people have been dancing and playing since the 1800s.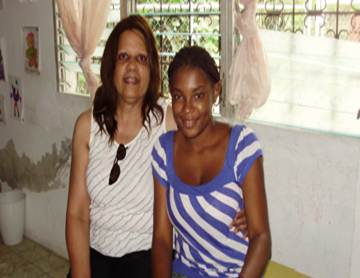 Dr. Danielle Duret with a student at the School of the Good Samaritan in Arcahaie, Haiti (photo courtesy of Danielle Duret)
I am excited to see who will attend this luncheon -- almost a second Thanksgiving. Her brother is a successful surgeon here in the States, and her other brother, an old friend of mine, is in Port-au-Prince after serving his nation as Ambassador to Japan for years. The guests begin to arrive: a branding consultant, a retail marketing executive, and other various professionals. The six of us chat for hours, learning about each other's lives -- and the charity work of our host Danielle Duret. She told us:
Two days after the earthquake (Jan. 12, 2010) I talked my way onto a relief flight with bags and bags of medical equipment. I am an internist, and they wanted surgeons, but after the amputations, they need internists to monitor the patients, and not all patients needed surgery. So I went!

I arrived in my native land and saw it divested. A year and a half later I am still in shock at what I saw happen to my people. And yet their spirit, their belief system, their strength of character have carried them through. I need to continue to do what I can do from here to support them.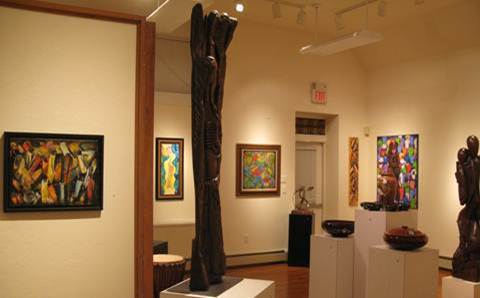 The Pomona Cultural Center's exhibition "Haiti: An Artistic Passage"
Danielle went to medical school in Haiti and then came to the States to study at the University of Chicago, where she began her English studies in 1982. She then moved to New York, where she earned her Master's in Public Health at Columbia, where she did her residency in internal medicine. She stayed in our area after completion. Today she is affiliated with Montefiore Medical Center and lives in Pomona, N.Y.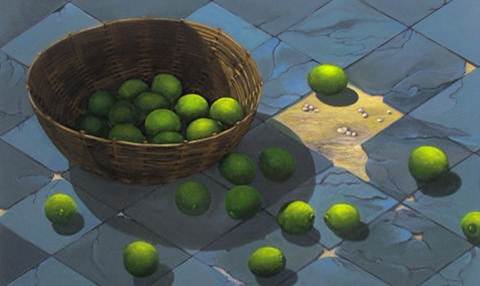 Detail of "Basket of Limes" by Alphonse "Alpi" Piard (photo courtesy of the Pomona Cultural Center)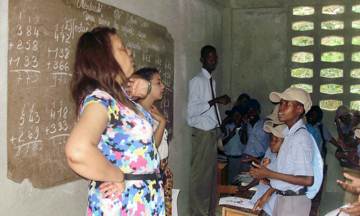 Dr. Danielle Duret with the primary students at the School of the Good Samaritan (photo courtesy of Danielle Duret)
This month Danielle has worked with the Pomona Cultural Center to host an exhibition of Haitian art to raise awareness of the students she supports. The lunch included traditional and delicious Haitian pumpkin soup, reserved for special occasions, which I first tasted on a rooftop in Kenscoff as the sun came up on New Year's Day 2000. After the feast we all went to see the Haitian art exhibition at the Pomona Cultural Center, curated by Tjokorda Gde Arsa Artha.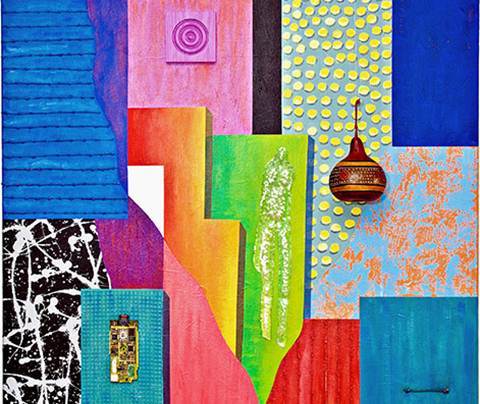 Detail of "Homo Sapiens" by Haitian artist Fred Thomas (photo courtesy of the Pomona Cultural Center)
To understand Haitian art, one must have an understanding of Haitian artists. Alphonse "Alpi" Piard started drawing and painting at the age of 12 under the influence of a local amateur artist, in the city of Les Cayes, located on the southern coastline of Haiti. After a few years of hard work and dedication, he got his first show sponsored by the French Alliance. After almost 25 years living in Switzerland and the States, l'Ecole de la Beauté (the School of Beauty) remains a major influence in Alpi's artistic career. With degrees in finance and accounting, he is today an important community leader in Miami. In an interview, Alpi explained:
Art can be viewed as a human effort to imitate, supplement, alter, or counteract the work of nature. The outcome is believed to be aesthetic and to have a meaning beyond simple pictorial descriptions.

My work is all about using imageries to suggest a more complex reality that is conditioned upon personal aesthetic perception. It is geared toward reaching the viewer through a constant multiform dialogue engaging him/her to connect to hidden clues and to uncover unspoken truths.

Artistry is reached when I retain in the process, the essential in term of aesthetic expression and the viewer can feel the vibes. In other words, artistic expression in my work lies in its ability to absorb the viewer and elicit a response... a dialogue of sorts.
Fred Thomas, another Haitian artist, was born in Fort-Liberté, Haiti, and grew up in Cap-Haïtien. He started to draw at an early age, reproducing sketches created by his father. After moving to Port-au-Prince after high school, Fred took private lessons in drawing, painting, and ceramic at Le Centre d'Art (The Art Center) and Le Centre de Céramique (The Ceramic Center). Fred was mainly interested in papier-mâché, to make masks betraying an obvious African influence. He continued to pursue his strong interest in the visual arts when he moved abroad, first to Canada, then to the U.S., and later to Germany while serving in the American army.
In an interview with the Miami Herald decades ago, Fred admitted that he wanted his artwork to reflect not only his Haitian background but his experiences abroad. Subsequently, Fred's subjects, style, and technique vary from abstraction, surrealism, and color field works where collage and heavy impasto-type texture has become his trademark. Living now in Miami, he states, "My art is about human experience on Earth, epitomized by our daily struggle to survive, to affirm our identity, and also about our existentialist anguish, estrangement, loneliness, despair, along with our hopes, dreams, and thirst for happiness."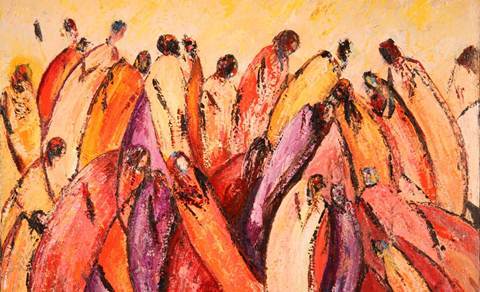 Detail of "Untitled" by Dominik Ambroise (photo courtesy of the Pomona Cultural Center)
Dominik Ambroise was born and raised in Port-au-Prince. Dominik was fascinated by art at an early age. Even as an adolescent, she was already enrolled in advanced drawing and drafting classes under the guidance of a private tutor. In 2005 she further expanded her techniques and broadened her aesthetic knowledge by taking art classes in Miami. Her style is largely influenced by the tropical weather of Miami, which reminds her of her homeland. Dominik paints on various fabrics, and she also enjoys combining collages and painting, whether on canvas or other surfaces such as plywood, tree bark, wood, sheet metal, and so forth, to create unique and awe-inspiring objets d'art.
Dominik believes, as I do, that art, in spite of its ascribed sophistication, is before all a contemplative attitude toward nature and life in general. It allows humanity to contribute to the creation of the universe by appealing to our sense of aesthetic, harmony, proportion, symmetry, balance, peace, and justice -- to the best in us.
I spoke with old friends about the importance of art there. Haitian-Canadian Katleen Félix, Haitian Diaspora Liaison for Zafèn, and Raynald Leconte of the Haitian Cultural Foundation (HCF) together know much about the Haitian Diaspora. Katleen told me:
Haitian Art is a "best kept secret" of our community, through the Diaspora and local Haitians will find outstanding artists that are often only known in their regions. We have hundreds of great artists with different styles; you will always find something that you like.

It is also an interesting way to fundraise for Haiti projects; you often find at Haitian Home Associations some pieces to sales or for silent auction. You can discover artists in Diaspora galleries, at events, craft fairs, or you can visits websites. Most of them don't really advertise -- you need to ask around.

Zafèn gives loans to entrepreneurs and social projects; organized artisans who create jobs in Haiti can benefit from our loans. Zafèn has partnered with Aid for Artisans and with other groups, such as Epple Seed Arts, that give business development support to artists or facilitate commercialization, which reduces their credit risk.

The beauty is that it is online; people from around the world makes loans to those entrepreneurs and sometime get in contact with them to buy their production. Our artists are getting known and supported at an international level with the help of the Diaspora, friends of Haiti, and the Internet.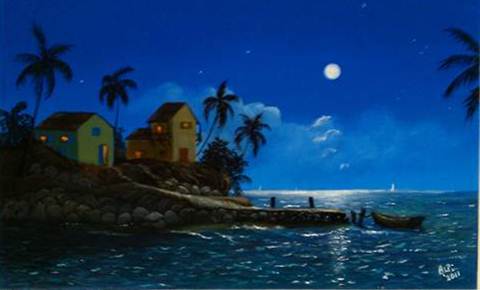 Detail of "Cotes de Morency" (Moonlight series) by Alphonse "Alpi" Piard (photo courtesy of the Pomona Cultural Center)
Haiti has a long and rich tradition in the arts. Tapping into this deep pool of talent can help Haiti on the local level and create a virtuous feedback loop of good news on a global level. Haitian art has the ability to reshape the impressions of people in the international community through its diversity and beauty.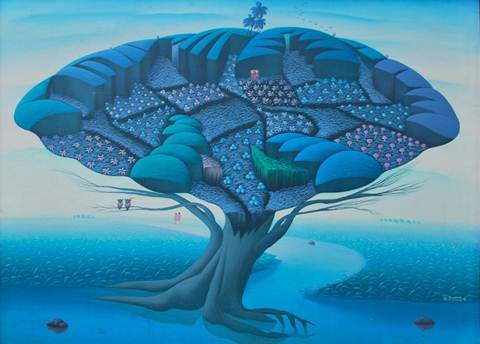 Detail of "The Love Tree" by Guy Joseph (photo courtesy of the Pomona Cultural Center)
Guy Joseph is one of the most acclaimed of the new generation of Haitian artists. Born in Pétion-Ville in 1957, he studied only through the eighth grade. He loved to draw and eventually studied in Jacmel with an American teacher. In 1985 Guy Joseph came back to Port-au-Prince, painting the imaginary landscapes for which he is known. He uses clean and delicate lines to paint his fantasy trees. His paintings have won many awards, and he has participated in exhibits in Israel, France, Japan, Brazil, and the French Antilles. The Berlin Museum purchased one of his paintings.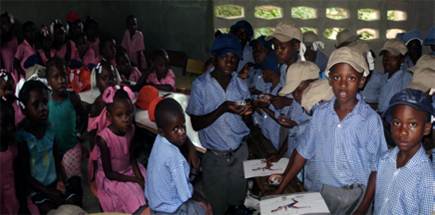 Students in their school uniforms at the School of the Good Samaritan in Haiti (photo courtesy of Danielle Duret)
Levoy Exil is one of the original artists of the Saint-Soleil movement founded by the late Jean-Claude Garoute ("Tiga") and Maud G. Robart in Soissons-Lamontagne in the vicinity of Pétion-ville in 1972. Endorsed by luminaries such as Andre Malraux in 1976 and Jerzi Grotowski, the project enjoyed soon recognition all over Europe and the U.S. The J. Luce Foundation will launch a website in honor of Tiga next year, in conjunction with his daughter, my friend Michele "Klode" Garoute.
Although the movement was initially conceived as a reaction to the overcommercialization of Haitian art, the works by these artists soon were in high demand all over the world, without the artists being duly compensated. As a result, they dispersed to form a new group called Cinq Soleil, with Prospere Pierre-Louis (1947-1996), Denis Smith, Louisiane Saint-Fleurant (1924-2005), Dieuseul Paul (1953), and Levoy Exil (1944).
In spite of using the common Saint-Soleil idioms and subject matters, usually the spirit world of Vodou, Levoy's paintings remain original in his idiosyncratic ways of handling colors and lines. His elongated creatures with stylized features, along with his full-moon-like faces, combined with biomorphic shapes, stand easily recognizable and well known throughout the world.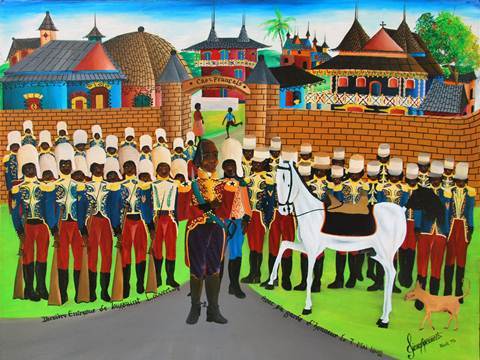 "La Derniere Interlude de Toussaint Louverture" by Lionel Vernet (photo courtesy of the Pomona Cultural Center)
I asked Danielle Duret why she cared so much about giving back to Haiti. She told me:
Good Samaritain School is located in Arcahaie Haiti and has 325 students from kindergarten to 12th grade. Beside our help, they do not have any sustainable resources at this time. I feel a need to do what I can to support them! This exhibition runs through Jan. 14, 2002. To support of the school, write me directly.
584 Route 306 (just north of Pomona Road)
Pomona, New York 10970
Tel.: (845) 362-8062 | E-mail
Gallery hours: Friday through Sunday from 2 to 6 p.m.
The James Jay Dudley Luce Foundation (www.lucefoundation.org) is the umbrella organization under which The International University Center Haiti (Uni Haiti) and Orphans International Worldwide (OIWW) are organized. If supporting young global leadership is important to you, subscribe to J. Luce Foundation updates here.
Related
Popular in the Community