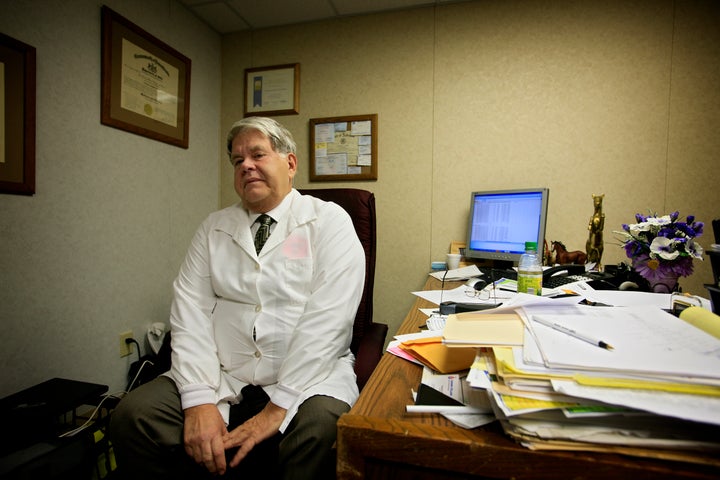 When Sue*, 41, made the decision to get an abortion 28 weeks into a pregnancy that had been very much wanted and planned, her options were scarce. Tests showed the baby-to-be ― a boy ― had Down syndrome, as well as a severe congenital heart defect and tumors. Sue was 38 at the time and she and her husband felt they could not bring a child into the world knowing the overwhelming challenges he would face.
"I couldn't think of leaving him alone in the world with Down syndrome and a huge heart defect ― knowing he may not even get a heart replacement ― and tumors," she told HuffPost.
Although the ultrasound tech who first discovered the fetal abnormalities told her it was too late to get an abortion, a genetic counselor Sue met with in the following days said she would make some calls. If the couple could come up with money quickly ― somewhere in the ballpark of $10,000 ― she might be able to get them in to see one of the few remaining providers in the country who performs later abortions, Dr. LeRoy Carhart. They did, and Sue drove two hours from Virginia to Maryland where she stayed in a hotel while the four-day procedure was completed.
That was three years ago. Last week, news quietly emerged that the clinic where Carhart has been a provider since 2010 ― Germantown Reproductive Health Service in Maryland ― has permanently closed. The Washington Post was the first to report that the Germantown clinic is under contract to be purchased by the anti-abortion group the Maryland Coalition for Life, leaving women like Sue with even fewer options. The Post reports that the group raised funds to make an offer to buy out the current owners of the property who also ran a second clinic that did not offer later abortions.
"The Germantown clinic is one of only three in the country that provides abortions later in pregnancy," Dr. Carolyn Sufrin, an OB-GYN and member of Physicians for Reproductive Health, the advocacy group, told HuffPost.
"The women who need these services often have lethal fetal abnormalities or other extenuating life circumstances and did not learn about the pregnancies until late," she said. "This will mean that women who are in need of abortions later in pregnancy will have even fewer options, and will likely be unable to travel the distance to get to them."
Most states in this country prohibit abortions in the later stages of a pregnancy, though what "later" means varies. Seventeen states currently prohibit most abortions after 20 weeks of pregnancy, for example. Just this week, a federal judge temporarily blocked a Texas law that would restrict the most common procedure used in second-trimester abortions, another legislative tack used to limit later abortions.
Estimates suggest, however, that only about 9 percent of women who get abortions in the United States do so after the first trimester, and just 1 percent of abortions are performed at or after 21 weeks.
As one of the few remaining providers to perform later abortions, has been the subject to threats and violence. He has long bee open about the work he does, and was featured in the 2013 documentary "After Tiller," about the murder of abortion provider George Tiller in 2009.
Carhart has reportedly vowed to open a new clinic in Maryland in order to continue to provide later abortion services, as well as to train other physicians.
"For the last few years, Dr. Carhart has shared his vision with allies to create his own facility in Maryland to address the dearth of training available to medical professionals in later abortion care," Diana Philip, Executive Director of NARAL Pro-Choice Maryland, the reproductive rights advocacy group, said in a statement. She said that the clinic's closure had not come as a surprise to Maryland-based abortion providers, and that it had been known for some time that the clinic's owner was considering closing it.
But former patients like Sue, the news is sad. Though she said went into "survival mode" during the abortion procedure, trying to stay as calm and detached as possible so she did not break down, she says the care she received was warm and supportive. Carhart, she believes, did his best to make the worst time in her life bearable.
"Please tell me he is going to reopen somewhere else," Sue wrote in an e-mail to HuffPost after she learned the clinic had closed. "This is awful."
* Name has been changed to protect privacy.
Popular in the Community