"Night time would find me at Rosa's Cantina..."
This wonderfully metered line comes from the Marty Robbins' classic Country-Western song, El Paso. The song, about a love struck cowboy who guns down another in a jealous rage, quickly carried Robbins from talented singer to superstar almost overnight. In 1959, the year of the song's release, the United States was watching Gunsmoke, the Duke was starring in Rio Bravo and Walt Disney had just given us the El Fego Baca mini-series. Clearly, the Old West was on our collective minds.
The song quickly took on a life of its own, getting covered by numerous bands including the Grateful Dead, who kept it in their concert lineup until their demise in 1995. It is still a very popular ballad today and has come to be regarded as the quintessential Country-Western song.
But that one line about where it took place -- Rosa's Cantina -- that was the line we always wondered about. Did that place exist? Was there such an outpost in the dusty border city of El Paso and did it have anything to do with the tragic tale Robbins put together?
As it turns out, there is a Rosa's Cantina, it did have a part in that song and it is so worth your time to go visit this place.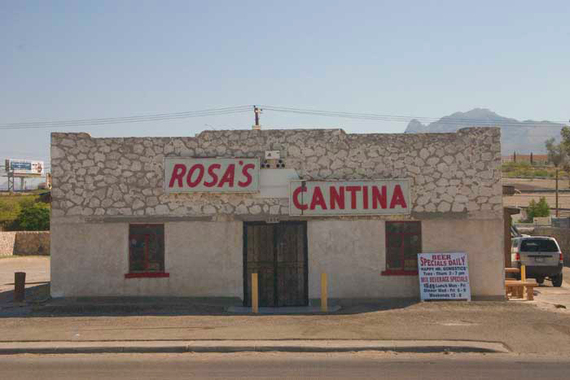 The old rock building sits right off of Doniphan Drive in East El Paso, fronting what used to be the main road between El Paso, TX and Albuquerque, NM -- long ago replaced by I-10/I-25.
At first glance it's a fairly unimpressive place. It sits between a Laundromat and a garage. The façade is little more than a small sign and it's actually very quiet.
Stepping through the doors, after your eyes adjust to the dim interior, you see a loose arrangement of tables and a horseshoe-shaped bar towards the back.
The interior walls of the saloon are covered with posters from bands that have played there in the past, beer signs and the smattering of pictures and memories from its history.
Not a lot to see, really.
But this is what's most impressive about the place.
To understand why this is so impressive, let's talk about its history for a moment. According to the current owner, Oscar Lopez, Rosa's was opened post-prohibition in the early-1940s under a different name: Los Tigres. Then in 1957 the owner, Beto Zubia changed the name to "Rosa's Cantina" for reasons still a bit unclear (rumors swirl about an affair with a waitress named Rosa, but nobody's going on record).
Up until this time the bar/cantina really wasn't that noteworthy. It was a neighborhood hangout that served the workers from the nearby smelters -- in fact this part of El Paso was referred to as "Smeltertown."
But then, according to legend, a tired Marty Robbins needed a break from his long drive between Nashville and Phoenix. He stopped in front of the small saloon, which was closed at the time and got out of his car. As he stretched his legs he reportedly looked through the windows, surveyed the surrounding area (the "badlands" of New Mexico are seen in the distance from Rosa's front door) and then finally got back on the road. By the time he and his band had arrived in Phoenix the ballad was complete.
Was Rosa's Cantina the catalyst for the song or merely a character that fit into the song he was already writing? We'll never know.
But regardless, Rosa's played an important role -- it was, after all the setting for almost the entire story.
And its fame -- as the only physical, real character of the story -- continues well into the 21st century.
And so back to why we were so impressed with it.
Speaking to owner Oscar Lopez over a couple of bottles of Lonestar beer (what else?) we were shown Rosa's guestbook. The list of countries represented was amazing: Germany, Japan, China, Russia, Spain, Brazil and so forth.
Oscar told us people made it a point to come to Rosa's when in El Paso. In fact, some went to El Paso just to go to Rosa's. In all the bars we've documented very few have inspired such pilgrimages.
The place is known internationally. There are arguably as many people who've heard the Grateful Dead sing of it as there are who've heard Marty Robbins, and yet both groups make it a point to go out of their way to get here.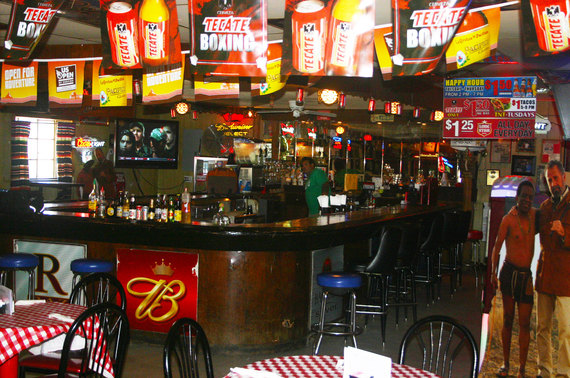 Ultimately, the place is very, very famous.
But would you know it from looking at it? Look at their website for example. Can't find it? Neither can we! What place with this type of notoriety -- this type of fame -- doesn't at least have a website to tell its story?
And the façade, as noted, is nothing special. There's no big neon finger pointing to the front door announcing the "World Famous" Rosa's Cantina. Nothing that would make it seem anything other than a Smeltertown watering hole. We talked to one guy who'd been going here for 35 years for lunch, a "habit" he said from his days working at the smelter down the street. To him, it was just a diner.
They don't seem to care that much about their fame. Beto never did. In fact, Oscar told us that one time a bus full of tourists pulled up hoping to drink at the famous watering hole. Beto calmly locked the doors.
"They'd drink all the beer," Beto said simply when someone asked why.
We've been told in the past to shut the hell up about the spots we find because, presumably, locals don't want them "discovered" by outsiders (or it could be we're not good writers...). We don't have that worry with Rosa's. It's been in the spotlight since 1959 and has suffered no ills as a result.
The place is not touristy. It's not pretentious. It has absorbed its fame and moved on. It's more a Robert De Niro than a Justin Bieber -- it knows stardom and is okay with it.
If you are within 150 miles of this place go out of your way to have a beer here. Try the food too, it's delicious. But beware, if you go to the jukebox and put on the song "El Paso" by Marty Robbins you'll get more than a few dirty looks from the regulars who've heard it many, many times before from the other visitors.
Where
Rosa's Cantina, 3454 Doniphan Dr, El Paso, TX 79922 (915) 833-0402
Support HuffPost
A No-B.S. Guide To Life
Related
Popular in the Community