If the number of people in the world who know your name, recognize your face and are fans of your work is the prime measure of celebrity, then, as the Los Angeles Times noted in a 2004 feature article, he is certainly "one of the most recognized personalities on the planet."
Yet, standing at the central intersection of Bay and Bloor in his current hometown of Toronto (or at any other famous crossroads in North America), most passers-by would not even give him a second look. Only a select few in the crowd might notice him and, when they do, they immediately start to snap smartphone photos, with bolder ones approaching to ask for his autograph. Such fans all share one key characteristic: They are Chinese. In Beijing, Shanghai, Guangzhou and everywhere else across China where he enjoys an ardent fan-base in excess of a billion people, his public presence literally stops traffic, frequently requiring him to don the essential garb of his bonafide A-list celebrity -- baseball cap and dark sunglasses.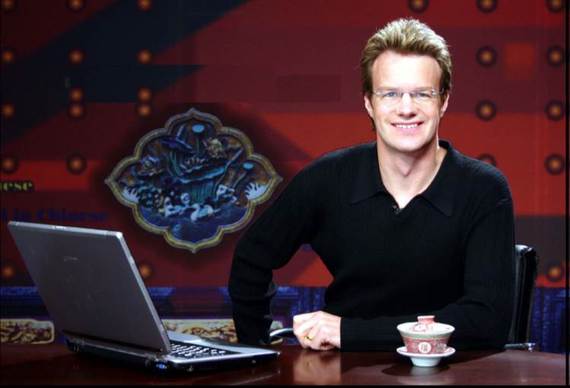 Meet Mark Rowswell -- a.k.a. "Dashan" -- a 48-year-old, non-Asian Canadian who, for more than the last two decades, has been a national performance and media celebrity in the People's Republic of China. Now widely recognized as the "the most famous foreigner in China," Rowswell first exploded on China's national consciousness in December 1988, exactly 25 years ago this month.
Rowswell's story reads like a cross-cultural fairy-tale. As a student at the University of Toronto in the late 1980s, he discovered a passion for studying Chinese. Then, after graduation in 1988, Rowswell went on to continue intensive language studies at Beijing University ("Bei Da") -- the storied institution widely revered as one of the top-tier universities in China. In November of that year, he was approached by the school's foreign student's office with an unusual request: The national Chinese broadcast authority, Chinese Central Television (CCTV), was looking for a young foreigner with strong spoken Chinese skills to participate in a quick, comic skit in an upcoming television variety program. Confident in his language ability --and just for the fun of it - Rowswell agreed, and subsequently appeared on the annual CCTV New Year's Eve Special on December 31, 1988 in which he acted in a comedy routine playing a character named Xu Dashan (Xu "Big Mountain"). What he did not realize at the time was that the program would be broadcast to 500 million people across China. The morning after the broadcast, Rowswell's life had suddenly changed forever. Overnight, he had been transformed into a national icon!
In the months after that initial broadcast, Rowswell drew close to one of the other, more famous performers who had appeared in the same program -- Jiang Kun, the nationally-acclaimed master of the traditional Chinese performance art of "Xiangsheng" (pronounced "shyang-shung") -- a unique form of Chinese comedic dialogue-banter rich in cultural and linguistic nuance. Impressed with Rowswell's exceptional Mandarin-language skills, Jiang offered Rowswell an historic opportunity: to train with him as the first foreign-performer of this uniquely-Chinese performance genre. One year after Rowswell's first debut in 1988, he performed a Xiangsheng routine together with Jiang Kun and Jiang's partner, Tang Jie Zhong, in the December 31, 1989 CCTV New Year's celebration-broadcast. Adopting the stage-name of the character from his original skit -- "Dashan" -- Rowswell immediately entered the pantheon of modern Chinese performance artists.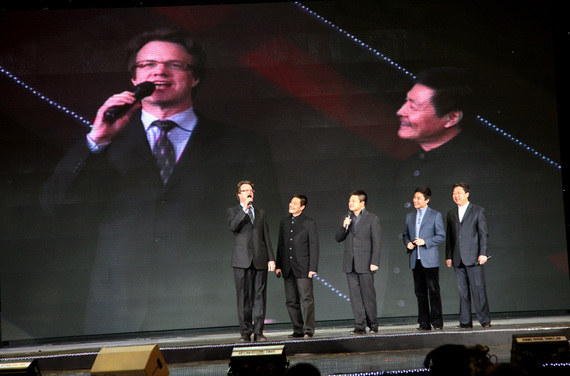 For the next decade, Rowswell, as "Dashan," continued to build his own public brand by frequently performing Xiangsheng both on stage and in TV broadcasts across China and abroad -- not only with Jiang Kun, but also with other leading Xiangsheng artists including Ma Ji, Zhao Yan and Niu Qun. While all of his performances received wide acclaim, a few truly stand out: a 2004 performance in Singapore as part of a national effort in that country to promote use of Mandarin -- one of the four official languages of the country -- and a 1997 performance for the Chinese community in Toronto, Canada in which he was partnered with the Xiangsheng performer, Zhao Yan, in a comedy skit that focused on how regional Chinese-dialect differences affect how people sneeze (in this last skit, even readers who cannot understand Chinese will, no doubt, appreciate the hilarity of the performance!)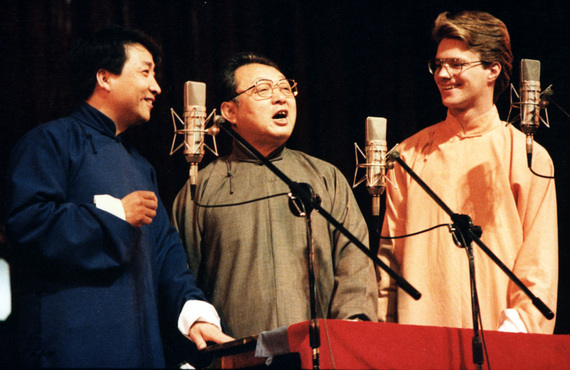 While his Xiangsheng "star" continued to rise, Rowswell also branched out beyond his comedic performances to establish himself as a national Chinese television host -- for variety shows, talk shows, and instructional programs focused on language skills . More recently, Rowswell has also taken to the dramatic stage, appearing in 2008 as a lead actor in the Chinese stage adaptation of the French comedic film, "Le Diner de Cons" ("The Dinner Game").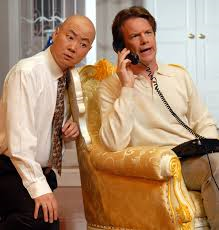 For that performance, Rowswell garnered the coveted Chinese White Magnolia Award -- the Chinese equivalent of a Tony Award, and one of the top three dramatic awards in China. Rowswell was the first foreigner in China's history to receive the award.
Over the years, Dashan's increasing fame has also placed him in high demand as a celebrity spokesperson for a variety of marketing and communications campaigns in China for a wide range of products and brands including air conditioning, wood flooring, electronic study aids, men's clothing, and fine spirits. At the same time, he has also served as a cultural 'bridge' to the burgeoning Chinese immigrant community in his native Canada where he has leveraged his celebrity for the benefit of commercial brands such as Ford, and non-profit causes including the Red Cross and Wellspring, a cancer support group.
Canada's 'Goodwill Ambassador'
From the early years of his career, Rowswell always identified with his Canadian origin and nationality, frequently introducing himself on national programs in China as "Dashan from Canada." Over time, that positioning transformed him into another major public, and now formal, role - that of 'goodwill ambassador' between Canada and China. In 1997, he played 'Master-of-Ceremonies' in Toronto at a Canada China Business Council Event honoring then Chinese President, Jiang Ze Min.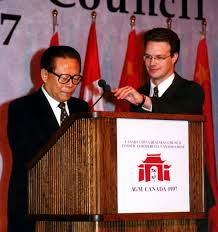 Since the 1990's, no Canadian Governor General, Prime Minister, or Foreign Minister has traveled to China without meeting with Dashan, including a requisite photo-op with China's 'most famous foreigner.' In 2008, Rowswell's contribution to Canada-China cultural relations was recognized by his induction into the 'Order of Canada' - Canada's highest civilian honor. Just two years later, in 2010, Rowswell was appointed by the Canadian government as Canada's Commissioner General for the Canadian Pavilion at the International Expo in Shanghai. Then, in 2012, Canadian Prime Minister Stephen Harper formally granted Rowswell the official title of 'Canada's Goodwill Ambassador to China' stating, "For many years, Mark Rowswell has used his extraordinary talents to build bridges of understanding between Canada and China."
From 'Ed Sullivan' to YouTube
These days, Rowswell maintains a very hectic schedule, commuting to China every few weeks from his family's home in Toronto for a wide range of stage performances, broadcast media hosting 'gigs,' and personal appearances across the country. While he still performs Xiangsheng, the demand for such performances has somewhat waned with the rise of a new generation of Chinese harboring more globalized tastes in entertainment. But that has not in any way diminished Dashan's presence on the Chinese media scene. He continues to be in high demand as a host for variety shows and talk shows, and he is now taping the first season of China's newest reality show, "Super Comic" -- a Chinese version of "America's Got Talent," or "The Voice" that is focused on stand-up comedy. Dashan is one of five judges on the show, and the first foreigner to ever appear as a judge on a national reality show in China.
More importantly, though, has been Rowswell's carefully planned evolution of the Dashan brand from its offline, TV variety-show roots to one that is poised for the digital age. Dashan's own website (www.dashan.com) was established in 1997, and Dashan now enjoys over 5 million followers across China's largest microblog and social media platforms, including Sina Weibo, Tencent Weibo, and WeChat. As Rowswell readily notes, no other foreigner who personally interacts on the top Chinese social media platforms enjoys more followers than he does (with the possible exception of Japanese adult film star, Sola Aoi !). Of course, as a cross-cultural star, Rowswell/Dashan also maintains a YouTube channel containing a portfolio of his performance and endorsement work, and a growing following on Facebook and Twitter (both of which are blocked in China) and even LinkedIn (which is not blocked in China). In the near future, Rowswell has further expansion plans for Dashan's digital empire, including a dedicated "Dashan Show" for which he is already in discussion with major platforms in China like Yoku, IQiyi, and LeTV.
Yet, Rowswell/Dashan's celebrity still remains highly compartmentalized within China. When he was interviewed live on The Today Show during the Beijing Olympics in August 2008, Matt Lauer was visibly befuddled in trying to understand who Rowswell was, despite the huge crowds of Chinese that were cheering for Dashan from just off-camera. Nevertheless, given China's increasing prominence on the world stage, Roswell may yet enjoy a second 'breakthrough' moment -- this time in the West. Whether as an expert consultant providing first-hand insight and guidance to Western corporations and brands seeking to leverage Chinese social media, or playing a key role in joint Chinese-Western entertainment productions, Rowswell, as Dashan, will likely have many new contributions to make.
In the meantime, 25 years since his star first emerged in China, Dashan maintains his popularity with a broad range of Mainland Chinese by continually adapting his brand to the evolving media and entertainment landscape in China. Even as he still constantly participates in national broadcast shows, in somewhat of an echo of Jerry Seinfeld's own post-TV career, Dashan is now increasingly showing up on the grassroots scene, performing live comedy at the fast-growing number of stand-up comedy clubs which are springing up all over China. Says Rowswell, "Stand-up plays well to today's Chinese youth -- it's short, flexible, topical, trendy, and down-to-earth. I love going unannounced to these little clubs and trying new material. It's exactly the kind of work I need to do to stay relevant, particularly because my television work often seems two steps removed from reality. This is what my career has been based on: being someone from the other side of the planet who "gets it", who's not a stranger, and who Chinese audiences often say "understands China more than we do ourselves." That's what's so special for me -- being able to reach across a huge cultural divide to share some 'sparks' and really connect."
Calling all HuffPost superfans!
Sign up for membership to become a founding member and help shape HuffPost's next chapter