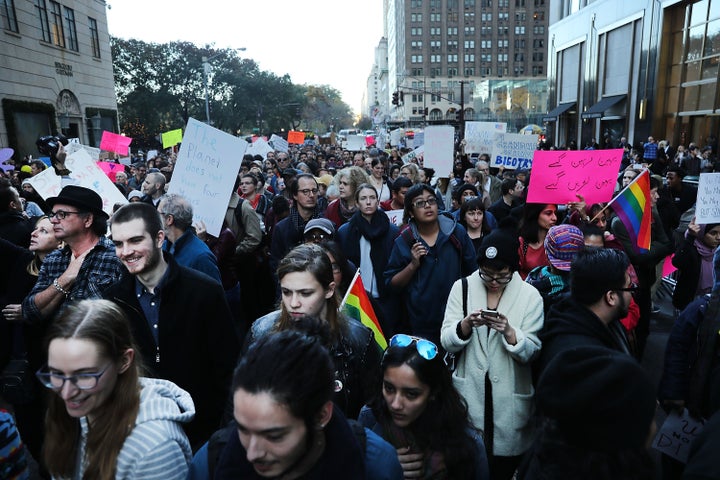 WASHINGTON ― When Cathy Heller, one of more than a dozen women who have accused President-elect Donald Trump of sexual harassment or assault, arrives in Washington next week to protest his inauguration, she won't be alone.
Heller plans to travel from New York City to D.C. with an Amtrak car full of supporters. The 63-year-old made news last fall when she came forward to allege that Trump tried to kiss her without her consent about 20 years ago, at a Mother's Day brunch at his Mar-a-Lago estate. She has reserved an entire train car to bring people to the nation's capital for the Women's March on Washington on Jan. 21.
She had initially planned to travel with one friend, but said the morning trains were already sold out when she tried to buy tickets in November. She asked Amtrak about extra cars and discussed reserving one, which would require her to gather more riders. She called some friends and had 43 commitments in a little over a week. They're calling it "Cathy's train."
"I still have people calling and begging me for tickets, but I don't have any," she told The Huffington Post this week. Heller predicts she and her supporters will end up sharing their car with some other riders because of how the reservation system works.
The Women's March on Washington is expected to draw thousands of people who will protest in support of rights for women, immigrants, the LGBTQ community, people of color, survivors of sexual assault and other groups that feel threatened by Trump's election.
An Amtrak spokesperson told HuffPost that the company has added trains and seating capacity to meet increased ticket demand for inauguration week.
The Trump campaign has denied Heller's accusation. "There is no way something like this would have happened in a public place on Mother's Day at Mr. Trump's resort," spokesman Jason Miller said.
But numerous women have accused Trump of sexual misconduct, ranging from forcible kissing to assault. Video also surfaced during the campaign showing that he had boasted about grabbing women "by the pussy" and getting away with it because of his fame. Trump also bragged about walking into women's dressing rooms when he was the co-owner of the Miss Universe Organization.
For Heller, a Democrat, the march is particularly meaningful. Even considering her own accusation against Trump, she said, "the issue is much bigger than his misogyny and assault of women. I think it's a very scary time for anyone who breathes or who values our democracy."
Susan Wong, 66, plans to travel from her home in Boston to New York, and then board "Cathy's train" for the trip to D.C. Wong met Heller in a park more when they were both new mothers more than 30 years ago. She said she is going to the march to support her friend, but also to "learn from other women" about how to fight Trump.
Letty Cottin Pogrebin, 77, a prominent feminist and a founding editor of Ms. Magazine, is also planning to take the train with Heller. She has arranged for several "safe houses" in Washington that people in their group can use if they encounter harassment from Trump supporters, she told HuffPost.
Pogrebin is no stranger to activist movements, and said she was always planning to attend the march. But her daughter told her about Heller's plan, and she loved the idea of joining in on that train car.
"I need to put my body on the line," she added.
Popular in the Community