October was the 8th warmest since 1880, according a NOAA press release; however, Remote Sensing Systems (RSS) satellite-estimated data for the lower levels of the atmosphere (as talked about in a recent AccuWeather climate blog) indicates that October temperatures were the 15th coolest since 1979.
I'm a meteorologist, not a climatologist (not one in the same), so analyzing climate data is not my field of expertise, but this data is not necessarily contradictory.
NOAA's data is land and sea data, measured at the surface where we happen to live. The satellite data is an estimate of temperatures of the lower troposphere (the part of the atmosphere closest to the ground) -- it's not a specific measure of temperatures at the surface. Remote Sensing Systems is associated with NASA.
These are two different types of data with two different sets of "averages," not necessarily better or worse.
The NOAA data indicates that global temperatures (combined land and sea) in October were 1.04 degrees Fahrenheit (.58 degrees Celsius) above the 20th century average, and the RSS data indicates that temperatures through the lower troposphere were just 0.16 degrees Fahrenheit (0.089 Celsius) above average.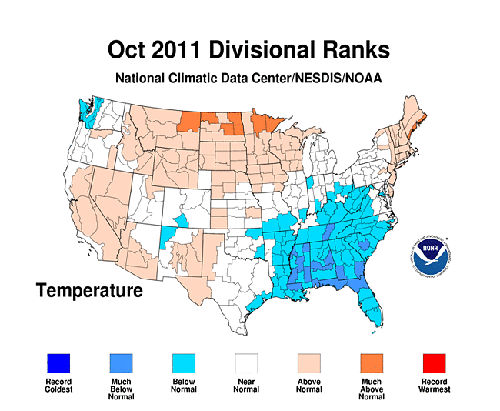 Temperatures were slightly cooler across the United States than globally, with the temperatures averaging 0.9 degrees Fahrenheit above the 20th century average, with cooler-than-normal temperatures in the Southeast and parts of the mid-Atlantic region, as well as western Washington.
Temperatures were warmer than average in much of New England (despite the snow storm), as well as in large portions of the Plains and West.
The RSS data indicated slightly cooler-than-average temperatures across the U.S., with temperatures in the lower troposphere estimated to have been 0.14 degrees Fahrenheit (0.078 Celsius) below average.
REAL LIFE. REAL NEWS. REAL VOICES.
Help us tell more of the stories that matter from voices that too often remain unheard.