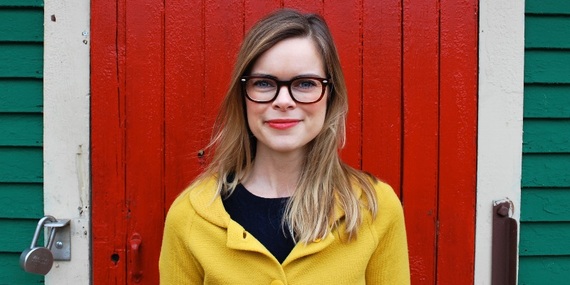 Kara Holden has written scripts for nearly every studio in Hollywood. Her adaptation of the popular novel Carrie Pilby just wrapped production in New York in January. The comedy-drama stars Bel Powley, Vanessa Baer, Jason Ritter, Nathan Lane, William Moseley, and Gabriel Byrne.
She also has Middle School: The Worst Years of My Life opening later this year by CBS Films, starring Lauren Graham, Adam Pally and Rob Riggle.
She has completed the comedy Home School for Warner Bros, and is currently working an animated film for producer Brett Ratner and director Chris McKay called The Yeggs and the Yahbuts, as well as Long Shot for WWE Films.
Her other projects include the adaptation of the novel The Opposite of Love for Anne Hathaway at Fox, Zapped for The Disney Channel, which starred Zendaya and Soul Surfer, which starred Helen Hunt, Dennis Quaid and Anna-Sophia Robb, by Sony Pictures.
ScreenCraft: How, when, and where did your storytelling roots begin?
Kara Holden: My storytelling roots can all be traced back to the love of reading that my parents instilled in me -- whether it was my Dad doing all of the voices when he read The Jungle Book or my mother introducing me to the exciting world of Nancy Drew and the wondrous possibilities of a single bobby pin -- they taught me the power of imagination. We moved a lot when I was a kid (from Florida to North Carolina to Georgia and then Kentucky all before the age of 12) so books became my friends and story became my safe place. I began to write my own stories around the age of 7 and I started journaling then as well -- I think as an attempt to make meaning of all of the changes in my life and perhaps to have a little control. If I couldn't have a say over where we lived, at least I could decide where my characters were going to live. To this day I still like to engage in "wishful writing" living vicariously through characters who are brave when I feel scared or strong when I feel weak or who live exciting lives when mine begins to feel mundane.
ScreenCraft: What was your first big break as a screenwriter?
Kara Holden: My big break as a screenwriter came as a direct result of my first big heartbreak as a screenwriter. I had been through a painful divorce and was on my own for the first time in my life -- I had absolutely no money, but I put all of my hope for the future into writing a spec script that was very close to my heart. My agent sent it out, and the response was overwhelmingly positive -- but no one bought it. I was devastated. As a result of that script, however, I got a meeting at Paramount and the executives asked me if I had any other ideas. I pitched them a story that popped into my head on the drive to that very meeting -- called Inner Bitch -- and they loved it and bought it! My whole life changed in that moment, I'll never forget the sobs of joy and relief when my agent and manager called to tell me the news.
ScreenCraft: You have a background in acting as well. Has that experience helped you in your writing?
Kara Holden: I believe my experience in acting is invaluable to my writing -- it has given me a true ear for dialogue and a feel for pace as well as a deeper understanding of character. I would absolutely recommend acting classes to any writer!
ScreenCraft: You've written many comedies, which is known as one of the most difficult genres to tackle. What are some of the secrets to writing comedic scripts?
Kara Holden: I've had some truly wonderful teachers who have taught me some things about comedy that have always stuck with me. My college creative writing professor Michael Berg taught me that in order for something to be truly funny, it has to be utterly real and completely unfunny to the character who is experiencing it. My wonderful acting coach Lesly Kahn taught me about the rule of 3's in comedy and the power of the comedic reversal. And the legendary Shelley Berman, who was my comedy writing professor at USC, showed me that the best comedy comes when the character says or does something that is completely opposite from what the audience expects. The element of surprise is key in comedy, especially when paired with familiar circumstances we've all been through.
ScreenCraft: You've also written some adaptations as well. Any secrets to writing a successful adaptation of a novel?
Kara Holden: As I stated before, my love of writing comes from my love of reading so right off the bat I would say that you have to truly love the novel in order to adapt it properly. Find what speaks to you personally and build your script around that. If you understand the essence of the novel and the spirit of what is moving about it, you can then be free to make the changes that are necessary to bring it to the screen. It has also helped me immensely to keep the phrase "How can I make this more cinematic?" in the back of my head as I read each scene in a book I am considering adapting... movies are a visual artform and so the biggest challenge is how to show in a solid way things that may be much more esoteric in the novel.
ScreenCraft: What is your writing process like, from concept to production?
Kara Holden: I always start with a notebook and pen -- my ideas always seem to flow more freely when I write freehand. I begin by asking questions -- who is this character, what does she want, why does she want it, what will happen if she doesn't get it, what will happen if she does, who and what are in her way, where is all of this happening, how can I make this something we haven't seen before, and my most important and telling question: Why Do We Care?
As I answer the questions, and all of the questions that pop up along the way, I begin to get a sense of the story and I can then put it in outline form. After that I like to take my mentor Syd Field's excellent advice and write a shitty first draft. If you're too precious with your first draft there's a danger of never getting to Fade Out -- the two most glorious words in the English language. Take the pressure off and allow the first draft to be as expositional as possible, as on the nose as it can be, because when you spell it all out to yourself it somehow gets inside you and solidifies what you really want to say. After that, the real work of honing and layering and perfecting can begin with the rewriting process.
ScreenCraft: How did you attain your representation as a writer?
Kara Holden: I invited an entertainment lawyer I knew through a friend to the Jerome Lawrence One Act Play Festival at USC -- where I was working on my master's in screenwriting and fiction -- my play ended up winning the festival and she was impressed enough to ask for my writing samples to pass along to agents.
ScreenCraft: Our readers are always interested in the experience of working with agents, managers, and producers. What is the collaboration like with you as a writer, your representation, and the producers you write for?
Kara Holden: I hate to say it, but it's really different for every project. Some producers are very hands on and want to be involved in every step of development -- others let the writer take the lead and leave them alone until they are asked for opinions and notes. I usually run original ideas by my agents and managers before I work on them because they know the temperature of the business and what producers are looking for from season to season. My managers help me when I feel stuck or need another set of eyes on something before I turn it into the producer. My managers also bring ideas to me sometimes. My agent and managers together as a team help me decide which projects I should take.
ScreenCraft: How did you become attached to

Soul Surfer

?
Kara Holden: Soul Surfer was a rewrite assignment I got through my agent. The producers wanted someone who could write authentic young female voices and who could write about faith in an accessible way. I pitched them some ideas for new scenes and character changes and I got the job.
My new film Middle School: The Worst Years of My Life was originally a polish assignment, but I had bigger changes in mind that I pitched the director and he loved them, so it ended up becoming a substantial rewrite.
I got the job adapting Carrie Pilby -- my other film that is coming out this year -- by way of a referral from my sister-in-law Lindsay Devlin who is also a writer. The director came to her with the novel and she said that they should contact me because it sounded right up my alley -- and it was!
ScreenCraft: What are the difficulties in bringing a real person's story to the big screen?
Kara Holden: The biggest challenge with bringing a real person's life to screen is finding the balance between fact and creative liberty, to always remember that every element you invent for the purposes of making the story more cinematic must stay true to the spirit and character of the actual person. It is not so much a question of did they do this or say that, but rather would they do this or say that.
ScreenCraft: What is the best piece of screenwriting advice that you've picked up along the way?
Kara Holden: Always be writing. It is the one thing you can control in this crazy up and down business. Keep creating -- and be stubborn, the people who succeed are the ones who stick it through in feast and famine. Also, be kind. Kindness goes a long way.
ScreenCraft: What's one of your favorite Hollywood anecdotes that you experienced early in your career, and what did you learn from it?
Kara Holden: When I was first starting to write, before I had gotten an agent or even been accepted into the USC MPW program, I lived in a little apartment in Beverly Hills. There was a dapper elderly man who lived in the apartment just below me and who always intrigued me as I saw him coming and going, wearing his ascot and smoking his cigarette. One day, I decided I needed to meet him, so I made some cookies --being a good southern girl -- and brought them down to him. Once I successfully convinced him that I wasn't a Jehovah's Witness or trying to sell him any knives, he was charmed by my gesture and invited me into his apartment. Every available space was filled with books, even the small couch - and on a folding dinner tray there sat a typewriter and a bottle of scotch. My neighbor turned out to be the Oscar nominated screenwriter Ivan Moffat who wrote the classic movie Giant among many other wonderful films. He became my friend and mentor and it was one of the most illuminating relationships of my life. His stories were legendary and a whole new level of hilarious -- I still wish I had even half his quickness of wit. It taught me never to write off "old-timers" -- especially people who worked in your chosen field -- their wisdom and experience is invaluable if you take the time to listen.
REAL LIFE. REAL NEWS. REAL VOICES.
Help us tell more of the stories that matter from voices that too often remain unheard.