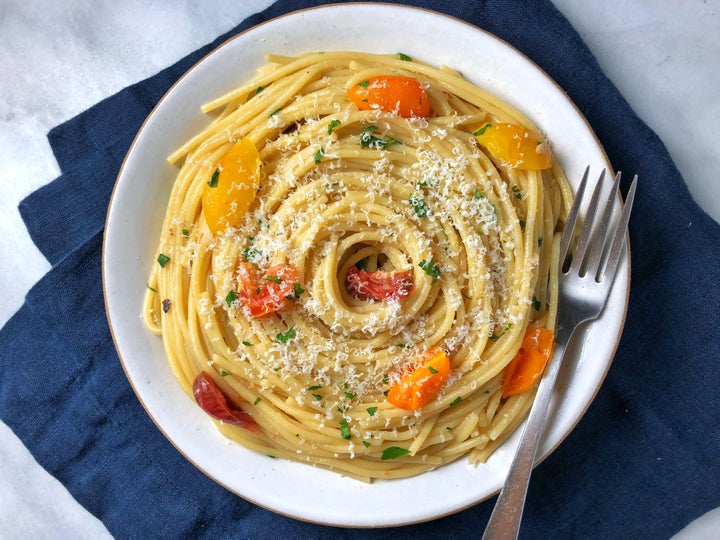 Weeknight dinners can sometimes be the bane of my existence. With a full-time job, finding the energy to cook at the end of a long day can be enough of a struggle. Add on the exhaustion of prep, plus the awareness that I'm going to have to wash dishes, and I've already opened the Seamless app. However, all that changed when I discovered the magical world of one-pan pasta.
What does that entail? Well, like its name suggests, you'll only need a deep 12-inch sauté pan to cook up this dish. And while I'm offering you a recipe, the real takeaway from this is an equation for an infinite number of noodle combinations.
The first step is blooming the aromatics. That means heating up a healthy glug of olive oil (or butter) with garlic, sliced chiles or hearty herbs. Once your aromatics are infused and golden, it's time for the liquid.
Since I wanted this dish to be pantry-staple heavy, the base ingredients of this recipe are one quart of chicken stock and one cup of water to one pound of dried spaghetti, all thrown on the stove (you can use vegetable stock if you're vegetarian). By the time the pasta is al dente, the liquid will have reduced down into a glossy, creamy sauce.
Now's the fun part, when you get to use up whatever random stuff you have lying around in your fridge. I'm talking about throwing in all that leftover chicken, that sad handful of cherry tomatoes or that half-empty jar of capers that's been sitting on the shelf for months. And whether it's Parm, pecorino or any other firm cheese, you'd better believe I'm going to grate up a pile and throw it in.
The possibilities are as endless as the strange melange of scraps you can wrangle together. But more importantly, the base of this recipe is made completely out of items you probably already have on hand. So do yourself a favor and say no to takeout tonight: An easy weeknight meal is less than 30 minutes away.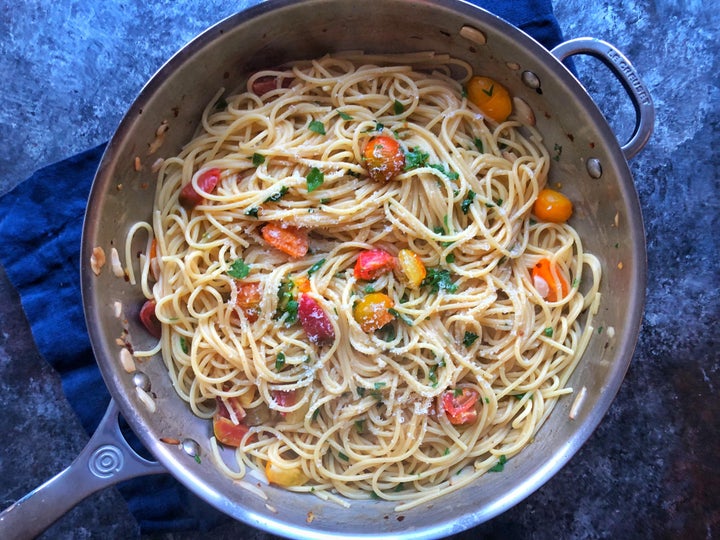 One-Pan Garlic Pasta with Cherry Tomatoes
Yield: 4 to 6 servings
Prep Time: 10 minutes
Cook Time: 15 minutes
Total Time: 25 minutes
1/4 cup olive oil
6 garlic cloves, thinly sliced
1/4 teaspoon red pepper flakes
4 cups chicken stock
1 cup water
1 pound spaghetti
1 cup cherry tomatoes, halved
1 1/2 cups grated Parmesan
Kosher salt, to taste
In a 12-inch high-sided skillet, heat the oil over medium heat with garlic. Cook until the garlic is lightly golden, 1 to 2 minutes, then add the pepper flakes.
Pour in the chicken stock and water, then add the spaghetti. Raise the heat to medium-high. Cook, adding the cherry tomatoes after 10 minutes until the stock has reduced into a sauce and the pasta is al dente, 14 to 16 minutes.
Stir in the Parmesan, then adjust seasoning with salt. Divide between bowls and garnish with more grated Parm, then serve.