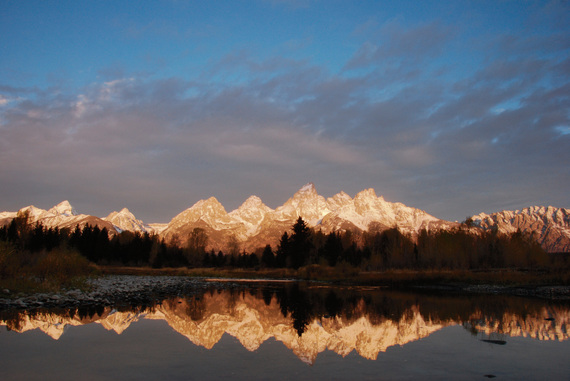 The Tetons, captured here after a late autumn snowfall, are America's most iconic mountain range. Image (c) Danielle Lehle

Jackie Skaggs's first brush with Grand Teton National Park mirrors so many children's first national park experience. It was from the backseat of the family sedan.

"I was born and raised in Pocatello, Idaho," Jackie began. "My family drove through the park when I was twelve years old, and I had my first camera, a Kodak Instamatic. I photographed the mountains, the bison and the lingering snowdrifts during our family vacation to Grand Teton and Yellowstone. When I looked at those photos later, the Tetons absolutely burned into my consciousness on some primal level. Ten years later, when I graduated from college, my husband and I had to decide where to start our lives together. He said, 'We don't have to stay in Pocatello, you know. Where would you like to go?' I immediately thought of Jackson Hole and the Tetons. That was 1976. We managed to get seasonal jobs at Signal Mountain Lodge on the shores of Jackson Lake, and that was the beginning of an unrelenting obsession with this mysterious, magical place. Hook, line, and sinker, I was a goner."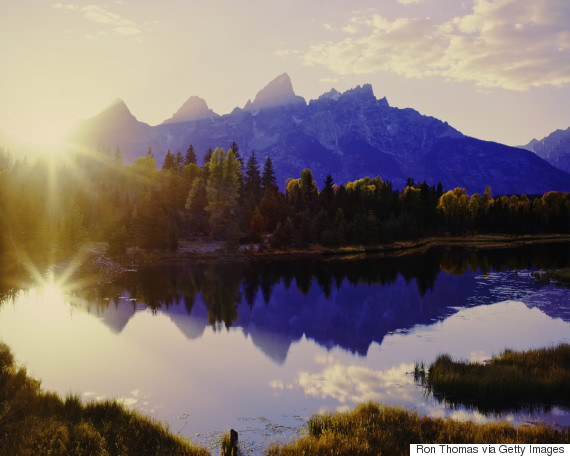 The Tetons, just north of Jackson, Wyoming, are not America's tallest mountains, though they may be its most recognizable and photographed range of peaks. Rising abruptly from the valley floor, the distinctive jagged pinnacles of the compact Teton Range are iconic of the American West and the national park that bears its name. Grand Teton National Park encompasses 485 square miles, making up the southern sector of the vast Greater Yellowstone Ecosystem, the largest intact temperate ecosystem in the world. Forested hillsides slope down to the sage-covered valley floor and the banks of the shimmering Snake River, which runs north to south through the park. Beyond the river, the long, relatively flat valley unfolds. (The "hole" in Jackson Hole refers to the 55-mile-long, 13-mile-wide valley, not the money pit that a vacation home in this highly desirable area might represent.) There are 250 miles of maintained hiking trails in the park, ranging from gentle walks around Jenny Lake to the ambitious backcountry Teton Crest Trail. The Grand Teton, which measures 13,770 at its summit and rises some 7,000 feet from the valley floor, looms over it all. (Twelve other peaks in the Teton Range eclipse 12,000 feet in elevation.)

After 38 years around the park -- many of those in a public-affairs role, speaking to visitors each day -- Jackie has a clear vision of Grand Teton's many appeals to campers. "I'd say there are four main reasons that visitors come to the park. First, it's the scenery, the awe-inspiring, in-your-face drama of the Teton peaks. The uplift is so abrupt from the sagebrush valley of Jackson Hole, it's overwhelming. This is accentuated by the range's proximity to the road. Whatever direction you approach the park from, the granite massifs are a breathtaking surprise. The Tetons provide the sort of vistas people equate with the big western parks."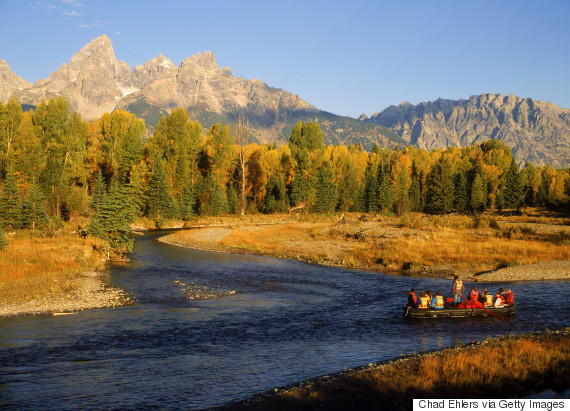 "Wildlife is the second reason people come to GTNP. All the megafauna that people visit Yellowstone to see -- bison, moose, elk, pronghorn, grizzly bears, and wolves -- are here in Grand Teton too. The ecosystem has all the wildlife and flora that was present when the first Europeans arrived, another compelling reason to visit. Twenty years ago, you hardly ever heard of grizzly bear sightings in Grand Teton, but the population has expanded from Yellowstone and the bears have moved southward. Given that Grand Teton is only one-sixth the size of Yellowstone, you may even see grizzlies more frequently here. The fact that the bears are around makes the park feel a little wilder. You're a little more aware of making noise and likely to carry bear spray when you're out on the Teton trails. A third attraction is the range and variety of outdoor activities available throughout the park. The Tetons are one of premier mountain climbing venues in the Lower 48. There are many routes that can be climbed, either by experienced climbers on their own with the help of a guidebook or by neophytes with the assistance of experienced guides. The Snake River, which flows through the middle of the park, is a great trout-fishing stream and provides a pristine setting for raft or kayak trips. Of course, there are many, many hikes. Thanks to the intimacy of GTNP, you can pack a bunch of activities into a day--say a float trip in the morning, a hike in the afternoon, and a ranger program in the evening."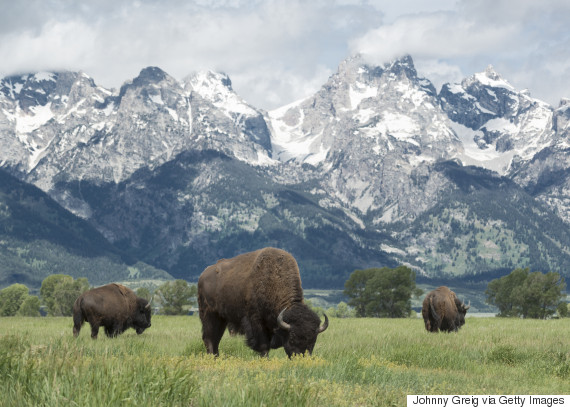 There are seven campgrounds in GTNP. A perennial favorite of tent campers is Jenny Lake. "You're situated very close to the base of the Tetons, so the vistas are especially dramatic," Jackie said. "It's a fairly small campground, only forty sites, and RVs aren't permitted. And you have quick access to the central trail system, with hikes like String Lake, Cascade, and Paintbrush Canyon right from your tent. If you're looking for a mellower hike, there's the Jenny Lake Trail. I also like the Signal Mountain campground. There, you're close to boating and fishing on Jackson Lake, the largest glacial lake in the park. And, if you don't feel like fixing your meal, you can walk over to the Signal Mountain Lodge for a gourmet dinner or a hamburger. Wherever you camp, GTNP has features found in few other national parks. You can have a very rustic experience during the day, but then you can drive twenty or thirty minutes into Jackson and enjoy a more cultural experience, be it fine dining or attending a music festival or an art opening. Then you can drive back and sleep under the stars. It's a unique balance, and I think it reflects what more people are looking for in a camping experience -- roughing it, but with creature comforts."

Few people come away from the Grand Teton National Park unmoved. "There's a definite spiritual nature to the Tetons," Jackie opined. "It goes back to the native peoples. Many tribes came here in the summer [visiting tribes included Shoshone, Bannock, Blackfoot, Crow, Flathead, Gros Ventre, and Nez Perce] to hunt, but they also had a special reverence for the mountains that beaconed them. I feel it myself in a palpable, personal way. The Tetons have gotten me through some tough times, like the death of my father, who I was very close to. Whether it was watching the play of northern lights across an expansive night sky in November, skiing across the frozen surface of Jackson Lake in winter, seeing my first grizzly bear with newborn cubs, or just looking up at the soaring Teton peaks as I hiked and realizing just how small I felt in their shadow, the Tetons' permanence -- seemingly unchangeable qualities --helped me heal many times, but especially after my father's passing. They've been my comfort, strength, and inspiration for most of my adult life. And that life-long inspiration began when I snapped my first photograph as an impressionable twelve-year-old girl"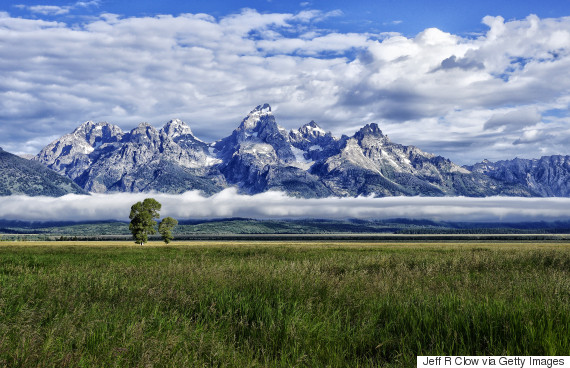 Jackie Skaggs is public affairs officer for Grand Teton National Park and the John D. Rockefeller, Jr. Memorial Parkway, and serves as the official spokesperson on behalf of the park's superintendent. She began her NPS career at Grand Teton in 1984 as a seasonal ranger in visitor services (fee collection); she spent ten years as a seasonal ranger in the Division of Interpretation, seven years as a public affairs specialist, and the past eight years as the public affairs officer. Jackie earned a BA in elementary education from Idaho State University in Pocatello and completed additional post-graduate classes in the natural sciences.

If You Go...

Getting There: Several carriers fly into the Jackson Hole airport, including United (800-864-8331; www.united.com) and Frontier (800-432-1359; www.flyfrontier.com). Many visitors will opt to fly into Salt Lake City, which is a roughly six-hour drive to the Park.

Best Time to Visit: The campgrounds in Grand Teton National Park are generally open from late May through October. The summer months have the most reliable weather (and crowds); late spring and early fall can be magical.

Campgrounds: There are seven campgrounds at GTNP, and they all operate on a first-come, first-served basis. Sites are $22 for tent campers. Reservations (800-628-9988) for group camping are accepted at Colter Bay and Headwaters Campgrounds & RV sites. Full hookups for RVs are available here. Visit www.nps.gov/grte for more details.

Activities: Hiking, wildlife viewing, boating, river rafting, horseback riding, rock climbing, and fishing. Ranger-led activities include wildlife walks, hikes, bike tours and campfire programs.