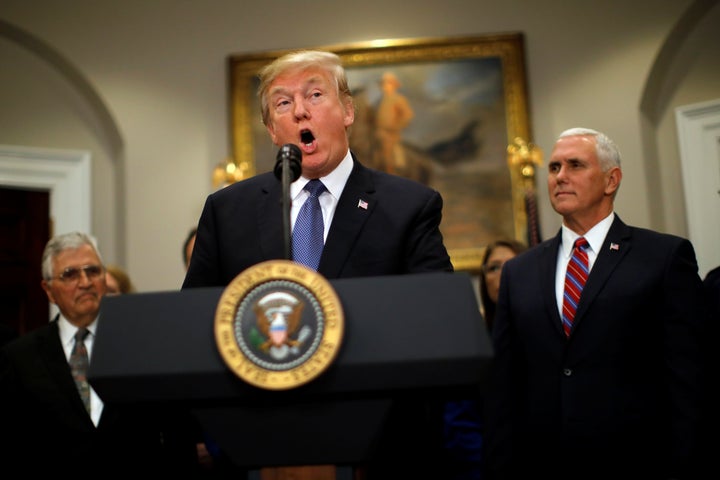 On Tuesday, the two-year anniversary of the adoption of the historic Paris Agreement, 50 world leaders planned to gather in the French capital to attend an invite-only climate change conference hosted by French President Emmanuel Macron, the World Bank and the United Nations. In attendance will be British Prime Minister Theresa May, Mexican President Enrique Peña Nieto, UN Secretary-General António Guterres and World Bank President Jim Yong Kim, among other global leaders and heads of state.
There, however, will be one conspicuous absence: Donald Trump.
Macron had said pointedly in November that he had not extended an invitation to Trump, who in June announced plans to withdraw the U.S. from the Paris climate accord. Macron said that he could be persuaded to change his mind about the invitation if Trump showed a willingness to "join the club" to fight global warming.
As Time magazine noted on Monday, however, Trump has expressed little interest in shifting his climate change stance. His administration continues to champion fossil fuels and has actively taken steps to unravel policies enacted during former President Barack Obama's tenure to limit greenhouse gas emissions.
Tuesday's conference, dubbed the One Planet Summit, aims to mobilize public and private financing to fund the global transition to a carbon-free future. Other than the 50 world leaders, 4,000 other participants and 800 organizations are expected to attend.
Trump may not be attending the conference but other Americans will be there.
Arnold Schwarzenegger, the famed actor and former California governor, is also attending the summit, according to the Associated Press. The Austrian-American was quoted as saying this week that it doesn't matter whether Trump is on board with the climate accord or not, "because companies, scientists and other governments can 'pick up the slack' to reduce global emissions."
Macron on Monday announced the recipients of new climate change grants proposed in the wake of Trump's decision, dubbed his "Make Our Planet Great Again" program. The researchers, most of whom are U.S.-based, will now have the option to relocate to France to continue their research.
Macron told the grant winners that France "will be there to replace" U.S. support for climate science.
Related