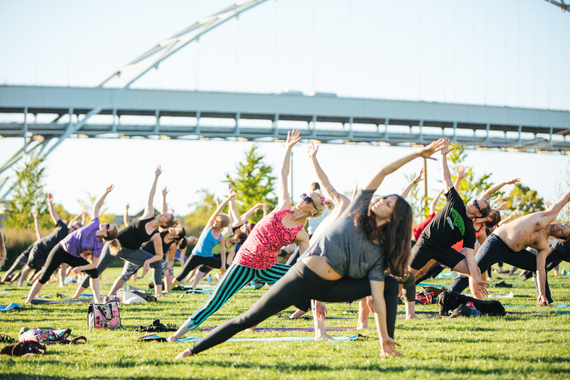 If you're a soul searchin'* dog worshippin'*happy hour hammerin'* sin committin'* church goin'*gorge hikin'*computer geekin' Portlander, You might be a ...YoYo Yogi too.
You are here because you are a seeker, the brochure reminds. All seekers of a most excellent adventure, welcome to your launching mat.
Planted centerpiece, heart center, to the urban Pearlandia borough of Portland, resides a delightfully magical, click free community, where your possible is miraculously expanded matside. YoYo Yogi Yoga rapidly ascended to the top 10er list of Best Yoga studios in the USA. Y4 welcomes fellow warriors in training to unlock the potential in their hearts via the body. Their collectively mindful Why: To make this planet better, one pose at a time. "Everyone has the ability to have an excellent life and to positively affect others", co-founders, Terri and Alex deep down ward dog believe. "The essence of you comes out here and everyone is their own very best teacher. Physical practice helps get into ones mine and heart. You bump into the mystery of you when you come to pose", Alex shares.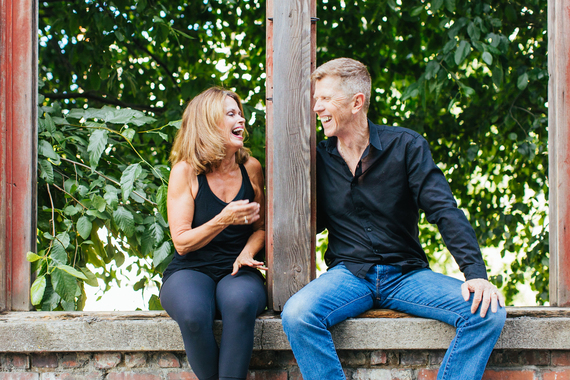 Terri finds the inspirations (she eloquently bestows) to her yogi students, shows up naturally when she digs into what is happening in her own story. Their ministry is offered via ancient yogi mantras and chants juxtaposed and translated with simple modern bridges allowing for the meaningful messages to sink into deeper understanding. This dynamic darling couple have a fascinating gift of intuiting the very message their Yoyo pupils must hear that very day. And they make it very clear and easy to soak in the value of their words while navigating an eagle pose. Just this past week, after a collective chant Alex offered excerpts to sponge up, from the quirk cult charming film, Bill and Ted's Excellent Adventures, to remind us that we can have a fantastically brilliant time collecting pieces of our true self on our journey to deeper awareness and happiness.
Mutuality and curiosity inspired the pioneer adventure to the city of roses, for former Solid Gold dancer turned business man, Alex, and Make up Hair guru to the famous, turned corporate lady, Terri, to plan this yoga life future in one afternoon. Without a back up plan, this dedicated to purpose and each other team decided to do 100 yoga studios, San Diego to Seattle, in 100 days along the 101. The research and postings of their excellent Yoyo journey encouraged an impressive fan club following of 10,000 along the way. They settled in Portland, and raised Yoyo Yogi Yoga Studio, expanding space each year to invite more to the mat.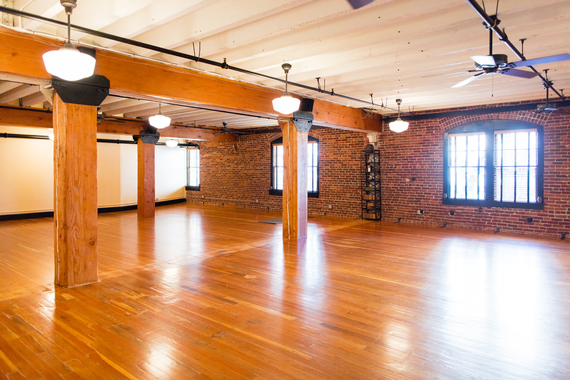 This purpose, as they usually do, took time to incubate. Terri was gifted a yoga video she practiced every day for 3 years, in front of her television, in the early morning hours before clocking into her corporate job. After stepping around warrior one Terri for 3 years, Alex humbly took to the mat alongside his wife. "I couldn't make it through the 45 minute video," he insists. Inspired, rather than defeated, they eventually showed up in our beloved Stumptown for teacher training and gradually grew to know this place was their truth North, their destiny. The first real yoga teaching gig for A and T was far from glamorous. They ended up driving an hour each way in the snow at 6 am to teach as few as 2 people, in the Tahoe area. They just knew this was their thing so they kept showing up regardless of the minimal following. Their only neighbors were squirrels and bears, for miles, until they decided to pack it all up and take the show on the road. They kept on keeping on their new path until in turned into that road. The 101 that led them to their new home after that 100 days.
Terri and Alex share, "our mission is to uncover the 'teacher' that lives within each of their students. Each of us has a distinctive life experience and ability to reach others. We take heroic chances when we show up at the mat, when we show up at life. Curiosity and wonder abound here at Yoyo. It is humbling and exhilarating. Everyone has the ability to have an excellent life, and to positively affect others with that amazing influence. We drop a pebble here, a pebble there, a small offering, movement toward who we are to be and we make massive strides to who we are intended to be, just by coming to the mat. We watch people make their own discoveries, finding out what is going on inside. The first step is knowledge. Know thy self. Self awareness is key. It wakes up our mission on earth. Our passion here at Yoyo is to help wake up the potential people have within. The physical practice helps get into ones mind and heart. You bump up against the You you are meant to be, here at YoYo."
Terri and Alex want to help make a better planet. That is really it in a child's pose. Simple. Teaching people through yoga poses and inspiration how to individually stay true and present and allowing the teacher in each of us to come forth to collectively better our world.
Related