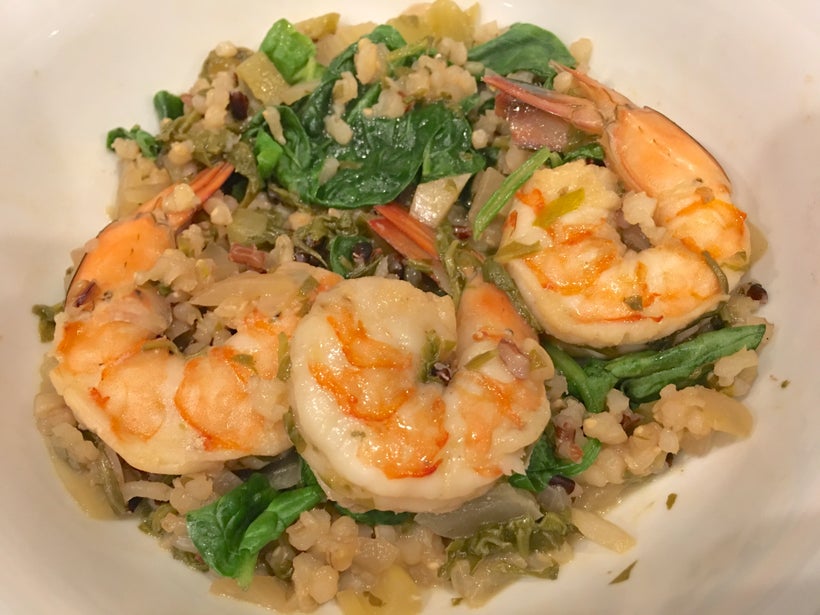 Packaged rice pilafs are a popular category in the supermarket, yet they tend to be high in sodium. One cup of prepared pilaf contains as much as 800 milligrams per serving. So why not make it at home?
This recipe is a one-pot dish including whole grain rice, wild shrimp and lots of veggies. It's brightened up by one of my favorite ingredients—lemon! Lemon is a great substitute for salt and adds a depth of flavor with a dose of vitamin C. The flavors meld together, even more so on the next day—if there are leftovers.
Serve this dish for lunch, dinner or as a one-pot meal for easy entertaining.
Ingredients (choose organic when available):
2 tablespoons cold pressed, extra-virgin olive oil
1 pound extra-large frozen uncooked wild shrimp, peeled and deveined, thawed
1/4 teaspoon freshly ground black pepper
1/4 teaspoon sea salt, optional
1 medium onion, chopped (about 1 cup)
3 stalks celery, chopped (about 1 cup)
1 clove garlic, minced
1 cup short grain brown rice (or other favorite whole- grain rice)
1/4 cup dry white wine
2 cups low-sodium chicken seafood or vegetable broth, plus extra as needed
Juice from 1 large lemon (about 1/4 cup)
3 cups baby spinach, chopped
In a large saucepan heat one tablespoon of olive oil over medium heat. Season shrimp with pepper and optional salt and cook until opaque, about 3 minutes. Transfer shrimp and juices to a bowl.
Add the remaining oil to the pan. Add the onions and celery and stir for about 4 minutes or until tender. Add the garlic and cook for one minute. Add the rice and stir until well coated for about 2 minutes. Add the wine and cook until the wine is absorbed for about 2 minutes, stirring often. Add the broth and lemon juice. Bring to a boil, stirring often. Reduce heat to medium-low. Simmer until the rice is just tender based on cooking time noted on package of rice, stirring often.
Stir in the spinach until it wilts, for about 30 seconds. Add the shrimp and more broth if needed, 1/4 cup at a time, until combined.
Nutrition Facts (without added salt):
Per Serving: % Daily Value*
Vitamin A: 84% · Vitamin C: 27%
*Based on a 2,000 calorie diet
Calling all HuffPost superfans!
Sign up for membership to become a founding member and help shape HuffPost's next chapter
This post was published on the now-closed HuffPost Contributor platform. Contributors control their own work and posted freely to our site. If you need to flag this entry as abusive,
send us an email
.