This weekend I was on a journey: my classmates celebrated ten years since our high-school prom in the north of Serbia. Nothing in life is a better equalizer than seeing the people you spent some time with in the past and realizing what aspects in our lives changed.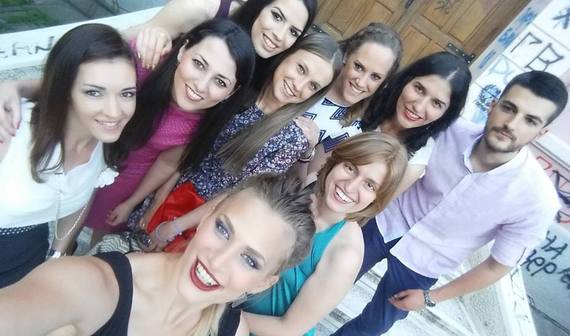 Let's face it: we are what we do all the time, not once in a while. And we turn out to be what we set out to become, not what we say we will do eventually. It seems that 10 years have passed within a blink of the eye and I have noticed three striking phenomena: nerds did achieve more financially and career-wise; family commitments did not make people happier if they see it as a burden; and you never know when you will need business cards.
In high-school I was a woman with answers that does not promote herself: I was mostly fascinated by books, spent tremendous time at competitions and extracurricular activities, and my excellent grades did not make me arrogant, but helpful and open-minded towards the teachers and fellow students. Ten years afterwards my peers consider me to be among top 5% of most successful in our generation due to my international work experience, references and contacts. I did broaden my comfort zone daily to get where I am now becoming very talkative and the best days are in front of me because I set out to make my future.
Every day all of us face the same challenge: to do what is easier or to do what is right? Broadening your comfort zone daily while you remain grateful for what you have now and you remember where you were five or ten years ago is the best motivational potion to drink because all the good and bad moments shall pass any way, but we should surf our way through life instead of being swamped by it.
We live in the age where our digital reputation is perceived as the monologue unless we know how to sustain a conversation and the same thing I noticed at our high school reunion. The art of listening and leading a meaningful conversation is incredibly important since in those very moments the future starts to change and the new opportunities emerge.
If you want to change one feature in your character so that you improve the quality of your life dramatically, become a better listener in three simple steps:
1) Do not hunt for the pause in the conversations of other people so that you get your words in the edge ways. Listen in order to learn and establish a connection. So many people listen to others just long enough to have their say.
2) Ask meaningful questions and your body language will also shift to indicate the genuine interest. If you really care, people will tell. If you behave fake, this is not caring in the end.
3) Find the environment you excel at and build you skills around it. Some people tell fantastic jokes, others remember minute details about fellow colleagues, while some folks are fond of hearing and sharing relevant information.
Because I am generally in love with people's stories and I am always on the lookout for exciting business ventures, I noticed during the prom reunion that I enjoyed talking most to those peers who set out to overcome at least one challenge over the last ten years: be that a relocation, changing a career, becoming a parent although the timing was not perfect, or constantly learning and travelling due to their career ambitions.
With at least dozen of those people I will continue cooperating just because we established a bond and asked each other truly, ''How are you? Are you happy with your life? What needs to happen so that you feel even better?''
And my determination to be a better listener and interlocutor happens as I finished reading the masterpiece of Clayton Christensen How Will You Measure Your Life? Professor Christensen talks about navigating through life as he uses planning or deliberate strategies: we decide spontaneously to pursue a certain path and it turns out it brings us joy.
Every single paragraph of the book is worth your time yet these three questions summarize what you should ask yourself every single day:
How can I be sure that
1) I will be successful and happy in my career?
2) My relationships with my spouse, my children and my extended family and close friends become an enduring source of happiness?
3) I live a life of integrity and stay out of jail?
To come closer to finding the answers make sure you read the book How Will You Measure Your Life and pay attention to your listening skills: the more you see the world as the wonder, the happier you will get. Let me know in the comments section what your insights are.
Do you feel determined to move to a next chapter in your life, but you are uncertain how to start? To book a coaching session with Milena Milicevic, reach her out at LinkedIn.
Calling all HuffPost superfans!
Sign up for membership to become a founding member and help shape HuffPost's next chapter