When a dinner emergency strikes, I vote we shine a Batman bat light-inspired distress signal in the air. In place of a bat, the light will illuminate the silhouette of a cast iron skillet, and in place of the cape-clad superhero One Skillet Spicy Ranch Chicken will come to the rescue.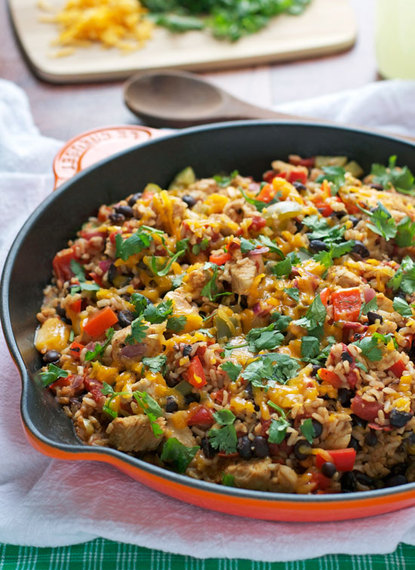 One-skillet meals are dinner saviors, and over the past few weeks, my cast-iron skillet and I have been quite the dynamic duo. Besides keeping dishes to a minimum and intruders at bay (the sign I posted outside our door that reads "BEWARE OF HEAVY SKILLET" must have deterred at least one burglar), my trusty pan and I have created several tasty skillet meals (and treats!), including Hot and Sour Noodle Stir Fry with Peanut Chicken and today's One Skillet Spicy Ranch Chicken. This dish is lightly spicy, ridiculously easy, cheesy, and loaded with southwestern-inspired goodies.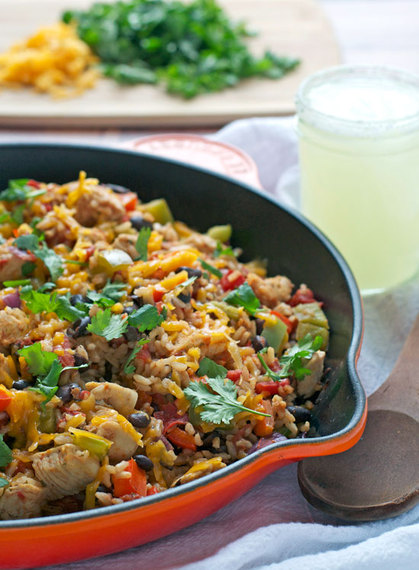 Confession: I didn't actually post a "BEWARE OF HEAVY SKILLET" sign, but if anyone has, you are my new favorite person.
One Skillet Spicy Ranch Chicken begins with diced boneless, skinless chicken breast that we sauté with olive oil, onion, and a packet of Hidden Valley Spicy Ranch Dressing Mix. While I am not normally one to opt for pre-mixed spices, I make an exception for The Great American Ranch. I love it the way I love canned whipped cream -- it might not be 100 percent from-scratch bondafide, but it's quick, tasty, and there's nothing else quite like it. Plus, the packet's two-step open-dump process enabled me to leave my measuring spoons in the drawer, saving time and dishes. Victory for the good guys!
To the skillet, we add vibrant red and green bell peppers, black beans, fire roasted diced tomatoes, and instant brown rice. Stir it all together, let simmer 10 minutes, and dinner is served. All our One Skillet Spicy Ranch Chicken needs to reach perfection is a shower of cheddar cheese and cilantro. Should you choose to add sour cream and stuff the entire ordeal into a tortilla mega-burrito style, I support you.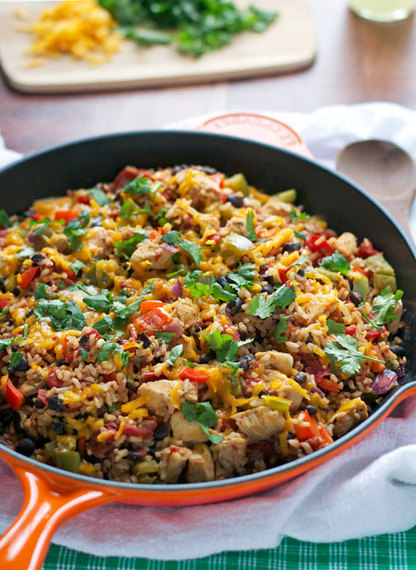 The next time you are looking for a quick, healthy meal that's sure to please, raise your skillet in the air and let One Skillet Spicy Ranch Chicken come to the rescue. An easy, cheesy, one-pot meal packed with southwestern flavor and healthy goodness? My hero!
2 teaspoons extra virgin olive oil
1pound boneless skinless chicken breasts, cut into bite-sized pieces
1/4 yellow or red onion, chopped
1 packet Hidden Valley Spicy Ranch Mix (NOT ranch dip mix)
1 red bell pepper, cored and chopped
1 green bell pepper, cored and chopped
1 can black beans, drained & rinsed
1 can fire roasted diced tomatoes
1 1/2 cups instant brown rice
1 cup low sodium chicken stock
1 cup freshly grated cheddar cheese, for serving
Cilantro, for serving
Heat olive oil in large nonstick skillet on medium-high heat. Add chicken, onions, and ranch mix. Sauté, stirring often, for 2 minutes.
Stir in red bell pepper, green bell pepper, black beans, tomatoes, rice, and chicken stock. Bring to boil, then cover. Simmer on low heat 5 minutes, or until chicken is done and rice is nearly tender. Let stand, covered, for 5 minutes, until liquid is absorbed. Serve topped with cheese and cilantro
Related