Christopher Payne's photographic series One Steinway Place allows us a glimpse into the precise, adroit, and masterful artistry that goes into crafting a renowned Steinway piano.
Payne, who trained as an architect, documented the year-long process of making a Steinway piano at its namesake factory in Astoria, Queens. The series -- now on display at Bonni Benrubi Gallery in New York -- depicts, "a deconstruction of something we all know and love as a whole," Payne writes in his artist statement.
By looking intently at the step-by-step process of constructing a piano, Payne offers a portrait of the craftsmanship that animates wood into sinuous curves, steel into pulsating string, felt into hammer, and ivory that responds to minute gradations of human touch.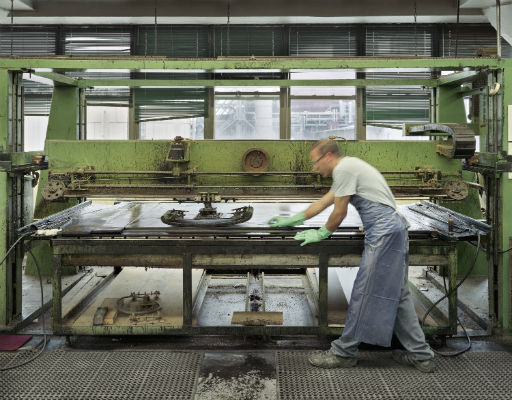 Previous series by Payne (Asylum: Inside the Closed World of State Mental Hospitals and New York's Forgotten Substations: The Power Behind the Subway) concentrated on the inanimate and mechanical landscape that lies hidden from our view. In One Steinway Place, the workers who inhabit such a landscape come to the fore. As Payne notes, "The kind of manufacturing and craftsmanship that happens at One Steinway Place...has nearly vanished from the American workplace."
We're reminded that our objects, from the simplest to the most exquisite, are born from acts of imagination and skill.
"Steinway is not disappearing, not by any means, but the opportunity to look deep inside it revealed to me one of the supreme and most discerning accomplishments of the human hand and imagination," Payne writes.
One Steinway Place, runs through September 19 at the Bonni Benrubi Gallery in New York City.
Check out more from his series in the slideshow below.
PHOTO GALLERY
Christopher Payne's 'One Steinway Place'
REAL LIFE. REAL NEWS. REAL VOICES.
Help us tell more of the stories that matter from voices that too often remain unheard.