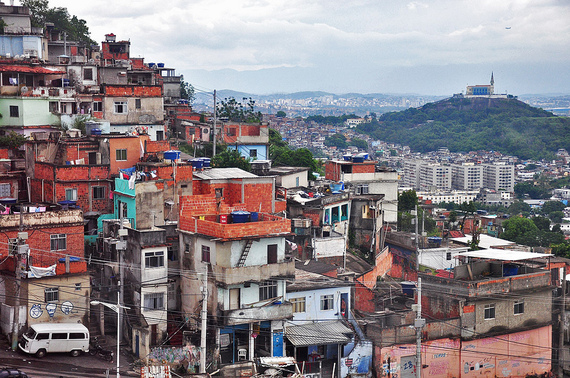 By Rafael Johns, Youth Radio
With additional reporting from Desmond Meagley
When military police forces raided Brazil's Alemão favela complex in 2010, only one tiny local newspaper, Voz da Comunidade (Community Voice), was able to cover the resulting violence from inside the slum neighborhood. Major international news sources relied on the paper's editor-in-chief, Rene Silva, for Twitter updates on the violence between occupying soldiers and drug trafficking gangs. Soon, Silva himself became a story, and not just for his journalism. At 17 years old, Silva was making headlines with a newspaper he had started in grade school, to cover day-to-day life in his community. Youth Radio's Rafael Johns, another young journalist, speaks with Silva about his experiences and the current state of his project.
1. You have been involved in journalism for a lot longer than people think. You've taken part in journalism classes since you were 11. What got you inspired to start becoming a journalist?

When I was eleven years old, I started contributing to a newspaper started by the student council of my public school, Escola Municipal Alcione Gaspar, which is located near my community, Morro do Adeus (Farewell Hill). Three months after becoming involved with the school newspaper, I decided to try to help my community--one of the 13 that comprise the group of favelas known as Complexo do Alemão (Alemão Complex)--to solve some social issues that affected and bothered me a lot on my way to and from school. My attempt was successful, so I realized that, in addition to being able to help them solve different types of social issues, I could also highlight and give visibility to the wealth of talent that had been invisible until then. What led me to become a journalist was the desire to help my community and fight for better living conditions for all who live around here. I haven't started college yet, but I plan to start studying Journalism in 2016.

2. Your project, Voz da Comunidade, has received a lot of acclaim. For those who don't know, can you describe the events that caused the world to pay attention to your reporting?

Many different types of news reported by Voz da Comunidade attract the attention of people outside of Brazil these days, but violence still seems to be the topic that attracts the most attention, especially the attention of those who don't deal with it on a day-to-day basis, if ever. The Voz da Comunidade newspaper was already 5 years old when it became internationally known as a result of our real time, in loco reporting on the occupation of the Alemão Complex, [Translator's note for context: The Complex had long been held by drug traffickers before Special Operations Battalion together with the Brazilian Army and the Brazilian Navy came in. This operation was part of the 2010 Rio de Janeiro Security Crisis and was a response of the State to drug traffickers setting buses and other vehicles on fire in various neighborhoods of Rio de Janeiro.] That's when people started paying attention to us. We were reporting on what was happening in real time: the police and the army approaching the favelas, the population scared but hopeful for peace, the resuming of shootings, the interruption of bus services, etc.

Nowadays, people seem interested in all kinds of topics reported by Voz da Comunidade. Covering violent events was never our main priority. Our community faces many challenges that end up forgotten by the rest of society, such as lack of basic sanitation, electricity and water shortages, etc.

3. What was it like for you, when you were still a teenager, to handle that kind of attention? Can you remember a moment when you were like, "I can't believe this is happening!"

When I was younger, I never imagined how big this whole thing could become. My main goal was and still is to give voice to my community and to expose the issues and challenges it faces, which are still invisible to most people. My young age made things difficult for me. Many people didn't believe I was really the one putting the newspaper together.

4. How has this project moved forward since the influx of coverage on what you were doing?

We expanded our reach and news coverage to include the other 12 communities, in addition to Morro do Adeus, in the Alemão Complex. We organized cultural initiatives and social events to promote culture and generate money, as well as to provide moments of fun in spite of the daily chaos of life in the favela. Our newspaper's print run went from 1,000 to 10,000 copies, and from b&w to color. We gained more space for themes and issues related to our community that the mainstream media doesn't cover. The Voz da Comunidade Portal was created with the goal of giving voice to other communities across Brazil and providing a platform for them to highlight both their social challenges and their talent.
Youth Radio/Youth Media International (YMI) is youth-driven converged media production company that delivers the best youth news, culture and undiscovered talent to a cross section of audiences. To read more youth news from around the globe and explore high-quality audio and video features, visit Youthradio.org.
Related