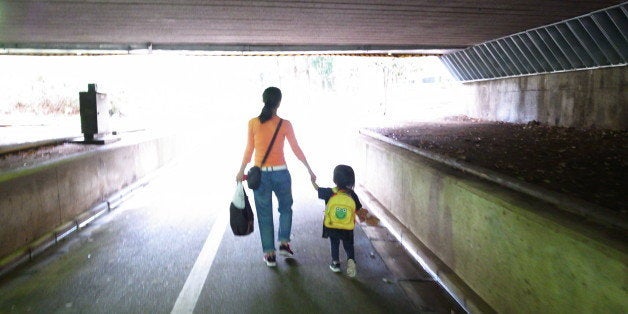 When my son went to preschool, I became an "advocate." I fought with the school to get services--but lost. When he was in second grade and diagnosed with ADHD, I battled for services--and lost again--but this time, I got "accommodations," like frequent classroom breaks. When he was in the third grade, I fought for more challenging work until he was finally moved to fifth grade for math. Even though I won some of the battles, I felt as if I was losing my mind.
For parents of out-of-the-box kids, fighting with the school, er, I mean, advocacy, can be a way of life. I learned how to put on a mom war helmet. I taught myself how to go to battle. But it took a lot of strength. And, by the time middle school came around, mine was ebbing.
When my son wasn't accepted into the program I'd applied for at our local middle school, I really almost lost it. (He needed an accelerated pace--a bored kid with ADHD is no fun in a classroom, trust me). I couldn't give up. But when I tried to focus on dealing with the school, the familiar loop of frustration and desperation plagued me: Why is it always a fight? Why can't it ever be easy? How come nobody understands? None of my friends have to battle constantly! What about my other two kids?

The tension lodged in my neck--no wonder C4 and C5 were a mess. My fingers tingled, my arms hurt, and I could only turn my head fifteen degrees. It was simply a matter of time before I'd need a neck brace to make it through a trip to Trader Joe's.
After studying spirituality for years (yes, I live in L.A.), I knew the constant "against-ness" drained me. I forced myself to walk away from the desk and sit in the sun, taking deep breaths. I let the thoughts come in. I asked the Universe for guidance. I was tired of feeling angry and disappointed. I needed another way. When I opened my eyes a while later, something had shifted.
Even though I asked for guidance, I didn't expect to receive any. But I watched in silent wonder as the mom war helmet slipped from my fingers and I felt a new sense of peace and...gratitude.

I realized that all these years, I had been advocating for my son to prove his worth--and my own. In that context, constant advocacy felt like waging war. And it was exhausting. But as I sat there feeling the sun on my skin, I realized I didn't have to prove my son's value. I didn't have to prove his worthiness. I didn't have to prove anything. This was a huge transformation. I understood his inherent value. It wasn't about proving that he was worthwhile. It was simply about getting him what he needed. In this light, advocacy didn't feel like a burden; it was a calling.
A new year, a new lunch box, a new set of challenges and opportunities. We found a school that's a great fit. And if he needs additional support, I'll ask for it. But I won't be wearing a mom war helmet. Not anymore. I know that he--just like all kids, whether they need extra support or not, have inherent value. I won't be fooled into thinking that's something I need to prove.
The other night as I reviewed back-to-school orientation dates, I reminded myself that beneath the emails and accommodations is the child for whom I am advocating. It's easy to forget that. With that in mind, I questioned my son as he was getting ready for bed.

I said, "You're precious. You know that, right? I should tell you more often."
"You don't need to, Mom," he said, diving beneath his plaid covers. "I already know."
Support HuffPost
A No-B.S. Guide To Life
Related
Popular in the Community