Sometimes my friends say things like this to me, "When I have a baby, I'm going to call you for advice."
What they see is that my 21-year-old is pretty amazing. She's intelligent, hard-working, thoughtful, and she's growing into a really good person. And my friends think that I had something to do with this. What they don't see is all of the insecurity I had about being a good mother to her and my past less-than-stellar decisions.
A dear friend asked me at dinner once what I did as a parent to have such a great kiddo, and I didn't know how to answer her. I immediately thought about all of the mistakes I've made and the times that I yelled and became angry for no reason. I thought about how I let my sadness and anger slip out onto the kiddo unconsciously.
But that's not what my friend was asking for. My mistakes of parenthood is a different post that I've yet to write. My friends want to know something different. I'll attempt to answer them.
When my daughter was born, she cried almost nonstop for about the first three months of her life.
Imagine your sweet, little baby crying for hours and hours and hours every day for three full months. Her elderly pediatrician said to me, "It's just colic, and she seems fine." OK, I guess that's good news but... Is that it? What about the 19-year-old mom who hasn't had much sleep and is desperately fretting over how to calm her infant (because quite frankly the constant screaming is maddening) -- while at the same time trying appease the increasingly frustrated father of the baby?
As the oldest of five, I don't remember any of my younger siblings ever crying like that. I sometimes cried right alongside her.
But I also held her tightly while she cried for hours and hours and hours and hours. I rocked her while she screamed in my arms until her little face was bright red and she fell asleep from exhaustion. I sang silly, nonsensical songs to her that I made up while she screamed in my ears and her tiny fists grabbed my hair. I whispered in her ear over and over that I loved her and that she was OK as she cried and cried and cried and...
I was young and that was not an easy time.
I don't remember ever feeling angry with her. How could I? She was just a little one that couldn't control what was happening to her body. But I do remember feeling at the very end of my rope, alone, and completely helpless.
After those three months, she was the child from heaven. I mean it. Her sweet, fat-cheeked smile would've melt your heart. She was happy and joyful and hardly ever gave me a hard time. I've never had any major challenges with her, and I couldn't ask for a more lovely daughter.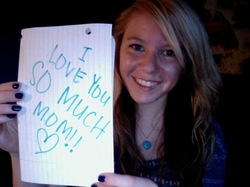 As she grew up, I often reflected on those first three months and used them as my guide. If she was upset or I was upset about something, could I love her or love myself anyway -- even though I was completely at a loss for what to do? Or so frustrated that I wanted to yell? When I didn't want to let her take the bus with her friends to the mall as a young teenager because there are people out there that could hurt her, was I able to let my love make my decision instead of my fear?
So that's my message here. I tried my best (not always succeeding) to let my decisions about my kiddo be based in my love for her and not in my fear about what could happen to her or what she was going to do.
There's a difference between parenting in love and parenting in fear. At the times I let my fear take over, we could both feel it and those situations never worked well.
I'm not a perfect mom. There's no such thing. I'm the only parent I know how to be. I reflected on what I was feeling and stopped judging myself and worrying about what I was doing wrong. I did my best to let my love lead.