I recently read an article by UC Berkeley Professor Michael Pollan about global warming and the seeming futility of our efforts to avoid a collective decline into a world without many things, including snow. He asked, "Why bother?" Why bother to turn off the lights, recycle, eat local, fill in your blank. His question was obviously rhetorical, but it nevertheless prompted me to reflect on some of the things I care about in this world, and some of the things I do in it, regardless of their significance or long-term impact.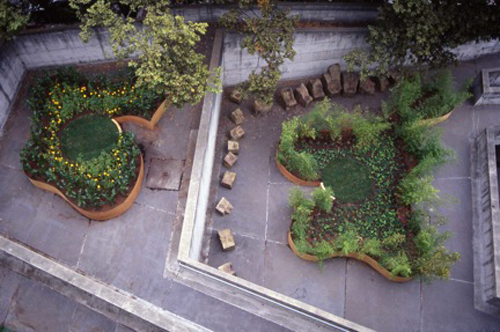 Tobias Rehberger: Sunny-side up August 29-November 14, 1999. MATRIX 180. Installation view from University of California Berkeley Art Museum. Curated by Heidi Zuckerman Jacobson. Image courtesy of the author.
In art museums we struggle to quantify the success of our programs. The traditional evaluative method of "people in seats" -- otherwise referenced as bottom-line attendance numbers -- often falls short because what we do has the ability to have a bigger, more profound, and lifelong impact on visitors. The experience of a great work of art is something we return to -- both wittingly and unwittingly -- time and again. And those thoughts, feelings, and responses often do not occur until one has had the time to think about, talk about, or reflect on the object. Therein lies the excitement about the power of art and art museums.
In my years as a curator of contemporary art, the question I have most frequently been asked is how I make the choices I make, how and why I select the artists that I do. The best answer I have is that I show work about which I cannot stop thinking. It also has to somehow surprise me, maybe make me laugh or feel uncomfortable, usually be beautiful, and always be unexpected. But ultimately the primary criterion is that I want to spend more time with it, getting to know it better, because I am curious about it.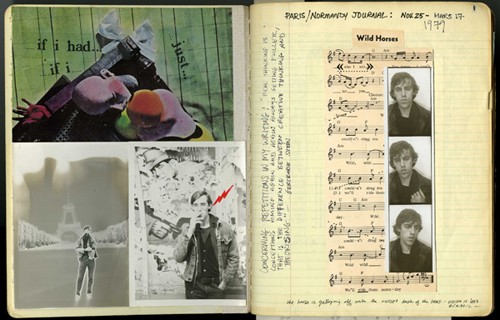 David Wojnarowicz
:
Paris/Normandy Journal
, 1979. David Wojnarowicz Papers, Fales Library, NYU. Image courtesy of the estate of the artist and Fales Library.
I have learned that oftentimes artists make art not because they want to but rather because they have to. The path is often unclear and sometimes lonely. Recently Chinese artist and activist Ai Weiwei said, "over the past three years, during all the efforts I have made, sometimes I felt like I was crying alone in a dark tunnel." Similarly, in a journal kept between 1972 and 1992, artist and activist David Wojnarowicz wrote, "I am shouting my invisible words." Making art is what these artists care/d about and do/did, and fortunately their impact on our culture has been significant. Showing art is what I care about and what I do. While the long-term impact is still to be determined and assessed, there is one thing of which I am certain: it is essential that those of us who value the ability of art to ignite thought continue to bother.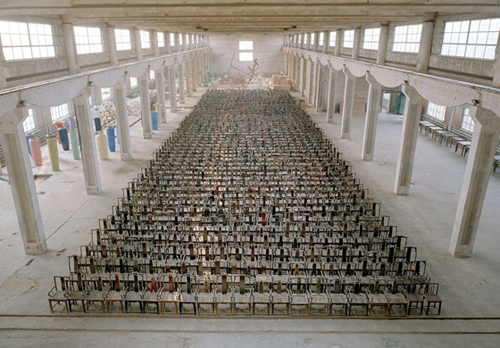 Ai Weiwei
:
Fairytale, 2007. 1001 Chinese visitors, 1001 Qing Dynasty wooden chairs.
Installation view. Image courtesy of the artist and Galerie Urs Meile, Beijing-Lucerne; Erlenmeyer Stiftung Switzerland; and Leister Foundation, Switzerland.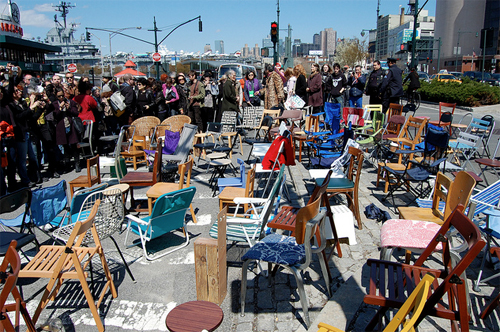 "
1001 Chairs for Ai Weiwei"
protest action on April 17, 2011, in front of the Chinese Embassy in New York City. Photograph by Christopher Kissock. Image courtesy Creative Time.
REAL LIFE. REAL NEWS. REAL VOICES.
Help us tell more of the stories that matter from voices that too often remain unheard.