What were the flowers at the first Thanksgiving? There were certainly wild flowers growing all around the Plymouth Colony, however, there is no mention of the table centerpieces at that famous dinner in 1621. Surprisingly, there are only two firsthand accounts of the first Thanksgiving. One by Edward Winslow and the other by William Bradford. These two gentlemen mention all sorts of details of the day, but not flowers. Such stereotypical men... mentioning hunting, fishing and football, but not noticing the beautiful arrangements that adorned the tables!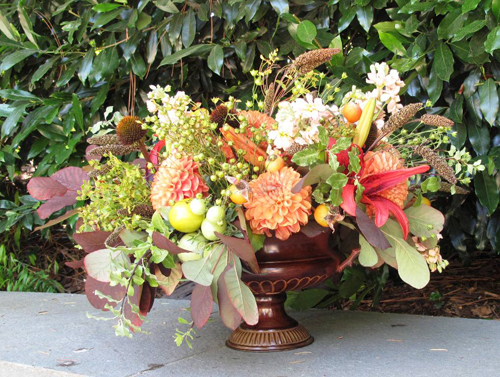 "Autumn's Fading Hues" bouquet by Debra Prinzing
Thanksgivings have been celebrated for various reasons all over the world for centuries, and if you ask anyone in El Paso, Texas, they will actually tell you the first Thanksgiving in North America was celebrated in El Paso is 1598.
If you mention turkey, stuffing and pumpkin pie in St. Augustine, Florida, they will gently let you know that they hosted the first Thanksgiving in North America in 1565.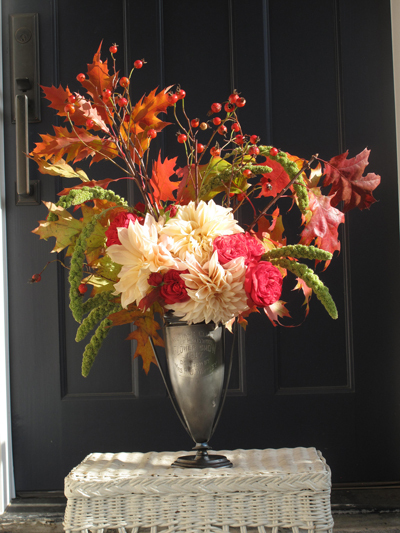 "A (Loving) Cup full of Autumn" bouquet by Debra Prinzing
Even the good people of Virginia think they beat the Pilgrims to the punch by having their first Thanksgiving in 1619 with settlers not from the Mayflower, but from a ship called the Margaret, which landed a year before the Mayflower.
To the north, our generally agreeable neighbors in Canada also have a claim on the first North American Thanksgiving. English explorer Martin Frobisher hosted a Thanksgiving in honor of his safe arrival in Newfoundland in 1578, beating the Pilgrims by 43 years.
Thanksgiving was not a formal holiday until 1863 when President Lincoln proclaimed the last Thursday of November as a national day of Thanksgiving. However, even at this point Thanksgiving was mostly celebrated in New England. In 1941, Thanksgiving was officially sanctioned by Congress and was moved to the third Thursday in November. (I know, this year it is on the 4th Thursday. I blame Congress!)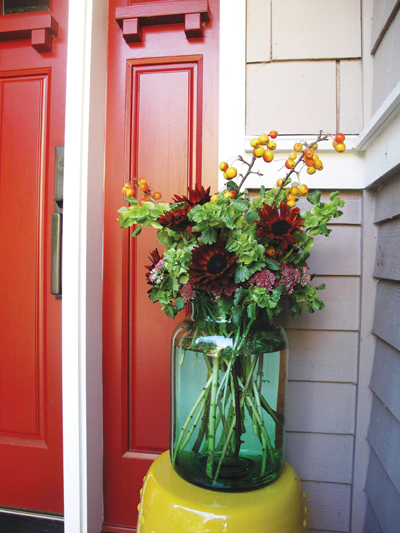 "Old World Meets New Flowers" bouquet by Debra Prinzing
The modern incarnation of Thanksgiving is a celebration of family and friends, and flowers have become a big part of the merriment. As people gather, flowers are a central element on any dinner table, as a gift for the host or to send to family, when you can't make the long trip home.
Personally I love the fact that Thanksgiving is always on a Thursday. As other holidays happen on different days, the vibe gets all skewed based on how the holiday will fall in the work or school week. Not Thanksgiving, it is always right where it should be.
So as you head out to your Thanksgiving dinner or spend all day in the kitchen, make sure there are fresh American grown flowers on the table. Even if the pilgrims didn't have a big bouquet of fall colored blooms... apparently they didn't have forks either. Read these great Thanksgiving Myths Debunked.
A special thanks to Debra Prinzing for providing these beautiful images. She is the author of several books, most notably Slow Flowers which features Debra making a bouquet each week for an entire year, using only local flowers. She also hosts a great podcast titled Slow Flowers, in which she interviews flower growers, designers and other flower fanatics.