The Central Asian artist Lekim Ibragimov recently completed a mega-painting debuting in July that brings the ambition of the famous collection of folk tales, "One Thousand and One Nights," to canvas. Consisting of 1000 individual paintings of angels spanning 216 feet, the large-scale work has recently been submitted to the Guinness World Records Committee as "the world's largest painting consisting of 1,000 pieces." Proceeds from the project will be donated to children with disabilities.
Ibragimov was born in Kazakhstan and is currently based out of neighboring Uzbekistan. As an accomplished painter and member of the Russian Academy of Arts, Ibragimov has always been fascinated by Asian literature and the compelling history of the silk road. In 2010, he began work on what he calls his "visual epos," creating a nearly 50-foot sketch of what would eventually come to be his 1,001 art project. After 2 1/2 years, he was able to finally put the finishing touches on this 48,500 pound artwork.
Using oil paints and free brush strokes, Ibragimov's style mixes Chinese fresco painting styles with European color-blending techniques. Each individual angel is painted onto its own canvas, amounting to 1,000 individual pieces which were then carefully linked to create one unified entity -- hence the "1,001" suggested in the title. The piece urges the viewer to reflect on the process of turning a collection of independent paintings into a singular viewing experience. Through this ambitious undertaking, the artist heavily emphasizes the social aspect of the painting in order to unite the Eastern and Western worlds; this summer, the work will tour key cities across the world in order to bring his message of peace to a large audience. Ibragimov states on his website, "For me, it is an ancient song that will sound over the cities where my angels will be exhibited."
Ibragimov's paintings will be touring the world this year and will be exhibited in a number of UNESCO World Heritage sites. You can check out the potentially record-breaking piece in Prague from July 9th through the 21st.
And check out images of the 1001 Art Project below!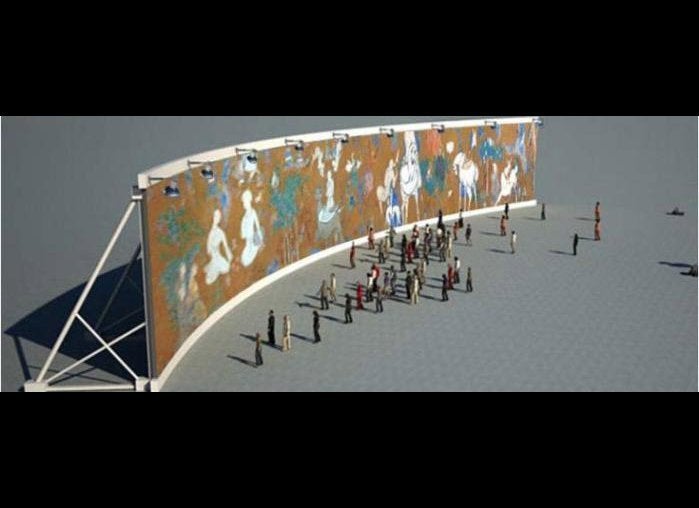 One Thousand Angels and One Painting by Lekim Ibragimov
Related
Popular in the Community