It's something of a partisan issue.
The British Virgin Islands pride themselves on not having "sold out" like the U.S. Virgin Islands. They like to keep it real, keep it pristine, keep hotels just a few stories high and cruise ships at a minimum. So when a new resort opened on the 230-acre Scrub Island in 2010, it was a hot topic.
There are the enthusiastic entrepreneurs like Chef Davide Pugliese who helped craft Scrub Island Resort, Spa and Marina's inaugural menu or Captain Raymond Nibbs, who grew up on Tortola and is grateful to have a seafaring job island-hopping with tour groups instead of a desk-bound one doing tech support.
But other islanders like historian Ermin Penn call the resort "a gash in the land," while Sarah Penney, a teacher with Dance BVI, warns people approaching the archipelago by air--as we did in an eight-person Cessna--to just look away. From 10,000 feet, Scrub certainly did look different. Every other island appeared lush and untouched, but Scrub was easily identifiable as the one with a large complex smack in the middle.
So is Scrub Island Resort a newly accessible paradise or a menace to the natural order? Could it be both?
Scrub is one of 60 islands that make up the BVI and got its name from serving as a stop for sailors to scrub the barnacles off of their ships' hulls while on their way to better spots.
When the 52-room resort opened, it was the first new construction the BVI had seen in 15 years. (Another difference from the hotel-happy USVI.) That might have been good news. Prior to the 1960s, agriculture was the main industry of the BVI. As air travel became more accessible, farming decreased and tourism boomed. But not all locals felt the same about the changes.
Regardless, tourists remain unfazed by any internal island debates. The ability to stay on this private island for as little as $369 per night draws honeymooners, groups of friends and weekenders from Puerto Rico and other quick-flight stops.
The main guest rooms are tightly stacked, and if you feel a little like you're in a Marriott tower while on this private island, that's because you are. (Scrub Island Resort, Spa & Marina is part of Marriott's Autograph Collection.) As you dock in the marina on the west side of the island, the white granite walkways give way to what looks like uninspired suburban condos. But grab a kayak from Pavilion Beach and paddle north to Honeymoon Beach and you're back to nature. A handful of spectacular private villas are available for rent, with unobstructed views of the sea.
North Beach is a quiet hideaway from the family-friendly pools on the south side of Scrub. Lounge chairs are tucked under palm trees for tranquil relaxation. A few steps from shore is the One Shoe Beach Bar, which serves up light bites and frothy cocktails, while amassing flip flops left behind after one too many Painkillers, the BVI's signature drink. (Ask for one with Pusser's Rum to look in-the-know.)
Visitors can easily set up excursions for diving, snorkeling, kayaking or sailing across the eye-popping blue waters. But I could have spent my entire trip in the Ixora Spa, which sits on a mountain top with an infinity pool overlooking the Caribbean. Quiet and meditative, Ixora captures island calm and European luxury with a hint of Asian style.
Like many island resorts, the restaurants shy away from truly local dishes. You won't find much in the way of fungi or red pea soup at Scrub. American fare reigns supreme with plenty of cheeseburgers and turkey club sandwiches on demand. But there are a few special plates if you look, such as jerk chicken with callaloo or coconut rum poached grouper.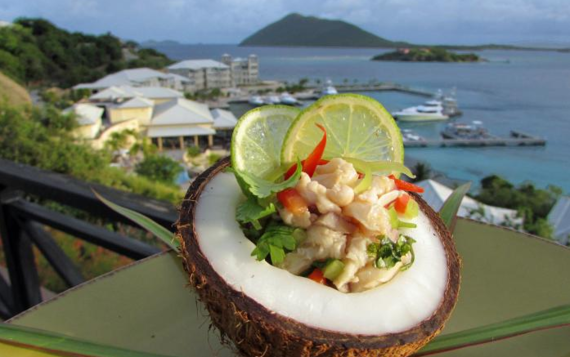 Seafood and citrus feature on the menu at Caravela Restaurant.

If you're traveling to the BVI, Scrub Island is one of the lesser-known private island options, providing more insider cachet than Virgin Gorda or Jost Van Dyke. Whether its sole resort is maintaining the Islands' allure or causing a new wave of irreparable change is yet to be seen.
---

All photos courtesy of Scrub Island Resort Spa and Marina. Opinions expressed are my own. I received no compensation from any mentioned parties. This post contains no affiliate links.
Popular in the Community