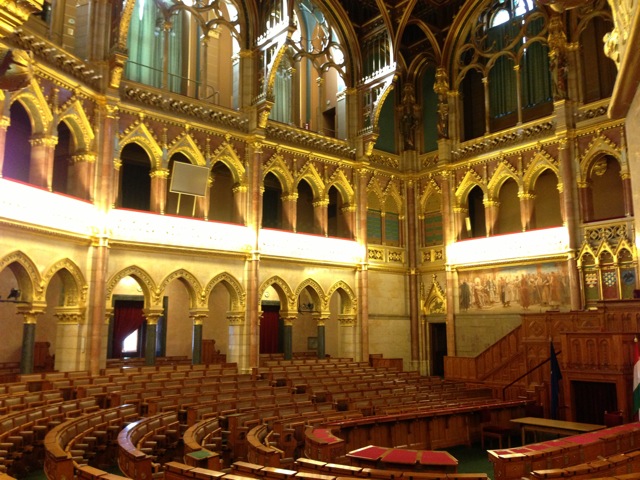 Before summer slinked its sunshine and idleness into oblivion, we decided spontaneously, mid-month in August, to do a one week trip to Budapest and Prague. Why these two cities in Europe? Well we had only a week available, and I wanted to see Eastern Europe since I had read so much about its being the seat of orthodox Christianity.
I like doing vacations abroad with my teenage boys as for one, their experiences become instruments for learning about a country's history and culture, more than any textbook can avow. I call these experiences teaching moments, and they can take the form of a science experiment, like in Quito, Ecuador., a trip we did few years ago when we had fun walking blindfolded on the equator. Because of gravitational forces, our gait became drunken as we we were pulled simultaneously in each direction. This led to an everlasting memory.
Secondly, on trips abroad we are forced to leave cell phones behind due to AT & T's exorbitant roaming charges. This leaves the kids having just us for company and ensures some good mealtime conversation and necessary family bonding.
The trip to Eastern Europe took two days to plan and began with a trip to Barnes and Noble where I picked up guides by Fodor's. Even-though they were published a few years ago, the books did give me a good overview of the cities.
We began our adventure in Budapest, a beautiful old city steeped in history and divided into Buda and Pest, by the Danube. While we were there, the metropolis was engulfed in a 10-day heat wave with temperatures soaring into the high 90's, making air-conditioning a necessity. Thus, sightseeing was reduced to just a couple of hours a day interspersed with gelato breaks, and afternoons spent poolside at Pest's famous thermal baths.
Budapest, a city with enormous old world charm and architecture, is meant for walking -- Prague on the other hand is congested by tourist traffic. We stayed on the Pest side and were close to most notable attractions. Some of the things we enjoyed was a tour of the neo-Gothic Parliament building which houses the ornate crown of St. Stephen, worn by every chosen, anointed Hungarian king. The building now has AC but for centuries was cooled ingeniously using blocks of ice. A visit to the mezzanine restaurant at the Vasarcsarnok Market that displayed stalls of meats, vegetables and spices, introduced us to one of the best samplings of Hungarian goulash. But a not-to-miss sight was the one hour boat trip down the Danube. At night, the views of the illuminated neo Renaissance buildings are spectacular.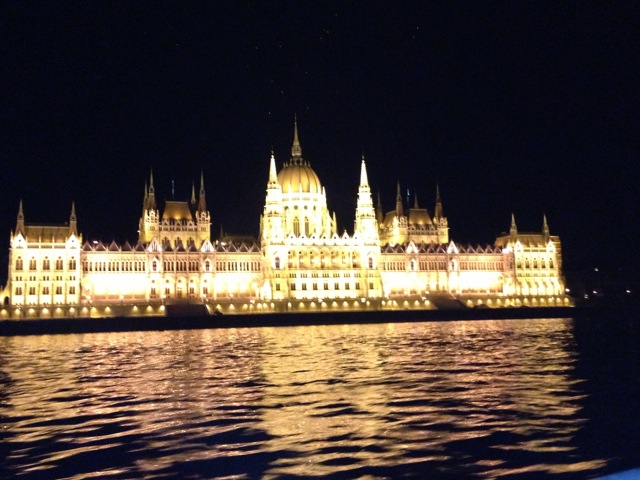 But a moving experience came when we visited the Terror Haza or House of Terror located on Andrassy UT. This is not a pleasant memory for Hungarians but it is an important part of their history. During the communist era, its premises were used to headquarter the AVO, the communist state police, who interrogated and tortured many innocent Hungarians within the building's prison cells.
After about three days in Budapest, we left by car to Prague, a preserved historic capital with many edifices displaying the city's baroque extravagance. Here, unlike Budapest, the city seemed to have a facelift; every old building was repainted and refurbished to mimic its original state. To help navigate Prague, we did a three hour walking tour of the city.
Some noteworthy monuments that we enjoyed included visiting the oldest Jewish synagogue in Europe; the Estates Theater where Mozart premiered Don Giovanni; a cubist building; and the Astronomical clock which, installed in the 15th century, not only tells time but also shows the position of the sun, moon and stars. A visit to the Kafka Museum inspired my son to purchase Kafka's 'Metamorphosis,' which he completed over dinner.
Apart from the palace and beautiful churches like St. Nicholas, we took some time visiting quiet spaces like the terraced gardens with sculpted hedges that are accessible on the way down from Prague Castle. The entrance is a bit hard to find but don't give up as this is one of Prague's hidden treasures. These gardens, restored with the help of Prince Charles are a nice respite from Prague's busy tourist traffic.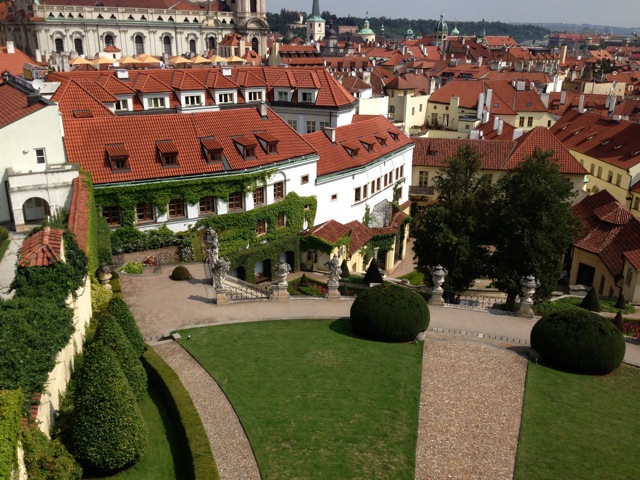 Finally, we spent a memorable evening dining al fresco at Kampa Park, a restaurant overlooking the Charles Bridge and river. The restaurant was a bit pricey but worth the splurge. If you happen to visit, be sure to get a table next to the river as they do go fast!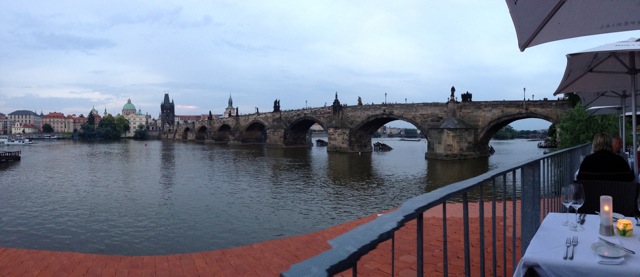 The week flew by but we felt like we were away for an eternity, probably because our experiences were novel and we learnt so much. Meanwhile, I bide my time waiting for the next teaching moment to come along.