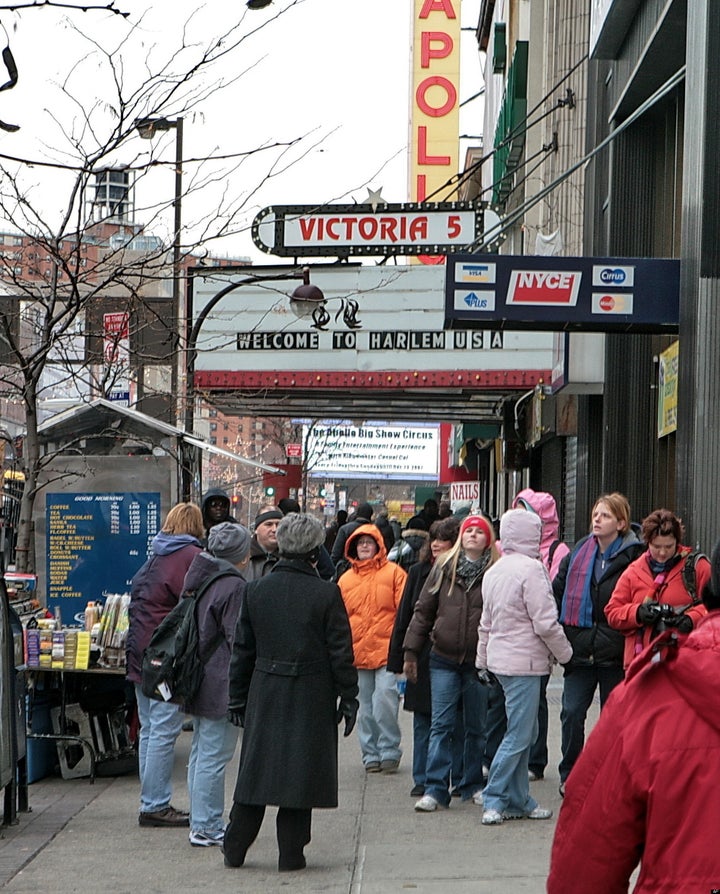 The first of a series of three blogs.
New York, NY -- The plan was simple. During one weekend I would attend four film festivals in three boroughs -- Manhattan, Queens, and Brooklyn. No problem, right? Maybe, or maybe not. This is the city that never sleeps, making it a very cranky city. New Yorkers' theme song is "I did it my way," which means they're not interested in your way. The atmospherics in this packed urban jungle fluctuates between implosion and something serious. In short, New York has a difficult time with the simple.
Doesn't matter -- I'm doing it my way. Four film festivals this weekend!
Getting the traditional jump on the weekend, Thursday night I hop on the 1 train, switch at at 96th Street, and get off on Malcolm X Boulevard in the heart of Harlem. Inside Maysles Institute are tables with neat piles of leaflets broadcasting films and political causes. The walls have nicely hung posters -- one proclaims, "Education is a right, not a privilege." Downstairs is the hangout space, doubling as a secondary screening area. The walls here are lined with colorful paintings -- one has the scrawled words: "Fight the Power." On the first floor in the rear is the main screening room, not large yet not small, and certainly comfortable. But soon it's packed, the enthusiastic overflow being directed to the basement.
Maysles has the feel of the late 1960s and early 1970s, but it's neater, and cleaner than those old movement hangouts. But you can feel the same sense of camaraderie and purpose, an intimacy, a space that belongs to those who don't or can't belong to the establishment. It has a nice feeling.
The Harlem International Film Festival's first feature was Freeing Silvia Baraldini, about an Italian woman's journey from the anti-Vietnam War movement to Black and Puerto Rican political causes to federal prison and the US government's unfair treatment of her. Interesting, as history and as an unsettling thought yesterday can become today.
The feature was followed by two excellent Shorts, the first about Harlem resident and painter "Franco the Great," and then "Just Be Frank" that was about a blind man and his dog. Both were warm and inspiring, both have much to say -- especially to those in this city who are too materialistic and too self-centered -- about the beautiful side of life.
Next was the night's second feature, again a documentary, The Vanishing City, which zeroed in on the transformation of New York from a city of diverse, solid neighborhoods to a playground for the rich -- what Mayor Michael Bloomberg has called, "a city of luxury."
Co-directed by New Yorkers Fiore DeRosa and Jen Senko, the film is focused and hard-hitting and disturbing. The old New York, part gritty and part blue collar yet with strong, diversified communities, is being pushed aside by a New York that values the clean and the pretty. This is the New York of financial white collar businesses and the wealthy. Both have always existed in New York, but now the one is being booted out and the new is remaking the city into its home.
More than the free market, it is the government, both city and state governments, that are the engine for this massive change of New York. Their massive tax breaks and rezoning of neighborhoods and the use of "eminent domain." That allow for less affordable housing units and small businesses that result in the dislocation and anguish of working class New Yorkers. It's not fair, and it's certainly not pretty.
The Vanishing City is a powerful story relevant to many cities, not just New York, but one that every New Yorker needs to see.

On the way out, I catch Nasri Zacharia, the film programmer for the Harlem International Film Festival. "We say, 'We bring Harlem to the world and the world to Harlem.' It's all about showing the best films, both those from Harlem and from around the world."
There was a definite Harlem theme to the films, yet there was also a lot more than only Harlem. Festivals should always be about good films. Films that stimulate the audience to think and to feel, and sometimes to get angry. The other pillar of good festivals is the festival part; the human warmth and interaction between film buffs and filmmakers, meeting new people, and just having fun.
Freeing Silvia Baraldini had made me uneasy, the two Shorts calmed me down and made me feel good about my city, then the The Vanishing City ripped my emotions up. Now it was time for some festival. Standing outside Maysles Institute on Malcolm X, several groups flow together and soon we're off to a cozy Harlem bar.
It was a fine start to my weekend of film festivals. But it was only beginning, and I had a feeling it would get harder, and probably stranger. That normally happens in New York. A "weekend that never stops" in this city is never easy, and most likely very strange.

Calling all HuffPost superfans!
Sign up for membership to become a founding member and help shape HuffPost's next chapter