 KABUL, AFGHANISTAN -- Happy 1392! It's Nowruz -- New Year's Day -- in Afghanistan. Three calendars are followed here. Nowruz is a Persian calendar. Then there's the Islamic calendar -- on which we are in the year1434. And, of course, it's also 2013.
I'm celebrating the New Year with Razia Jan, founder of the Zabuli School, the very first girls' school in a conservative Afghan village, and the only free private school in the country. I already admired her enough to want to make a documentary film about her work, and this is the second time I've come to Afghanistan to film with her. Razia is the kind of woman I can't help but respect: brave, idealistic, kind, committed -- and fun. She's also the ideal cultural guide.

Today, she is teaching me the secret to making Haft Mewa, the traditional New Year's dish. It literally means "Seven Fruits", and it's true to its name. The seven ingredients are: raisins, senjed (fruit of the oleaster tree), pistachios, prunes, walnuts, almonds and plums.
Cooking with Razia is as special as cooking with my family. We're creating something together, and during the process we're sharing stories, reminiscing, laughing. and ultimately learning about one another and ourselves.

What I came to appreciate while making Haft Mewa surprised me: the rather deep and complex truisms a girl can learn through labor over a pot of lowly walnuts.

"Damn those New Years' people," Razia says about this culinary tradition. Spoken like a woman who doesn't have time to waste. But it's only seven ingredients. So what's the big deal? You don't just throw the almonds, pistachios and walnuts in a bowl and call it a day. Not by a long shot. First the nuts are soaked. Then the nuts are peeled -- one nut at a time, by hand.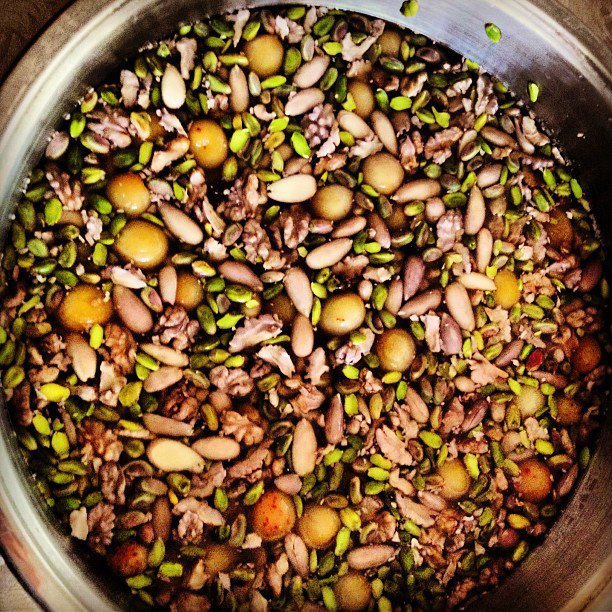 Almonds are the easiest, and I was answering emails and making calls while Razia did those on her own. I joined her during the pistachio phase. Those little suckers had no interest in sliding out of their shells, but soon enough, we unwrapped them all. Next we tackled the steaming-hot cast iron stockpot filled to the brim with boiled walnuts. I don't know if you've ever tried to peel a walnut, but it is traditionally women who gather for this task, and my first thought was, "Whoever came up with this recipe must really hate women." The mountainous landscape of the walnut is entirely different than the flat desert terrain of the almond or the rolling hill-type topography of the pistachio. The peaks and valleys of the walnut give its skin too many places to hide, like shadows clinging to a canyon wall. Peeling these walnuts became the Mt. Everest of our task; and during our slow, laborious excavation I realized there were some life lessons on the way down to the bottom of this pot:
If you want to learn patience -- peel a boiled walnut.
If you want to think you've mastered something quickly only to be shown time and time again that you are truly a novice -- peel a boiled walnut.
If you want to confirm that some objects are truly impenetrable -- peel a few boiled walnuts, and before long you will find your proof.
If you want to do something difficult because you know the reward will be worth it -- peel a boiled walnut, and make Haft Mewa.
As we dropped the last walnut on top of the other six ingredients, Razia and I flexed our tired, soaked, and cramping fingers. Raising my wrinkled hands, I told her, "I am one with the walnut!" Razia waved her empty hands back at me and laughed: "I am done with the walnut!"