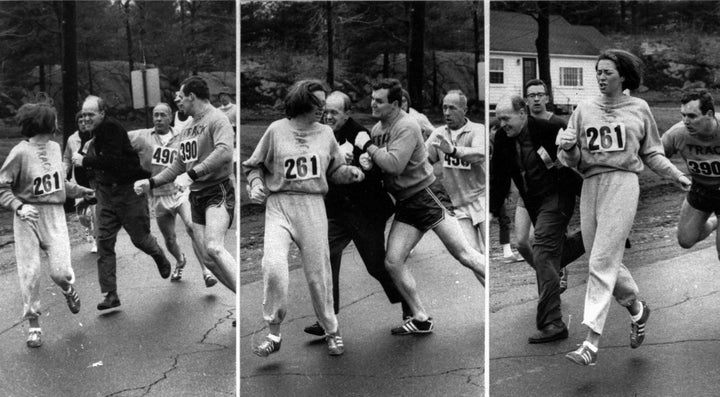 Nina Kuscsik was the sole woman entrant in the first NYC Marathon in 1970, along with 126 male starters. She dropped out due to illness and was not among the 55 finishers. Kuscsik went on to become the first official woman champion of the Boston Marathon in 1972. She won back-to-back NYC Marathon titles in 1972 and 1973.
It was a long-distance race for women to officially compete in local, national and world-wide marathons, leading up to the Olympic Marathon. The Amateur Athletics Union (AAU) deemed women too frail and biologically unfit for long-distance running. Today women represent 58 percent of all U.S. runners.
Women weren't allowed to officially register in marathons until 1972. That was the same year Congress passed Title IX, Ms. magazine was launched and Helen Reddy's "I Am Woman" topped the charts. Billie Jean King was named the first Sports Illustrated Sports Woman of the Year in 1972.
Kuscsik's 1972 victory made her the first official Boston Marathon female champion in its 74-year history. That year nine women started the race and eight finished. Bobbi Gibb was the first unsanctioned female finisher in the Boston Marathon in 1966, 1967 and 1968. In 1966, she finished ahead of two-thirds of the 415 runners.
In 1967, Kathrine Switzer, 20, registered for the Boston Marathon as "K.V. Switzer," wearing a bulky sweatsuit and hoodie. "It was 35 degrees at the start, sleeting with snow piling on my shoulders and melting into slush, plus headwinds." She became the first female to run with an official bib number. The photo of a race official forcibly attempting to remove her and grabbing her race number was the photo shot heard round the world. But she was determined to cross the finish line, despite blistered and bloodied feet. Time/Life listed the photo as one of the "100 Photographs That Changed the World."
Switzer went on to win the 1974 NYC Marathon, finishing 59th overall. In 1975, in the fourth Boston Marathon to officially recognize female competitors., Switzer finished second place. This year, at 70, she ran Boston again on the 50th anniversary of her initial run, finishing 4:44:31, only 24 minutes slower than she ran at 20, wearing her infamous "261" bib. She was invited to serve as honorary starter of the women's elite race. Switzer was honored by having her number "261" retired in a ceremony after the race.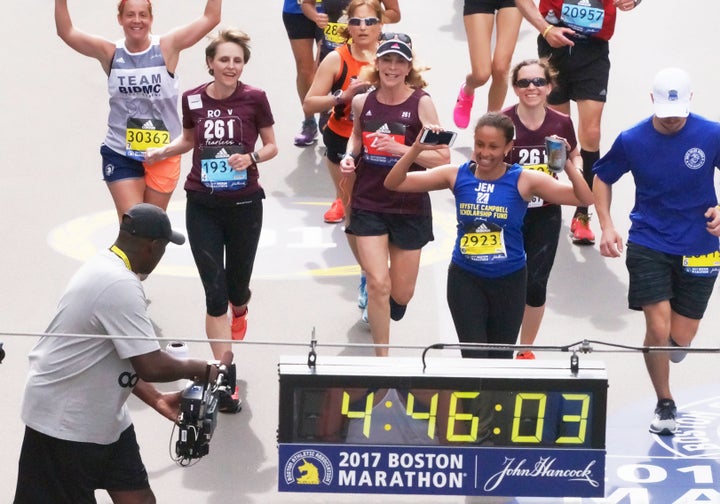 This year in Boston, 12,380 women started (45.4% of starters) and 11,969 finished (45.3% of finishers). Of the women who started the race, 96.7% finished. Switzer finished eighth among women 70+ (38 started and 32 finished). Katherine Beiers, 84, finished in 6:04:07. You go, girl!
Switzer was the last New York woman to win the NYC Marathon. Her victory of 27 minutes is the largest margin in the history of the race, "because there were so few women and it was a 100 degree day." Sunday will be her fourth NYC Marathon and 41st marathon overall. Miki Gorman was the last American woman to win the NYC Marathon in 1977, at 42.
Edna Kiplagat, 37, winner in the Boston Marathon this year, is also entered in the NYC race. The first place NYC female and male winners will each win $100,000.
American Tatyana McFadden, the 2016 NYC women's wheelchair champion, is tied for five victories, and will race for a record-breaking sixth career title. McFadden, 28, was born with spina bifida and left in a Russian orphanage as a baby. She was adopted by an American family. First place female and male wheelchair winners each earn $20,000.
Sole Searching: The Right To Shoes
Switzer had to wear men's athletic shoes she ordered from Europe. Quite a feat! Bobbi Gibb ran in white leather nurses' shoes. Athletic shoes for women were not yet manufactured because there was not a large enough consumer market. The rise of female runners, marathoners and active athletes overall, has created an increasing mass market. Reebok introduced its first shoe designed especially for females in 1982. Nike made its first signature shoe model for a female, the air Swoopes, for Sheryl Swoopes, in 1996. Today women's athletic footwear comprises about 30 percent of the global athletic footwear market.
Salute to Kathrine Switzer
Switzer was named one of five running visionaries of the 20th century by Runners World. In 2011, she was inducted into the National Women's Hall of Fame. A champion for female runners and athletes and women's rights around the world, her lobbying and legwork, along with Kuscsik, led to the inaugural women's Olympic Marathon in 1984. Her 261 Fearless Movement (www.261fearless.org), named for her original Boston Marathon bib number, is empowering women around the world through running.
Here's an interesting footnote. Appropriately, for a woman always on the run, Switzer met her husband, Roger Robinson, a former world-class runner, when they were both speaking at a running seminar in Australia. They married in 1987 and divide their time in New Zealand and the United States. Switzer updated her autobiography, "Marathon Woman," to commemorate the 50th anniversary of her historic run.
CELEBRATE NOVEMBER 5 IN WOMEN'S HISTORY *
1872 Susan B. Anthony, 52, was fined $100 attempting to vote in the presidential election. She was convicted in a public trial but refused to pay the fine.
1889 Citizens of the Wyoming Territory approved their state constitution, the world's first constitution to grant women full voting rights.
1968 Shirley Chisholm (D-NY), 44, was elected the first African-American woman to serve in Congress, in the House of Representatives. She served seven terms (1969-1983). See my website and blog for Shirley Chisholm film and talk at Museum of the City of New York on January 24, 2018, at www.beverlywettenstein.com.
1974 Ella Grasso, 55, was elected the 83rd governor of Connecticut. She was the first female governor elected without succeeding her husband. Currently, six women serve as governor; 39 women have served in 28 states.
1977 Happy 40th Anniversary! Laura Welch, 33, married future President George W. Bush, 31. They met at a friend's barbecue in July 1977. He proposed in September and they wed in November.
2002 Loretta Sanchez (D-Cal) was reelected to Congress, and her sister, Linda Sanchez (D-Cal), was elected to the House, making them the first sisters to serve simultaneously in Congress.
* Credit Sources: Beverly Wettenstein's "Women Make History Every Day Database" and "Celebrity Weddings and Love Stories Database"
Author: "A WOMAN'S BOOK OF DAYS"
Speaker: "A Woman's Place in 2017"
Popular in the Community