"There are still a lot of adventures to be had."
Fabien Cousteau
World-renowned Oceanographer, Aquanaut, Film Maker and Nonprofit Founder, Fabien Cousteau is featured in this episode of "One World with Deepak Chopra." Fabien Cousteau can be found at TEDGlobal talks, on Skype talks with students and faculty at top universities as he researches from the ocean floor, or in environmentally focused conferences around the world. In this video we are able to experience a rare moment where he sits one-on-one in conversation with Deepak Chopra sharing insights on his passion for ocean conservancy and exploration.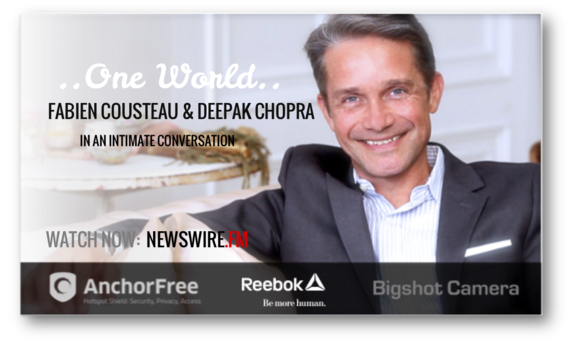 In this episode of "One World with Deepak Chopra," a NEWSWIRE.FM production, Deepak Chopra and Cousteau muse on a love of the ocean from the intimate setting at ABC Home's mezzanine studio, the power it has to lull one into a meditative state, and the reality that the world's oceans are a part of our reality as humans and are to be explored. Cousteau believes that "the ocean is a universal connector." And his life's work reflects a love for ocean adventure.
As an Explorer-At-Large with National Geographic, Fabian worked to change the public stereotype surrounding one of his favorite animals, the shark. He produced two films while working with sharks, Attack of the Mystery Shark and Mind of a Demon. He also produced the PBS series Ocean Adventures that highlights his family's explorations into the world's oceans and cultures. Cousteau continues to share his passion for the ocean and adventure through his nonprofit, PlantAFish where volunteers (including himself) work to plant, observe, and participate in restoring the ocean and coastal ecosystems.
Most recently Fabien achieved rockstar status for his work on Mission 31. It was his grandfather, the one and only Jacques Cousteau, who once spent 30 days on the ocean floor exploring sea life. Fabien recently beat his grandfather's record and shares the insights of this famed exploration, approximately 3 years of research and data collection in a mere 31 days, in this "One World with Deepak Chopra" episode.
Cousteau's passion for the ocean has been constant throughout his life. He is unique, although his linage is known to most, in the way that he continues to explore the oceans, continues to ask the questions about the human effects on marine worlds and life, and attracts the best minds in oceanographic science as well as everyday people with his passion and love of adventure.
Popular in the Community