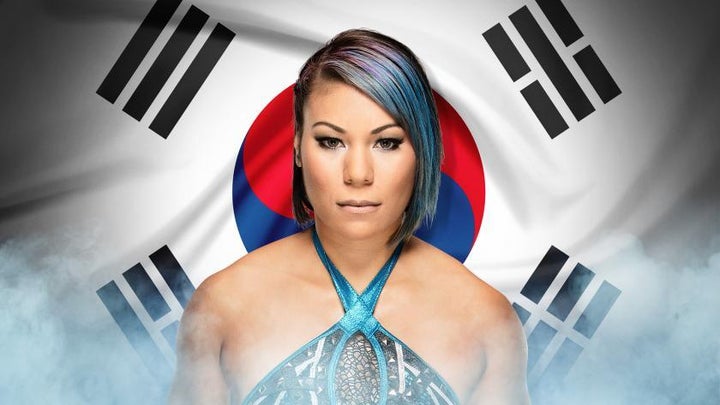 One year ago, professional wrestler Mia Yim (formally known as Jade) painted her ring fingernail purple – as part of Safe Horizon's #PutTheNailinIt campaign—to shatter the silence around the domestic abuse she says that she endured. She detailed her past struggle with domestic violence in a HuffPost article, making waves in the wrestling world and on the internet. It started a conversation, showing that survivors come from all walks of life and they all deserve support.
Mia never imagined that just one year after sharing and reliving some of her most difficult moments with domestic violence, she would go on to achieve a childhood dream that often felt unattainable: wrestling for the WWE. Mia is scheduled to take part in the WWE Mae Young Classic, a first-ever all-women's tournament, airing Aug. 28th at 9/8C on the WWE Network. In her entrance, she has incorporated the purple nail — a reminder not only that she survived, but that she fights for domestic violence survivors everywhere.
Today, Mia feels more powerful than ever. I sat down with her recently to ask her how the last year sharing her story of domestic violence has been for her. She shared memorable stories from the road, difficult moments from those who disapprove of her efforts in speaking out against domestic abuse, the wrestlers who supported her and her hope for the WWE Mae Young Classic.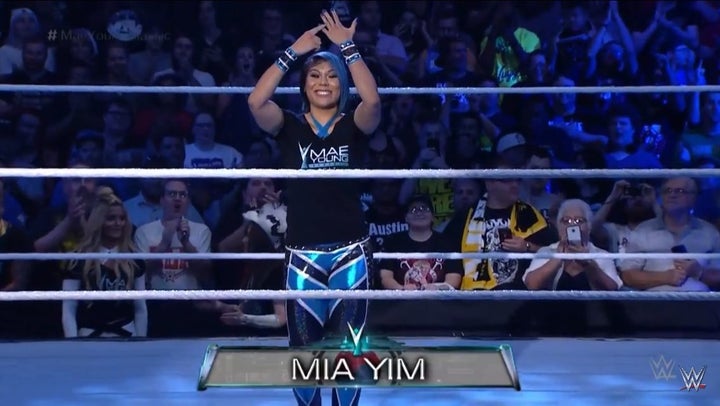 BRIAN: SO IT'S BEEN A YEAR SINCE YOU FIRST SHARED YOUR STORY? HOW HAS IT BEEN?
Mia Yim: Incredible! I am shocked with how far and wide the story went. So often we only hear stories of the abuser, and when a survivor does come forward, they are blamed with, "She's just lying and looking for attention," or "Why didn't she just leave?" I did get some of those comments, but I tried to ignore the negativity and focus on the amazing support I did get from so many fans and wrestlers. For the first time in a long time, I felt like I wasn't alone.
BRIAN: WHAT HAS BEEN ONE OF THE MOST MEMORABLE REACTIONS TO YOUR STORY?
Mia Yim: I had a show in Canada last year and after my match, the referee came up to me and hugged me. He said, "Thank you!" I was so naïve—I responded with "Thanks. It was a great match!" And that's when I saw tears in his eyes. He corrected me and said, "No, thank you. My mother was a victim of domestic violence. She and I both thank you for speaking out." I realized in that moment that even though he didn't experience it directly, as a son it still impacted him to the point of tears. That really stuck with me.
BRIAN: YEAH, ABOUT 3-5 MILLION U.S. CHILDREN WITNESS DOMESTIC VIOLENCE IN THE HOME EVERY YEAR.
Mia Yim: That breaks my heart. But that's what I love about the #PutTheNailinIt campaign. I've had children and their dads come up to me with the purple nail. It opens up a conversation for kids to talk about what's healthy and not healthy. It helps create an easier way for parents to talk about that with their children. Wrestling is a physical contact sport. It's not always appropriate for kids. For parents who do let their kids watch, it's important for them to also talk to their children about abuse and let them know that abuse at home is wrong.
BRIAN: YOU MENTIONED THE RESPONSE TO YOUR STORY WASN'T ALWAYS POSITIVE. SOME WRESTLERS EXPRESSED THAT WHAT HAPPENED TO YOU WAS A "PRIVATE MATTER" AND SHOULDN'T HAVE BEEN BROUGHT INTO THE PUBLIC EYE. WHAT DO YOU SAY TO THAT?
Mia Yim: Well, it being "private" is what the abuser intends it to be. They thrive on silence and manipulation. They seem like the perfect person in public, but "in private" they are monsters. So why should I continue to feed into that? Those who think that way can continue to do so. I'm too busy raising awareness, as loud as I can, helping those that feel stuck.
BRIAN: HOW DO YOU THINK WRESTLING HAS EVOLVED AROUND THE ISSUE OF DOMESTIC VIOLENCE?
Mia Yim: It's a work in progress. But 10 years ago, I probably wouldn't be wrestling after coming forward. I spoke to veteran female wrestlers like Madusa/Alunda Blayze and she said back then it was really different. You couldn't talk about domestic violence at all. And I think that was not only true in wrestling, but our society as a whole. I think the culture is starting to shift little by little. We can talk about it more openly. It's not the victim's fault.
BRIAN: SO LET'S TALK ABOUT THE WWE MAE YOUNG CLASSIC. FIRST OFF, CONGRATULATIONS! HOW DOES IT FEEL?
Mia Yim: It was a dream come true. I'm excited for everyone to see it. Women for so long have fought to be taken as serious athletes and not just "eye candy," and so this validates us as equals to the men.
I also made sure to incorporate the purple nail into my entrance, because my experience with domestic violence has been a big part of my journey. I want to show other survivors you can still achieve your dreams after an abusive relationship. Lita [WWE hall of famer and announcer for the tournament] was actually my childhood hero and inspiration for me to get into wrestling. After I told her my story, she said, 'Hey, do you have purple nail polish?' She didn't have to do that. That blew me away. I look up to her even more now.
BRIAN: YOU DISPROVE THE STEREOTYPE THAT VICTIMS ARE "WEAK." YOU ARE AN INCREDIBLY STRONG PERSON -- PHYSICALLY, MENTALLY, AND EMOTIONALLY-- WHO HAD AN ABUSIVE PARTNER. WHAT WOULD YOU SAY TO SOMEONE IN AN ABUSIVE RELATIONSHIP, WHO ISN'T FEELING SO STRONG?
Mia Yim: The abuser is threatened when they know their partner is strong—it weakens their control. Victims are so much stronger than they believe. Everyone is their own superhero.
But also, it's ok to not feel strong. Reach out to organizations like Safe Horizon—they can help. That's why we must donate to these organizations and make sure there is a shelter, hotline etc. for when we don't feel so strong and need support.
BRIAN: ANYTHING ELSE YOU WANT TO SAY?
Mia Yim: After the abuse, I was timid. I was always walking on eggshells and didn't want to act the wrong way. But the #PutTheNailinIt campaign gave me the strength I needed to speak out. Now, I don't care what others think of me. I just want to help others.
I'm driven and I can see my dream in arm's reach. I am going to grab it no matter what happens.